Zurich, the financial capital of Switzerland, has plenty for families to do. Prices can be steep when visiting since it's Switzerland. But fret not, we have a list of wallet-friendly activities for everyone to try and experience Swiss culture in the heart of Switzerland.
---
Family-Friendly Things To Do In Zurich, Switzerland
Here are seven of our top, budget-friendly, low-cost, kid-friendly activities in Zurich just for families!
---
Swiss National Museum
---
-- Story continues below --
Top of our list is the Swiss National Museum – located right next to the main train station. Housed in a beautiful medieval building designed by Gustav Gull, the museum is a perfect first-stop for families to learn more about Swiss history and culture, as well as special exhibitions including a section just for the children. I was really impressed by how interactive the displays are, plus a huge diaorama with binoculars to use on the history of Switzerland.
The children's section of the museum was probably one of the best I have encountered. There were five main rooms – one dedicated to ship travel where children can practise tying different knots, a train carriage where children can pretend to be travelling via rail in Switzerland while listening to audio stories, a play pretend room with craft activities as well as a magic carpet room to learn all about the Middle East.
Where: Museumstrasse 2Postfach8021 Zürich
Cost: Free for children below 16, CHF10 per adult
Website
---
Take a Walk to Old Town
One easy way to learn more about a place is to walk. One must-do walk is to head to Old Town where the cobbled streets, churches, water fountains are. This is about a ten minute walk from Zurich's main train station. One must-see spot is Lindenhof, for a superb vantage point of Limmat river and the buildings on both sides.
---
Hike in Zurich
There are many trails to try in Zurich – regardless of fitness levels. Hiking to a higher spot gives you great views of the city. It also does not cost a cent. Check out the trails listed here.
---
Take the Polybahn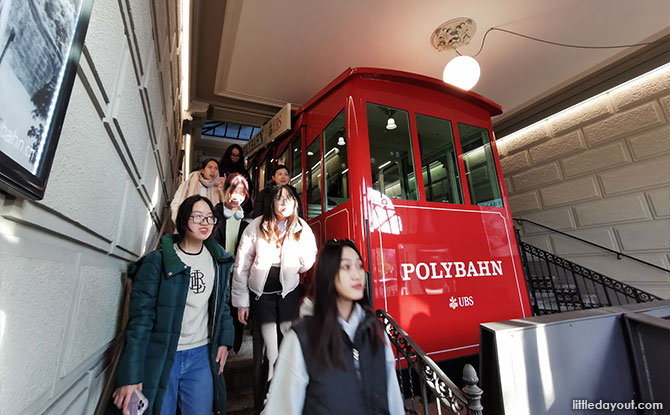 Besides trams and buses, you can also take the UBS Polybahn which takes you from Zurich Central Square to ETH Polyterrasse and back. This funicular railway has been operating since 1886. Head to the Polyterrasse viewing deck in less than two minutes on the adorable funicular. There you will be able to enjoy a lovely view of Zurich including the best universities in Europe.
Where: Limmatquai 144 8001 Zürich
Cost: CHF 1.2 per ride
---
Lindt Chocolate Museum
One must-do family activity is visiting the Lindt Chocolate Museum where you can learn more about the world of chocolate and have free-flow chocolate! Visitors will be brought on a self-paced audio guide tour of the museum, history of chocolate-making and try on as much chocolate as they want. Sounds like a treat? It definitely was an enriching experience!
Where: Schokoladenplatz 1, 8802 Kilchberg
Cost: CHF15 for adults, CHF10 for children 8 to 15 and free for children below 7
Website
---
Questo
If you love puzzle hunts and escape rooms, try the Questo in Zurich! Learn about prominent figures such as Albert Einstein who once lived in Zurich as well as other interesting facts on the city through solving puzzles in different places. Simply download the app and navigate accordingly!
Cost: CHF10 per adult
Website
---
Spring Water Fountains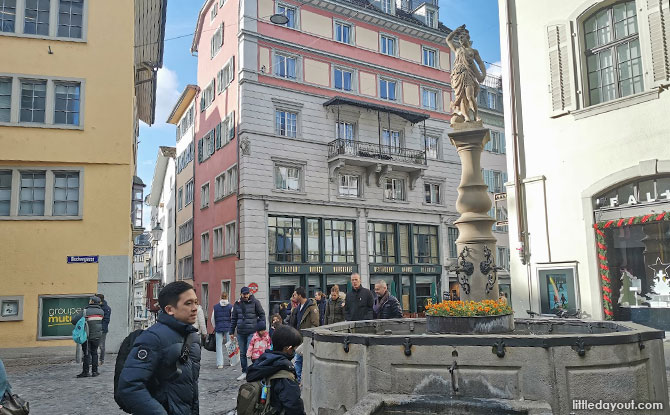 This is one free and fun activity we all enjoy. Head to the different spring water fountains, fill your bottles and refresh yourselves! Even the furry friends had their own tap to drink from. Zurich has over 1000 drinking fountains in the city, 400 of them run with spring water diverted into the city from surrounding mountains and filtered with natural sand.
---
Budget-friendly Family Time in Zurich is Possible
Besides free spring water, there are plenty of low cost, family-friendly activities to do in Zurich. Have a fruitful time exploring the beautiful Swiss city!