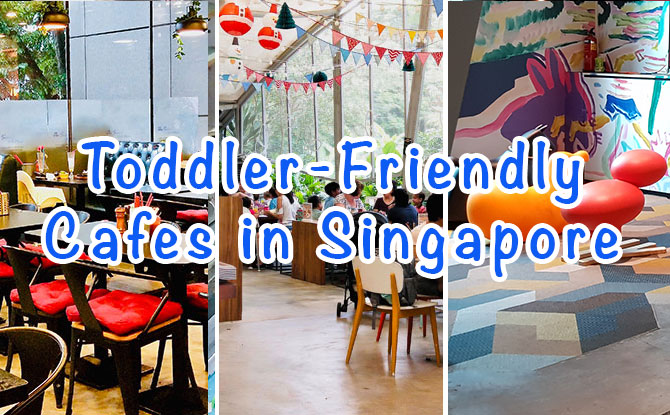 "Is there a toddler's play area in this cafe?" is the first thing I usually ask friends when they're inviting me out for lunch or a coffee.
I have an active two-year old on my hands and knowing which toddler-friendly cafes have play areas has been a lifesaver in the last two years. Living with two dogs and one toddler means there often are days I just want to look nice and get out of the house to stretch my legs a bit.
So, we tried three for you mums and dads who want to catch up with friends or simply need a toddler-friendly cafe with a play area so your child can be entertained while you catch a breath for a nanosecond.
Toddler-Friendly Cafes With Play Areas
---
Kith Cafe at Marina Square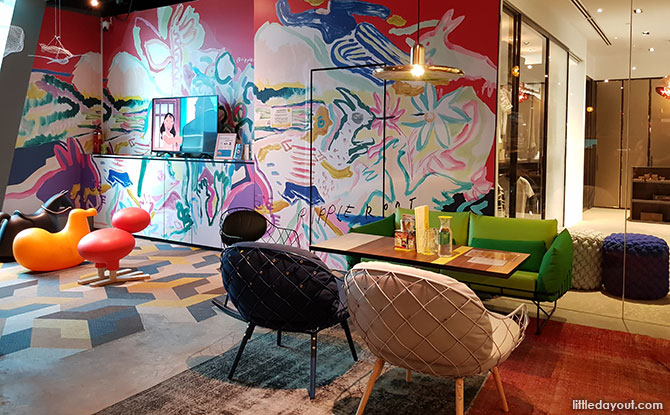 Kith Café is a restaurant/café with 6 branches all over Singapore, one of which is located in Marina Square.
---
-- Story continues below --
Kith Café at Marina Square is great for parents of crawling babies and hyperactive toddlers, what with a minimalistic play area tucked away, inside the restaurant. In my opinion, toddler play areas in cafes and restaurants should be as tucked away from the rest of civilisation as possible to minimise the risk of children wandering off.
Even when I can't get a table right by the play area, I'm happy for my daughter to move independently between that and my seat/table.
Although there's neither a play kitchen nor a mini slide, there is a box of toys (with some blocks), super cool hipster rocking horses (from premium design store XTRA), and a sizeable TV screen, often with a good Disney or Pixar cartoon showing.
The play area is lined with foam mats which makes it a little safer for pre-walkers, although some parents might be put off by the fact that hardly anyone takes their shoes off.
If you're just after some afternoon tea, Kith at Marina Square (or anywhere!) does a mean coffee and a yummy House-made Tiramisu.
Where: 6 Raffles Boulevard, #02-49 Marina Square Shopping Mall, Singapore 039594
Website
---
Lazy Garden Cafe at City Square Mall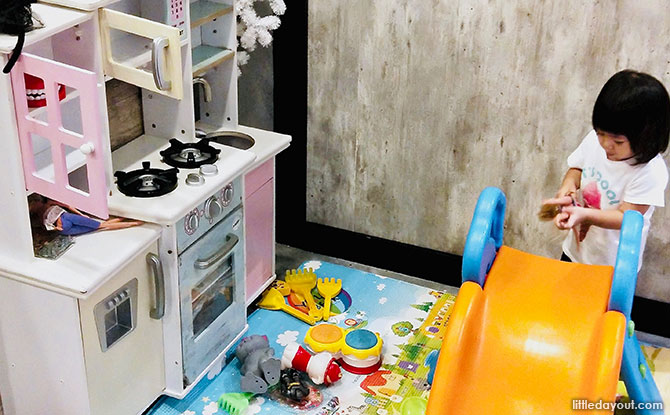 When I caught sight of Lazy Garden Cafe's play area, I walked straight in and requested to sit right by it. My daughter also did not need any prompting; she quickly made herself at home with the restaurant's teeny play area while I ordered some grub for us.
Located well within the restaurant, the children's play area is no more than two metres by two metres, so expect some elbow-flying and shoulder-bumping on a busy day. I was there on a weekday afternoon, and both the restaurant and the toddler play area were fairly quiet. I was able to zone out and have a coffee in relative peace!
There's a play kitchen, a mini slide, a rocking horse, and even some books – lots of good clean fun packed in to one small area.
My daughter enjoyed herself even when more children started to descend upon the play area. I had to remind her not to play on the mini slide when things got busy as I didn't want her kicking another child! Otherwise, the children are pretty safe if left to their own devices for a wee bit.
If you live in the vicinity or are shopping at City Square Mall, definitely keep the The Lazy Garden Cafe in mind when you're after some downtime, or if your toddler has some energy to expend.
Where: 180 Kitchener Road, #02-37/38 City Square Mall, Singapore 208539
Website
---
Food For Tots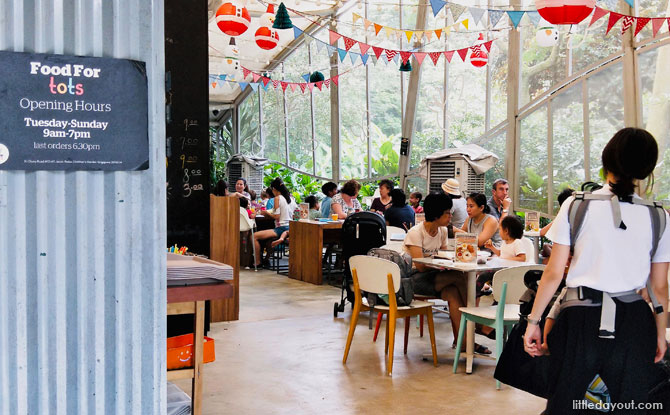 Nestled in Singapore Botanic Garden's Jacob Ballas Children's Garden, Food For Tots is a family-friendly café that aims to instill in children an appreciation for the environment.
Its intimate space boasts a small interactive play area, located all the way to the back of Food For Tots. Given the design of the cafe, I can understand why the play area is where it is.
As much as I like toddler play areas in cafes to be tucked away from the entrance or exit, I found Food For Tots' play area to not be very thoughtfully positioned, especially for mummies or daddies who might be alone with a baby or toddler.
I say this because older children could be left alone in the play area while you run back and forth to the entrance to order and collect food and drinks. In the case of parents out solo with a baby or a toddler, Food For Tots' system means having to carry the child to and fro, or simply strapping her in to the high chair (and hope for the best).
The play area has a few toys – a wooden alphabet abacus, a xylophone, a wheelbarrow, and rocking horses. There's also a low table and some chairs, so the little ones can park themselves down for some colouring or reading.
If you're seated right by the play area, your toddler should be quite comfortable to entertain himself or herself, although I really wouldn't recommend letting crawling babies explore the play area as it's too cramped – and low – a space.
To be honest, my daughter didn't fancy the play area much. She was happier sitting with me at the table, and having an Ice Chocolate and a cookie. We left shortly after for a run around in Singapore Botanic Gardens which is lovely.
Where: 1H Cluny Road, #01-K1 Jacob Ballas Children's Garden, Singapore 259569
Website
---
Our Conclusion
As much as I love being home with my daughter, getting out of the house breaks up the monotony of the day which is nice.
After having visited these three toddler-friendly cafes with their respective play areas, I have to say that Kith Cafe at Marina Square is hands-down my favourite.
I like that it's hardly ever uncomfortably crowded any day of the week, but go early if you'd like to occupy prime play area seating, provided it hasn't already been reserved! I also appreciate that I'm able to supervise my daughter from afar which gives me a little alone time, and her some independent play time. We always leave Kith Cafe happier and wanting to return soon!