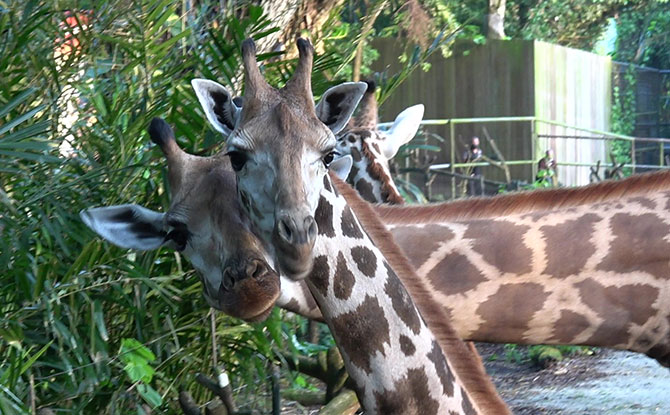 Two young Rothschild's giraffes are making their public debut at Singapore Zoo today.
The long-necked pair hail from India's Mysuru Zoo. They took a 22-hour inter-state road journey and seven-day sea voyage to arrive at their new Mandai home on 26 May 2021.
Upon arrival, they had to serve a three-month quarantine and have since settled into their new habitat where they are fed a daily diet of hay, herbivore pellets and leaves of starfruit, jackfruit and acacia trees.
---
Rothschild's Giraffes at Singapore Zoo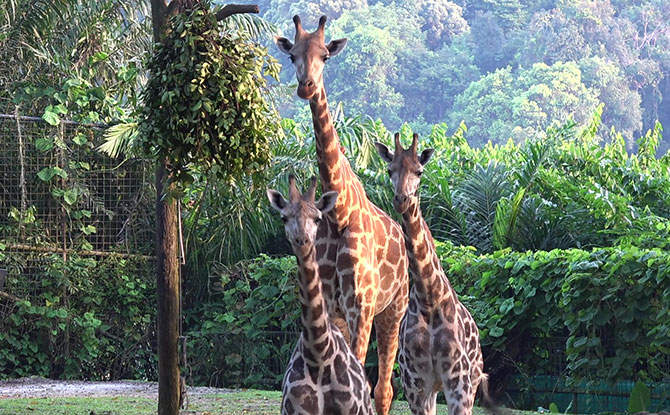 The two new Rothschild's giraffes are males and are both slightly over a year old.
Named Balaji and Adhil, visitors can view them at Singapore Zoo's Wild Africa zone where they will slowly be conditioned for the thrice daily feeding sessions.
Balaji, which means "strength" in Hindi, was named after an Indian prince. Adhil was named after a star in the constellation Andromeda.
The pair has been adopted by Kuok Singapore Limited Group, whose shipping line PACC Line Pte Ltd was engaged in the pair's sea voyage from India to Singapore. Adhil is also the name as one of PACC Line's fleet of vessels.
Rothschild's giraffes are a threatened subspecies of giraffes. There are fewer than 2,000 of its kind left in the wild.
Mr Parmasivam Ramasamy, Curator of Herbivores, Wildlife Reserves Singapore, who tended to the giraffes on their voyage from India to Singapore, shared, "We are very excited to welcome these gentle giants to Singapore Zoo, and have since introduced them to our resident father-and-son duo, Marco and Jubilee. The current giraffe exhibit has ample space for the four, and we have added additional water troughs and salt lick blocks in preparation of their debut."