Love prawns? Even if you don't, you might love the thrill of catching prawns – or go prawning! There are 9 prawning places in Singapore.
Scattered around the island, prawning is something that even kids can do. It also teaches them about patience. Many of these are open 24 hours a day, so you can even head to a prawning spot at any time of the day!
---
9 Prawning Spots in Singapore
1. ORTO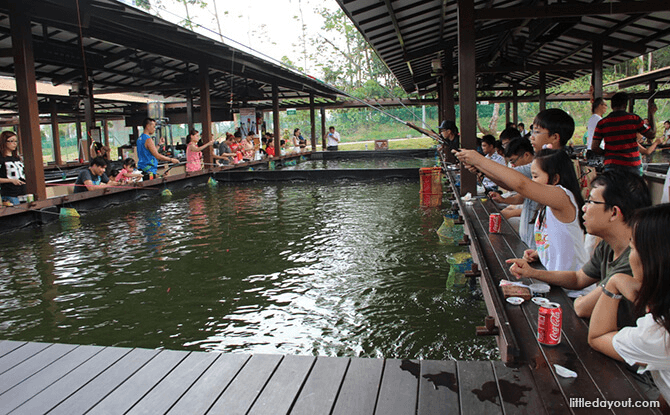 ORTO is the largest prawning facility in Singapore. It is open 24 hours, which means you can go prawning any time! If you have a large group and prefers private prawning, there are exclusive ponds to use! For children, there is also a longkang fishing option.
---
-- Story continues below --
Where: 81 Lorong Chencharu #01-09
More details here.
Prawning at ORTO West Coast
With the upcoming closure of ORTO in the middle of 2023, Prawning at ORTO West Coast has opened in 2023. This prawning spot is located opposite Haw Par Villa and provides a place for prawning enthusiasts to land a catch. Read more about Prawning at ORTO West Coast.
---
2. Aquarium Iwarna Catch and Release
This fishing and prawning destination is open 24 hours on weekends. It is tucked away in the East but the distance means very low rates to enjoy your fresh catch. Just use the grills available to cook the seafood after your session.
Where: 70 Pasir Ris Farmway 3
Find out more here.
---
3. Fun @ Fish Bugis+
Fun @ Fish is Singapore's only indoor rooftop prawning pong and bar. It is located on the seventh floor of Bugis+ with saltwater prawning, freshwater prawning and longkang fishing activities available.
Where: Bugis + Level 7, 201 Victoria Street
Get the latest updates here.
---
4. Fish @ Ang Mo Kio
A sister outlet the Fish Bugis+ is this Ang Mo Kio outlet. This is located under the MRT tracks inside The Grassroots Club. Children can try prawning and longkang fishing, and the fish spa too. We have seen participants catching crabs and lobsters as well. This location is also fully sheltered.
Where: 190 Ang Mo Kio Ave 8, Grassroots Club
More details here.
---
5. ATC Fishing Village
Sleepless in Singapore? ATC Fishing Village is another spot in the West to catch fish and prawns. There are Prawn Rewards Systems and prawners get a chance to win $2, $5, $10 or one free hour of prawning based on the colour of tag on the prawn.
Where: 241 Jln Ahmad Ibrahim, next to the Jurong Bird Park car park
Details are here.
---
6. Ah Hua Fishing
Ah Hua Fishing has prawning ponds for those eager to get away from the hustle and bustle of city life. This spot is quiet, tranquil and perfect to catch those prawn and fish.
Where: 125A Pasir Ris Road S519121
See the details here.
---
7. Riviera Prawn Fishing
Another 24-hour prawning facility, Riviera is located in Punggol and also offers rewards for tagged prawns that are caught. All the best!
Where: 60 Punggol East, 01-011, Singapore 828825
---
8. Hai Bin Prawning
Hai Bin first started in Bishan and then expanded to other locations, with one huge prawning facility in Punggol currently. It also operates the Banyan Beer Garden. It is also open 24-7.
Where: 6 Tebing Lane, #01-04
Check out more details here.
---
9. D' Best Fishing
D' Best is known for being its seawater fishing pond in Singapore. Go fishing and prawning round the clock right alongside experienced anglers. D'Best also organises fishing workshop for children.
Where: 90 Pasir Ris Central
Locate D'Best here.
---
Want An Easy Catch – Go Prawning

This is an activity suitable for all ages and children would definitely have a field day trying to catch some prawns. It is an easy quest especially for beginners. What's even better – you can cook them on the spot for the freshest seafood!