Apart from sleep, what are the best baby gifts in Singapore you can give new mums and dads? If you are feeling lost or looking for helpful items for friends and family, we have a list of the most suitable gifts for new parents.
---
Best Gifts for New Mums in Singapore
Choosing a present for loved ones or close friends who have just welcomed their first bundle of joy can be tricky. After all, you'd want to give them something they'll actually like and use, not quietly consign to a corner of the cupboard.
For some inspiration, check out these ideas for fab gifts that will deliver aid and comfort to new mums.
---
Thoughtful Gifts for Mothers on iShopChangi
---
-- Story continues below --
Purchase gifts for expectant mums and families with infants from iShopChangi.com to grab the best tax & duty free deals without flying*.
Hegen's breast pumps and accessories are the best gifts for mums-to-be and loved ones. For mothers who have to pump multiple times a day and for extended period of times – electric pumps are a blessing because they require less physical effort than manual pumps. Choose the Hegen PCTO™ Electric Breast Pump or Hegen Manual Breast Pump to help lactating mothers express milk efficiently. The electric option has an additional kneading massage feature and is the world's first relaxation breast pump.
Feeding bottles are essential for babies and toddlers. Poorly designed bottles can leak milk, causing messes and wasting precious milk. Gift a new mum the Hegen PCTO™ Basic Start Kit PPSU which includes feeding bottles of different sizes and with different teats. Hegen PCTO Feeding Bottles feature revolutionary no-screw thread one-handed closure for hassle-free handling. Included storage lids allow for airtight storage of the milk. The Smart Build-In Anti-Colic Air Vent System minimises air intake in babies during feeding, reducing the risk of gas pains.
Alternatively, gift Hegen PCTO 300ml Feeding Bottles with Fast Flow Teat to new mums. The bottles grow along with the baby and can be used as a snack cup or to store baby food.
If you are looking to gift chic, stylish, and yet high-quality baby feeding products, Hegen is one of your best bets so grab them on iShopChangi.com.
New iShopChangi users can slash S$20 off the first purchase with a minimum of S$79 by simply entering the code <ISCNEW20> at checkout. Till 31 Oct 2023, tap on iShopChangi birthday anniversary promotional codes to enjoy at least 15% off on Hegen products.
As a non-traveller, you can cart out and have your items delivered to a Singapore residential address for free when you spend at least S$59. Alternatively, pick up selected products from the Jewel Collection Centre.
*T&Cs apply.
---
Customised Food Hamper
Does the new mummy love some Oreos with milk now and again? Or maybe she's always got her fridge well-stocked with fruits?
Think about customising a food hamper just for her because new mummies need all the food they can get – bonus points for added health benefits, and even more bonus points for tastiness!
Remember, cookies don't have to be lactation cookies, and tea doesn't have to be lactation tea; a naughty treat here and there never hurt anyone!
Think about what mummy has always liked before baby came along – she'd really appreciate being at the heart of your intentions.
---
Eu Yan Sang Mommy Goodness Hamper Box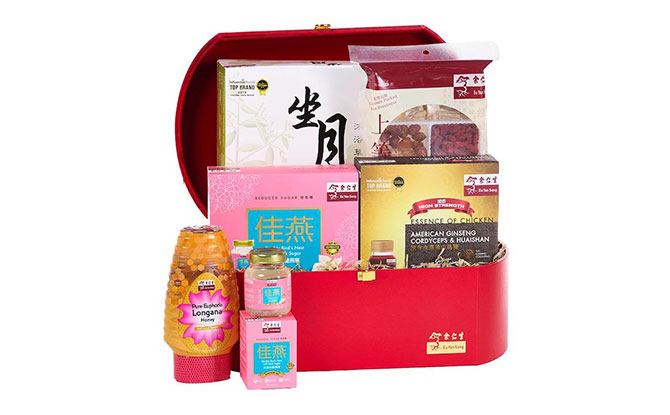 If you don't want to customise a gift hamper, how about picking up one that is already tailored to the needs of the new mum?
Eu Yan Sang has one that packs together bird's nest, essence of chicken with ginseng, longana honey, a revitalizing soup pack and traditional confinement bath packs. This provides nutrition and an energy boost post-delivery.
Purchase the box here.
---
Postnatal Massage Session
We all know how exhausting mothering newborns can be. Gift a loving touch to mums with a prenatal or postnatal massage session. Prenatal massage helps with relieving body pain and water retention, reduces swelling, aches and pain. Consequently postnatal massage repositions the uterus, improves lactation and includes a tummy binding.
A jamu massage is all about restoring a mother's body after pregnancy and childbirth. Specially geared toward postnatal mummies, a Jamu massage involves massaging the body with specially formulated herbs, oils and hot stones to improve blood circulation.
It not only helps get the new mummy's internal organs back into place gently, it also works wonders for breastfeeding by relieving engorgement and clearing blocked ducts.
Pamper mummy with a Jamu massage specialist, and send this thoughtful gift all the way to her doorstep!
Check out the options here.
---
Nursing Bralettes from Perk By Kate
Nursing mums would appreciate a comfortable and useful nursing bra for surviving the late nights, early mornings and nursing sessions. Perk By Kate intimates are a must-have in every lady's wardrobe. The maternity and nursing bralettes will be a godsend to mums (and dads).
Purchase these nursing bralettes here.
---
Comfy Loungewear
In the weeks – and months – after a new baby arrives earthside, new mums are almost always expecting visitors. And as much as it would be lovely to get dolled up, most days the heart is willing but the flesh is weak.
Indulge the new mummy with a gift of stylish and comfortable loungewear that she would be happy to receive guests in! Anything beats being in an old T-shirt and shorts that mum wouldn't even want the postman to see.
---
Sling Bags, Diaper Bags and Accessories from Mori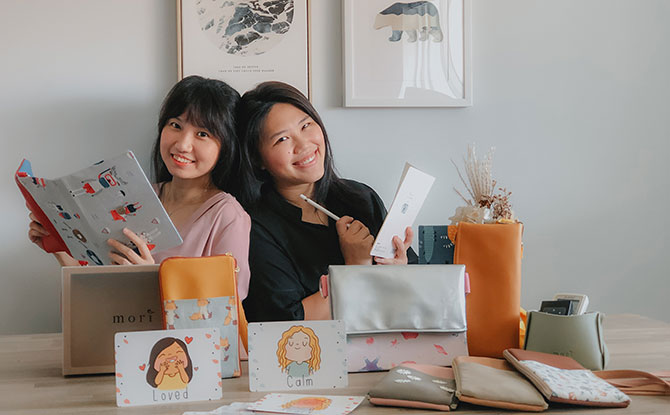 Mums of newborns are the busiest lot and always on the move. How about supporting other mums by purchasing useful and aesthetically pleasing products for new mums?
Mori is a women-run business with a mission to bring purpose and joy to both those who purchase its products and its makers. Mori provides mothers from disadvantaged backgrounds in the Philippines work-from-home opportunities, making functional and inspirational products.
Shop from Mori's catalogue of useful gifts such as sling pouches, utility bags, diaper bags and more.
You can also read more about Mori's story and the work they do.
---
Healthy Meal Plan Subscription
What all new parents need is healthy meals sent to their doors. With little time to cook and an important season to prioritise nutrition, healthy meal plans can be a lifesaver. Gift a subscription here.
---
Bebe Au Lait 5 In 1 Nursing Cover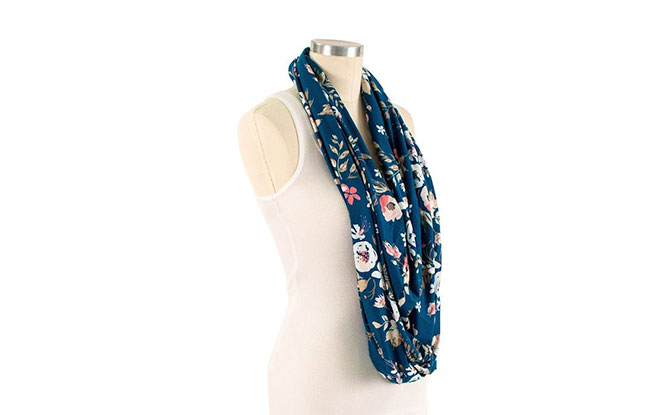 Made of super soft and stretchy jersey knit, this series of beautifully printed nursing covers can be also used as a trendy scarf, a car seat cover, carrier cover or shopping cart seat cover.
Shop for Bebe Au Lait 5 In 1 Nursing Cover.
---
Stylish Diaper Bags
Just because they have to lug around diapers, bottles and wet wipes doesn't mean they can't do it in style.
There are many diaper bags that are so chic they don't look like diaper bags. Petunia Pickle Bottom, for instance, has a good range of trendy designs, as does Jujube. Or check out the cute canvas carriers from boutique label Super Estela.
---
Boppy Original Nursing Pillow
It lifts baby to a more ergonomic position for both breastfeeding and bottle-feeding, and works for multiple feeding styles too, from cradle to football hold. As baby grows, it can be used to support propping, tummy time and sitting up.
Purchase this well cushioned nursing pillow.
---
Mattress Protectors and Bedsheets
Take away the nightmare of dealing with leaks and diaper malfunctions with a good quality mattress protector. Clevamama offers waterproof but breathable ones made of 100% Tencel from eucalyptus trees. They're also anti-bacterial and anti-mites. If you want to include some comfy bedsheets, Mothercare has a good selection.
---
Personalised Baby Gifts in Singapore
Lovingly Signed Personalised Blankets & Gift Hamper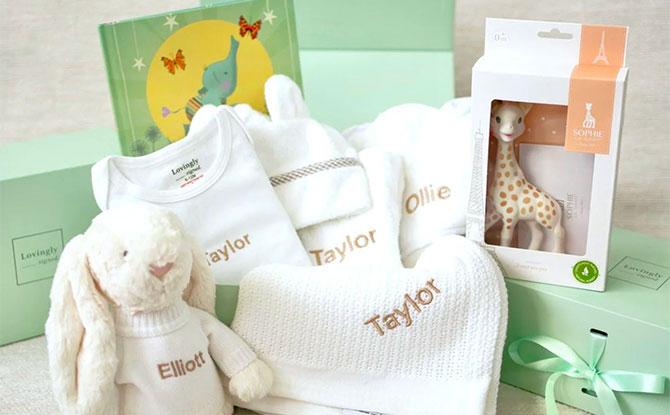 Customise and personalise a unique baby hamper by designing it with gifts such as blankets, plushies, towels and body suits.
Add a personal touch to your baby gift by choosing the colours and getting baby's name embroidered on to the gift. You can also add on a Jellycat with a personalised jumper to the gift box
Find out more about Lovingly Signed's gift boxes.
---
Kaiby Box
Create your own baby gift box from Kaiby Box. Customise the box with baby products like onesies, soft plush toys, interactive rattles, cloth books, stacking toys, Kaiby Bear, name blocks, baby rattles, rompers, chicken essence and more. This gift box ships from Singapore so it is perfect as a gift for new parents and babies in Singapore.
Get more details about Kaiby Box.
---
Raph & Remy
Raph & Remy is all about useful, chic and stylish products that are sustainably sourced and prioritise comfort. The 7 Essentials Collection Gift Set packages together seven essential baby items that every parent needs over their first few years including teethers, swaddle cloths and blankets – great as gifts for newborns.
Find out more about Raph & Remy.
---
Little Kooma Personalised Blanket
Gift a personalise blanket for baby. The blanket is a snuggly, soft one with a tiny adorable unicorn at the corner. It can be conveniently rolled up for travel and tied with a ribbon or kept out all day for lots of snuggles. Little ones will appreciate the familiarity of being covered by the ultra soft blanket for bedtime.
Find out more about what Little Kooma offers.
---
Nuzzle Nana Personalised "Chou Chou" by Nuzzlings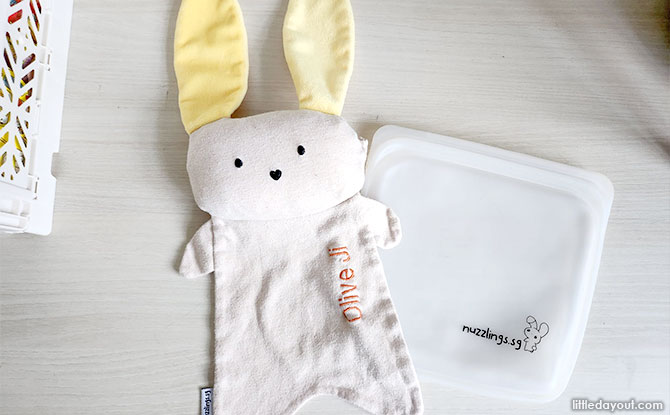 The Nuzzle Nana is a great companion for little ones. It is well thought out and perfect as a soft, gentle comfort for infants. A homegrown, Singapore product, the Nuzzle Nana is made from a gentle organic cotton fabric, the Nuzzle Nana is designed to be a safe toy for chronic thumb suckers or drooly babies.
It comes with in its own food-grade silicon pouch for putting away at mealtimes and during playground explorations. And, it can also be personalised with baby's name with beautiful thread options at the Nuzzlings' website.
Get more details about the Nuzzle Nana.
---
The Diaper Cake Company
Why send a regular box when you can send a cute two or three tier diaper cake instead? The Diaper Cake Company offers practical, meaningful and unique gift sets for new mothers to celebrate and the birth of their baby. You will find diapers (of course) and other handy and practical items that parents would appreciate as they start off their parenthood journey. The diaper cake can be personalised with either the baby's, mummy's, or daddy's name.
Find out more about The Diaper Cake Company.
---
Momo + Bubs
Get the Newborn Essentials Gift Set with Name Embroidery from Momo + Bubs and it will be a welcomed and practical gift for new parents. Each set contains newborn essentials – 2 organic cotton muslin swaddles, 2 organic cotton muslin bandana bibs, 1 organic cotton muslin Kimono-style onesie and a handwritten gift card.
Find out more about what Momo + Bubs has to offer.
---
My Baby Gift
Create a personalised hamper for baby with bodysuits, blankets, hooded towels and even a personalised bib. All these items come in a neat little box that you can customise with a colour of your choice and a gift card where you can include a message to send you well wishes to the parents and the newborn.
Find out more about what My Baby Gift offers.
---
Chubby Chubby
Build a customised box for by picking and choosing items according to your budget from Chubby Chubby. Chubby Chubby also offers a personalisation service by way of either name labels or by hand embroidery.
Find out more about gifts from Chubby Chubby.
---
More Gifts for Baby in Singapore
Books for Bubs
Raising children who love books means starting them early. Reading to little ones has been proven to develop their cognitive skills and language acquisition abilities.
Purchase popular English titles and Chinese books.
---
Busyboards by Penguin Lada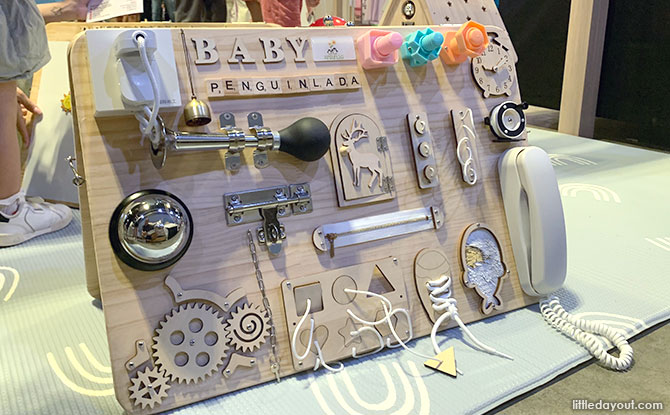 If you are looking for something for little ones to fiddle with and parents some downtime, gift them a busyboard! Busyboards are little boards with different play elements bolted on, they give littles ones something to fiddle around with and to explore with their hands. The boards help kids to improve their fine motor skills and encourage sensory exploration.
Buy them here.
---
Newborn Photography Session
What better way to celebrate the arrival of a newborn than by immortalising his or her early weeks of life in photographs? And to have it all done in the comfort of one's home!
If you are are looking for a gift for baby, one of the best gifts you can give is the gift of precious memories. You can look for photographers that specialise in newborn photography who will bring the studio to you, complete with cute newborn costumes, accessories, props, and even lighting!
It sounds almost indulgent but imagine the memories you are helping the new mummy – and daddy – to create with a simple baby gift like this. When looking back on the photographs in time to come, everyone will get the warm fuzzies and have you to thank.
---
Philips Avent Soothie Snuggle Pacifier Holder with Detachable Pacifier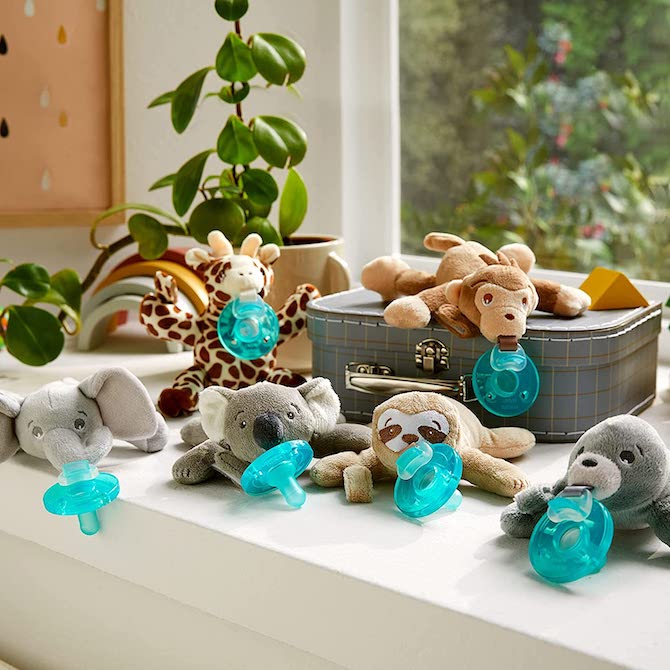 It's a pacifier and comfort toy combined in one. The stuffed animal makes it easy for baby to find the pacifier and keep it close. Affectionately known as Soothie, the pacifier can be used to calm down newborns. It can be detached from the plush toy component for easy cleaning too.
You can purchase the Philips Avent Soothie Snuggle Pacifier Holder with Detachable Pacifier here.
---
Baby Milestone Book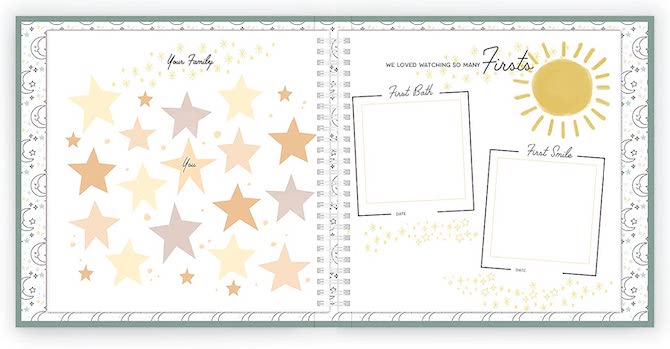 Many new parents document everything their little one does, which is understandable because newborns develop and change so much so quickly A milestone or memories book is a good way to journal baby's many firsts, plus memorable occasions and moments.
A good baby book will grow with baby and have spots document baby as he or she progresses into the toddler years. It a wonderful way to capture major milestones and for parents to follow as baby grows.
---
Techie and Practical Gifts for New Parents
Baby Monitor & White Noise Machine
A baby monitor is always needful to check on baby. The Arlo Baby Monitor is adorable with bunny ears long battery life and a trustworthy nanny cam. It also plays lullabies and white noise! In addition, it monitors VOC levels, humidity and temperature.
Check out other baby monitor and white noise machines.
---
Baby Shusher – The Sleep Miracle
Help parents get baby (and themselves) to sleep faster with this innovative device, which plays human-voiced rhythmic shushing similar to the sounds of blood flow and other in utero noises. It also breaks a fussing baby's crying spell and engages their natural calming reflex.
This Baby Shusher is great for getting baby to sleep in the car, crib, stroller or anywhere else your baby needs to sleep while traveling. The adjustable volume on this Baby Shusher is ideal for accommodating you and your baby's personal needs during the night without keeping everyone awake.
Shop for the Baby Shusher – The Sleep Miracle
---
Hip Pack
Okay, it's true that fanny packs generally have a bit of an image problem. But new ones these days look way better and can be slung cross-body, so cool dads (and mums) don't have to worry about appearing stodgy.
With them, parents can have quick access to essentials like keys, wallet and phone without having to fish in the diaper bag. Many sports and backpack brands have good-looking options, such as Herschel, Adidas, Under Armour and Puma.
---
Relaxing Pillow Spray
The early months are usually an incredibly exhausting time for new parents. So give them the gift of good rest with a beautifully scented pillow mist that's designed to help them unwind and settle in. Crabtree & Evelyn Stars In The Night Room Mist is a warm, sweet scent that's highly comforting; L'Occitane Cocon de Serenite is a soothing mix of lavender and sweet orange; while This Works Deep Sleep Pillow Spray lulls with its blend of lavender, vetivert and chamomile.
---
Insulated Thermos Mug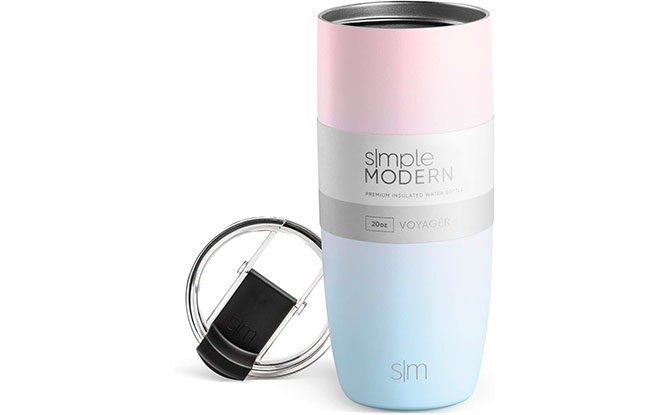 Because there's nothing like having a hot coffee or their favourite brew on hand when the new parents are out running errands after pulling another all-nighter with baby. It may seems like an unusual gift but it is a practical one that busy parents will appreciate.
While you can probably find an insulated tumbler anywhere, if you are want to shop for one online, you can have a look at the Simple Modern Mug Tumbler.
---
Sleep Mask
Another item to help parents get some quality shuteye, and we don't mean the flimsy kind they give out on airplanes.
A weighted eye mask will better block out light and provide comfortable compression to soothe tired eyes. Some of them even come with a removable pillow that can be chilled and used to relieve puffy eyes and headaches, or heat and time settings that let users choose their desired temperature and duration.
---
Choosing the Best Gifts For New Parents
Choosing gifts for new parents, mums, or soon-to-be mums, can be tricky. However, with our extensive list of idea of gifts for parents in Singapore, you will surely be able to find something to suit your budget and taste.
While obvious picks would be stuff for baby like diapers (doesn't get more practical than that), chances are they are already be well-stocked in that department.
While it may be tempting to get new parents onesies/bibs/toys, we think there are many other creative gifts that new parents will appreciate.
So instead, consider a gift that makes life easier for the new mum and dad and addresses their needs. They will appreciate a gift that helps them with day-to-day baby care, or perhaps a treat that looks after their well being, or makes life at home that little bit simpler or more organised, or simply encourages self-care.
Also, be sure to take advantage of the online shopping options so that you can just shop from the comfort of home.
We hope that this list of ideas of gifts for new mums and parents in Singapore has sparked some ideas for you and that you have fun selecting a gift that they will appreciate.