Looking for interesting things to do this weekend? There are activities happening onsite around the island and online for you to enjoy in the comfort of home! Here are some of the activities to check out this weekend.
---
What to Do This Weekend: 5 & 6 February 2022
Take a cute photo with Eevee
Meet the adorable Eevee at the Eevee Meet-&-Greet sessions that are taking place as part of the Sentosa Eevee Adventure. The sessions take place from 5.30 pm to 6 pm and 6 pm to 6.30 pm at Palawan Green (Indoor Tentage). Read more details here.
---
Soak in the atmosphere at Gardens by The Bay
---
-- Story continues below --
This weekend, Gardens By The Bay is filled with the festive spirit. Visitors can catch River Hong Bao on its last weekend and also the various lanterns at exhibitions such as Dahlia Dreams. For visitors who aren't able to book a timeslot to enter River Hong Bao or any of the other exhibitions, don't fret! There are various ways to soak in the festive atmosphere such as enjoying the various festive decorations around the gardens.
---
Win Ang Baos worth up to $888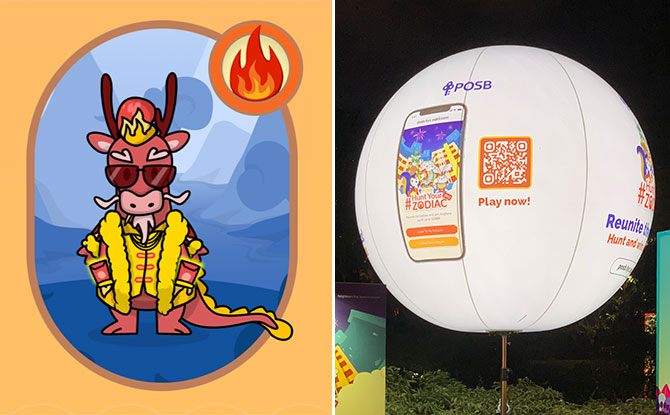 POSB's #HuntYourZodiac is back and there are over $180,000 in cash prizes to be won from now till 15 February 2022. #HuntYourZodiac is a mobile browser-based game that invites players to seek out 60 zodiac animals and take on different challenges. See how to participate in the challenge here.
---
View River Hong Bao Online Events
From events such as the 'Daily Lantern Riddles Show' and the "River Hongbao Instagram Emoji Hunt", visitors who are unable to catch River Hong Bao on site can still participate in these interesting online events with various attractive prizes to be won. Details on these activities can be found here.
They can also take a virtual tour of the exhibition: 'Nian Hua: Changing Times, Unchanging Aspirations', as it takes visitors on a journey through time to find out more about traditional Chinese art and painting. Read more here.
---
See Beautiful Nature Photography At The Silver Lining Exhibition
Starting 5 February, "The Silver Lining: A Celebration of Nature in the Time of Pandemic" is a family-friendly exhibition where visitors can view stunning images from members of the Nature Photographic Society, Singapore, at the Colonnade at Gardens by the Bay. The exhibition is a community initiative to raise awareness of Singapore's biodiversity and create a positive, optimistic tone for the start of 2022. There are also various family-friendly activities to take part in. Read more about it at the site here.
---
Learn more about Wayang Kulit
Explore the wonders of the traditional Malay Art form, wayang kulit, in this interactive online game by the Malay Heritage Centre as part of the Malay Culturefest 2022. The annual Malay CultureFest celebrates the evolution of Malay culture in Singapore and its intricate links to the Nusantara. Play the game here and find out about the other programs here.
---
Visit one of Singapore's wetlands
Pay a visit to one of the wetlands in Singapore and appreciate its role as a habitat for animals, large and small. Spot the different local wildlife such as birds, otters and even crocodiles! There are also many plants that play a key part in the ecosystem to appreciate. See 5 wetlands to visit here.