It is the F1 Weekend in Singapore! From 14 to 16 September 2018, the Singapore Grand Prix rolls into town. For some, it is a chance to view super-charged race cars zipping by; for others, it means steering clear of the city centre and the road closures to find other things to do during the F1 weekend in Singapore.
If you fall into the latter category, here are some suggestions of things to do during the F1 weekend 2018 in Singapore does not involve heading downtown.
Things to Do During The F1 Weekend 2018 In Singapore That Do Not Involve the Singapore GP
---
Mesmerising Mermaids
If you are looking for something more serene than the sound of F1 engines, how about watching graceful mermaids swim by instead? The mermaids will be making appearances at the Amazon Flooded Forest at 12.45 pm, 1.45 pm, 2.45 pm on the weekend, swimming alongside manatees, red-tailed catfish and arapaimas. You can also embark on a Mericorno x River Safari trail around the park to win limited edition tokidoki pins. Find out more.
---
Sentosa Sandsation: MARVEL Edition
Southeast Asia's largest sand festival is on till this weekend. Come face-to-face with your favourite MARVEL superheroes like Iron Man, The Hulk, Spider-man and more at Siloso Beach. There are MARVEL-themed activities and sand sculpting workshops for kids. End off the day with free movies at Palawan Green. Plus, admission to Sentosa Island is free for locals and local residents! Find out more.
---
Gardeners' Day Out
Reconnect with nature at Gardeners' Day Out at HortPark on Saturday, 15 September. There will be plants on sale along with workshops and demonstrations. Kids, 6 to 12 years old, can participate in an activity, Painting with Nature, from 8.30 am to 11.30 am. There will also be Bee Trail Tour which will feature three bee habitats in HortPark. Find out more.
---
Carnival That Is Out of Town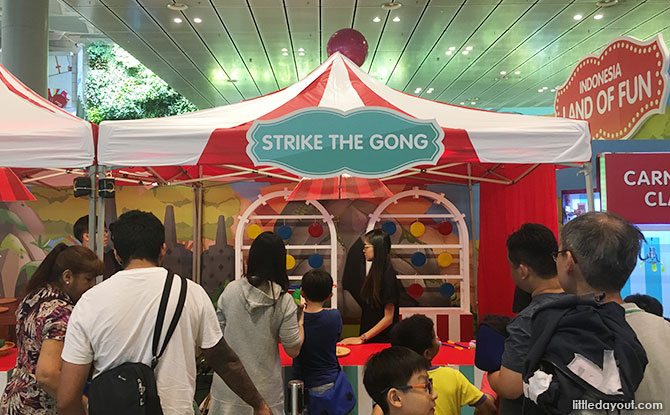 Kids can have some fun at the Land of Fun Carnival at Changi Airport Terminal 3. Spend a minimum of $60 to redeem three passes to enjoy rides and game booths. The Land of Fun Carnival will be operating from noon till 11 pm on 15 and 16 September, the F1 weekend in Singapore. There are also kids eat free promotions taking at participating Changi Airport food outlets during lunchtime on the weekend. Find out more.
---
The Train Playground
The Tiong Bahru Park Playground has reopened after several months of sprucing up. Pay a visit to the tilting train, zip about on the flying fox and enjoy sand play at this outdoor playground. Find out more.