Since their opening in 2018 at 19 Yong Siak Street in Tiong Bahru, The Butcher's Wife has been dedicated to serving up balanced, gut-friendly and 100% gluten-free cuisine.
It has recently debuted a menu created by Brazil-born, Paris-trained head chef Mariana Campos who joined The Butcher's Wife in early 2020. Her Brazilian roots heavily influence the items on the menus are inspired by Brazilian cuisine.
---
Starters
Here are some of the delicious items on the menu that you should try on your visit there, as well as the wines from the Drunken Farmer that you can pair it with.
Starters are a deep dive into the cultural mosaic of chef Mariana's culinary DNA, bringing diners on a food journey, letting them taste flavours from parts of the world like Rio de Janeiro in Brazil and Paris in France.
---
-- Story continues below --
Our local wet markets are a constant source of inspiration for the 28-year-old chef and she shows that through the use of local Singaporean ingredients in her food.
The first starter we tried was Dadinhos de Sago, meaning "little dices" in Portuguese.
This is a popular Brazilian street food that deep-fries the unconventional couple of tapioca granules and salted cheese. While it is typically served with a spicy Gula Melaka dip in Brazil, Mariana adopts an Asian touch and serves it with a dragon fruit chutney dip.
The dish was a delightful texture of a puffy and crunchy exterior while pleasantly chewy on the inside.
The other dish that got us hooked immediately was the flavourful Mini Corn on Fire. A twist to Brazilian-style corn on the cob. This dish uses locally grown baby corn to provide an explosion of flavour.
The corn is first blanched and then finished on the barbecue. This umami treat is made complete with grated pecorino, smoked paprika and an antioxidant-rich aioli made using fermented black garlic mayonnaise.
We enjoyed this starter a lot. It was creamy, crunchy, savoury and just the right amount of heat.
"Our Own Goat Cheese" is a literal labour of love that takes three to five days to make from start to finish. Raw goat milk from Singapore's own Hay Dairies is transformed into a creamy cheese using Kefir grains and strained for several days to take shape.
The final product is freshly made goat cheese that is rich, creamy and packed with significant amounts of gut-cleansing beneficial bacteria. Staying true to using locally sourced ingredients, the dish is paired with raw honey sourced from local brand 13 Honey's own bee farm and freshly baked walnut and buckwheat bread from "Oh My Goodness!", a local e-bakery specialising in gluten-free bakes.
Tucupi Tiradito is a Brazilian-style ceviche and an exploration of the head chef's South American heritage.
This traditional Peruvian dish is commonly made with Tucupi, an ingredient indigenous to Brazil that is poisonous when consumed raw with high levels of cyanide, but after cooked properly is enjoyed as a base for soups.
"This one is not made with the poisonous root!", Chef Mariana reassured us.
This dish was a unique introduction to my first ceviche. The sliced barramundi is put in a perfectly balanced picked soup and topped with thinly sliced tapioca chips for crunch.
It was hard to distinguish the individual flavours within the medley of ingredients in the dish such as fermented manioc juice, Sichuan black pepper, wing beans pickles and laksa leaves oil, but it all went together wonderfully for a sour soup base with a kick of heat.
The last starter we tried was Crispy Pig's Ears in a red dates sauce, with pickled ginger flower on wild pepper leaves. Mariana chose to include this to pay tribute to Brazilian feijoada, its national dish comprising of pork and beans.
The sliced pig's ear is marinated in soya sauce, and herbs such as paprika then deep-fried for crunch. It is meant to be eaten wrapped in a raw wild pepper leaf harvested from Open Farm Community.
We liked the sweetness from the red dates and tartness from the pickled ginger flower in this dish which made it completely different from the usual association of pig's ears being oily and greasy.
This starter is best paired with Part Davant 2018, an aromatic and fragrant white wine that is also well paired with fried chicken or fish & chips. It is a dry wine with a sweet aftertaste.
To think that all those flavours are just contained in the starters of the menu, we were excited by the mains that were upcoming.
---
Mains
The Butcher's Wife's Sweet Potato Gnocchi was the highlight of the entire meal. Making a pasta dish gluten-free is no easy feat, but The Butcher's Wife does it yet again by replacing regular potato starch with purple sweet potatoes for the pillowy-soft gnocchi and uses buckwheat flour instead of regular wheat flour for the handmade pasta.
The sauce is made with rosemary butter and fresh locally grown mushrooms such as shiitake, king oyster and enoki, pea shoots and topped with parmesan. This comfort dish got us planning for our next visit and we think this is a must-try for everyone who visits.
If you happen to go to The Butcher's Wife for brunch, a popular and unique dish is the Blue Pea Flower Naan Sandwich.
Gluten-free naan is not commonly found on menus, but you can find it this delicious gluten-free and vegetarian alternative at The Butcher's Wife.
Using beans, which are a staple ingredient in Brazilian cuisine, fermented black beans are used to create a lighter, fluffier falafel patty. The filling also consists of red lentil hummus together with roasted carrots for sweetness and coriander seeds and cumin for spice.
House-made yoghurt and green mango chilli sauce bring a kick of sourness, while fresh mint and coriander keep things fresh and crisp. (Psst: if you're going in during dinner, it's known as "The Wife's Veggie Sandwich")
For a glass of wine to pair with the two delicious mains, try a glass of Tète Red 2018. The palate is described to be "juicy and full but with a good kick of acid".
Other than beans and corn, another staple in a Brazilian cuisine is bananas. It can be found on a dish wish pays tribute to Picanha steak.
In this dish, the round cap of an Australian wagyu is paired with a salsa made out of Thai green papaya. It is served on a base of Burnt cauliflower puree and dehydrated banana that is crushed into a sweet, coarse powder. Chef Mariana shares that they are a reminder of her favourite side dish back home: fried plantains coated in manioc flour.
There is also the main of Grilled Octopus, which is made by tossing unseasoned juicy octopus tentacles on the barbecue before serving it alongside house-made white kimchi, sweet manioc (tapioca) puree and sturdy stalks of blasted broccoli.
Although unseasoned, it was far from bland, with the sweet, tangy and savoury flavours from the other ingredients of the dish bringing the main together wonderfully.
---
Desserts at The Butcher's Wife
After a long and satisfying meal, we finished off with two desserts: Warm Chocolate Cake and Lemongrass Panna Cotta. The warm chocolate cake is a collaboration with local bean to bar chocolate maker Lemuel.
Lemuel's 72% Ecuadorian chocolate is the main ingredient in this chocolate cake with a molten centre and the cake is served with in-house churned caramel miso ice cream and buttery pili nuts.
Although I am not usually a fan of savoury ice creams, the buttery and salty ice cream was a perfect pairing with the dark rice chocolate and the pili nuts added a nice crunch.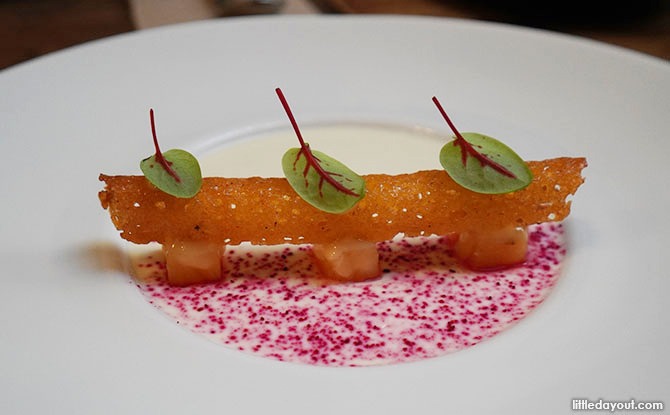 Lemongrass Panna Cotta is a unique dessert where ginger and lime kaffir leaves are infused into a creamy pineapple and calamansi curd with a butternut tuile on top. The infusion of refreshing ingredients such as ginger and lime and more acidic ingredients such as the pineapple were added to ensure the creamy dessert wasn't too heavy to enjoy at the end of a satisfying meal.
After all that was said and tasted, the aspect of The Butcher's Wife that stood out the most to me was the creativity and heart behind each dish.
The time, thought and creativity invested into this menu was evident thought the choice of ingredients, the intentionality in brands that were chosen to collaborate with, and how each dish stayed true to Chef Mariana's roots while also staying true to the values of The Butcher's Wife. It truly was a gastronomical experience we would happily go for again.
---
The Butcher's Wife
Address: 19 Yong Siak Street, Singapore 168650
Website