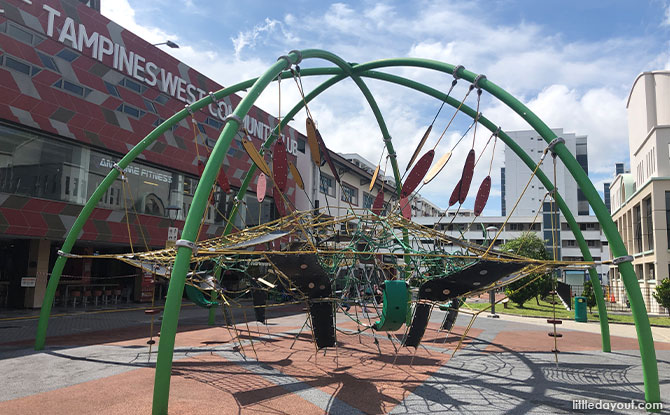 Located near Tampines West Community Centre, the Tampines N8, also known as the Tampines Neighbourhood 8 Market has a variety of facilities for residents around the area to relax and recharge. It has an eye-catching flower dome playground structure by local company Playpoint.
---
Flower Dome at Tampines N8 Playground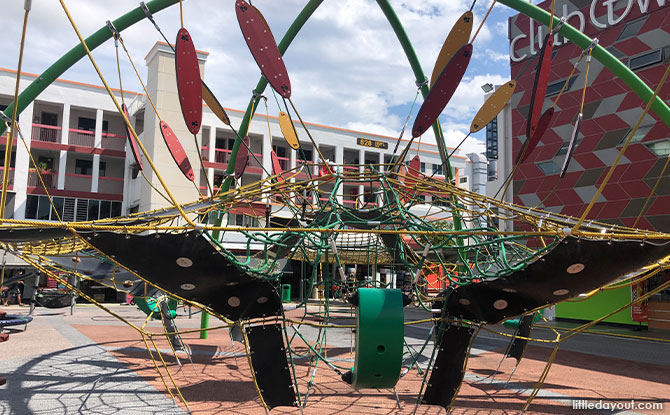 An interactive playground, the Kompan Flower Dome at Tampines N8 is painted in a bright green with red and yellow segments imitating flower petals. The playground is equipped with nets, ladders, hammocks and climbing membranes. The main structure is a space for kids to climb to their heart's content.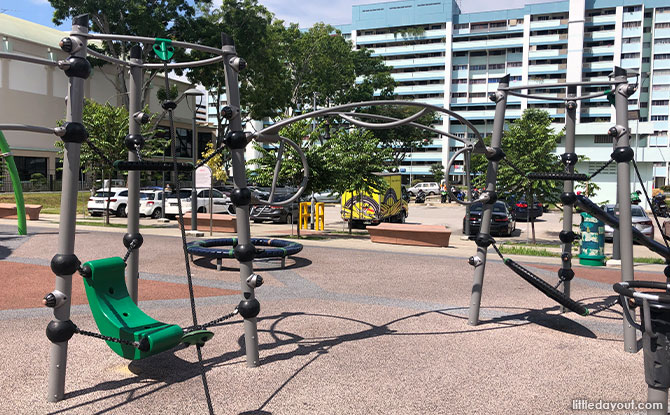 ---
-- Story continues below --
There are also metal bar structures with a mini green see-saw and climbing bars that lead from one end of the structure to the other. On the opposite end of the structure is a play element with three rubber tires that kids can either crawl through or use as a hammock of sorts.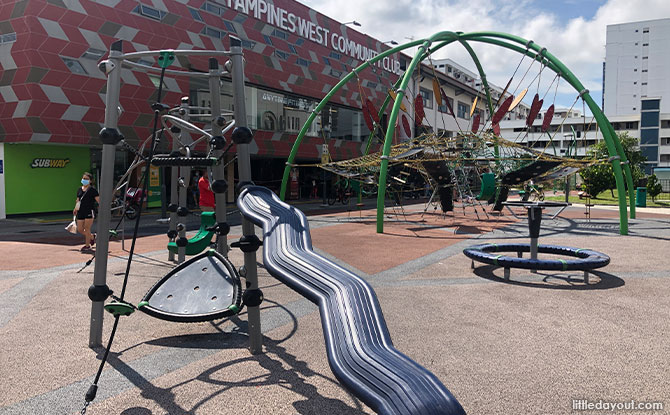 Another play structure at Tampines N8 Playground is a ramp that kids can either climb up or slide down from.
In the same area, there is a merry-go-round that is in the shape of a circle and kids can stand on the platform and spin themselves around using the wheel in the centre. There are also silver swings at the playground that are suitable for adults and children that can support themselves.
---
Obstacle Course at Tampines N8 Playground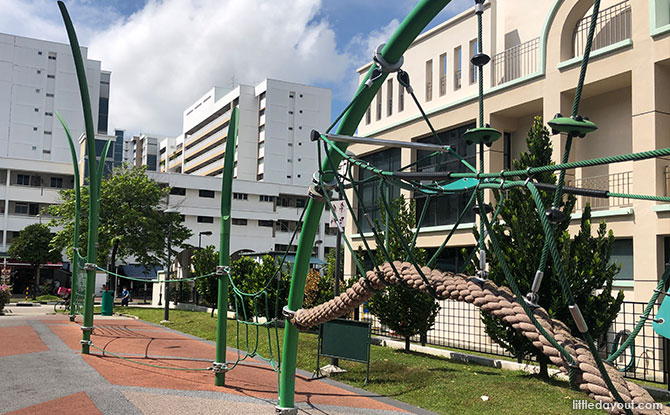 Besides the flower dome, there are more plant-inspired structures at the rope obstacle course which is also at Tampines N8 Playground.
Shaped like blades of grass, the large play structure features plenty of rope obstacles, nets and rubber mats where kids can challenge their agility skills. It is here that children can be encouraged to embrace the adventure of climbing and balancing.
---
Tampines N8 Playground
If visitors to the Tampines N8 Playground wish to have a rest after a long climb, there are many F&B outlets such as Starbucks, Arnolds Fried Chicken and hawker centres around the area to get some food and drinks.
The Flower Dome Playground at Tampines N8 is located near block 828 at Tampines St 81.