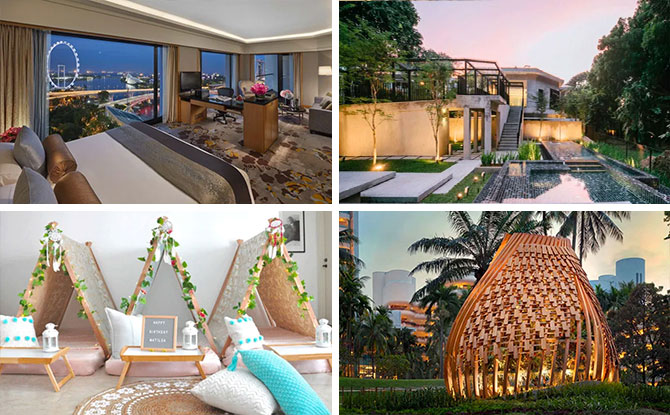 Can you believe we're almost at the end of the year? As we will still have to wait a while before travelling is safe again, here are some awesome staycation deals to book for the Year-End-Holidays! If you are thinking of a family staycation or perhaps just some time along for two, it pays to reserve your stay early!
Here are some places where you can book a year-end staycation for 2020 in Singapore.
---
Year end Staycation Ideas in Singapore
Shangri-La Hotel, Singapore
A classic place for a staycation, Shangri-La Hotel, Singapore is a hotel you can kick back and relax, as one should be doing at a staycation. This is one hotel that should be in consideration for the family with their unique castle and safari themed Family Suites.
In Shangri-La Hotel, Singapore's Family Fun Package, get a complimentary upgrade from Tower Wing Deluxe Room to Garden Wing Deluxe City View Room. There is Breakfast for 4 (2 Adults 2 Children) and complimentary Gelato at Waterfall Ristorante Italiano for four! To ensure a full day of fun, get unlimited playtime at the Splash Zone, a 1,300 square foot space with specially designed aquatic amenities and six unique water play areas. There are also special child-themed welcome amenities provided. Book Here
---
-- Story continues below --
---
1. Capitol Kempinski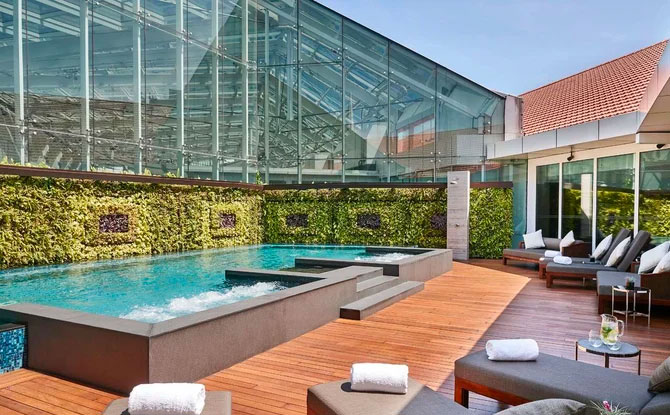 Following years of restoration, get a taste of this vintage Victorian designed building and find out why it is one of the most sought after staycation locations in recent times. The Capitol Kempinski Hotel Singapore offers the perfect luxurious retreat for you and your loved ones to reconnect.
In this staycation deal, you can get a 1-night stay in a comfortable Deluxe Room/Stamford Suite for two. This package is inclusive of Dining Credits and Gift and access to hotel facilities including concierge service, internet access, limousine service, and fitness centre. There are also deals that include a Mixology Masterclass and a walking tour!
---
2. The Fullerton Hotel Singapore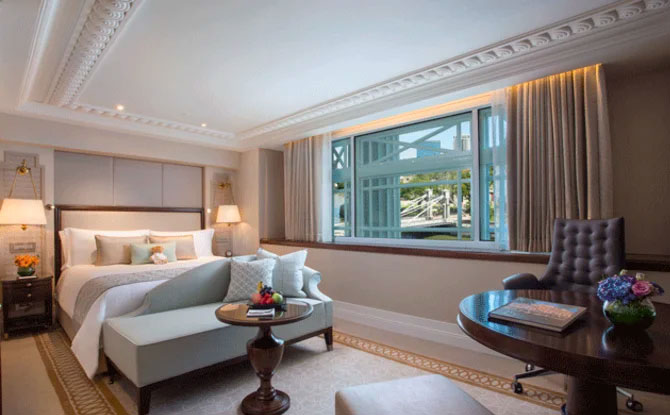 After a long year and finally reaching the Year-End Holidays, get the feeling of waking up in a new country when staying at The Fullerton Hotel Singapore. The Fullerton Hotel Singapore has classic colonial-style architecture and equally impressive interior design to match. The best part? There are three different packages to choose from!
The Weekday Delight package gives you 1-night accommodation at The Fullerton Hotel Singapore in a Premier Courtyard Room. You'll get breakfast for two, a Complimentary Signature Fullerton Bear and late check-out at 16:00. Don't forget to use the 20% discount off Spa Treatments / Massage
For a memorable family experience, try The Fullerton Hotel Singapore's Starry Night Glamping package. This package gives you a one-night accommodation at The Fullerton Hotel Singapore in the Duplex Loft Suite. To get into the mood of glamping, you can sleep in a spacious tent with sleeping bags together with a constellation projector lamp throughout the stay.
Meals such as their Chandon Breakfast, afternoon tea and evening cocktails with canapes for 3 people (2 Adult 1 Child) are provided. You will also get a late check-out at 16:00 and 20% discount off Spa Treatments / Massage.
---
3. Andaz Singapore – A Concept by Hyatt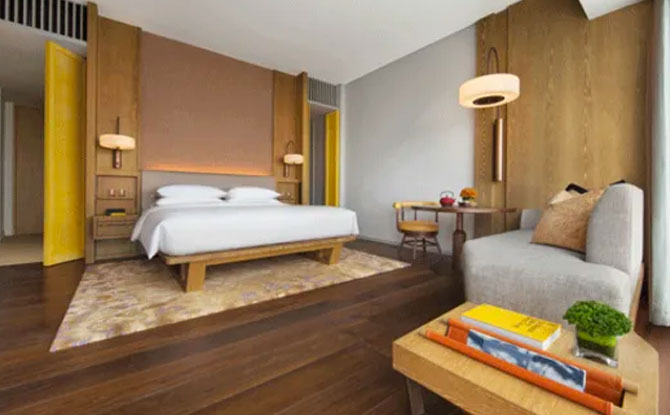 When it comes to having a chic staycation without having to break the bank, Andaz Singapore is a perfect choice. Located in near Haji Lane, this staycay automatically includes delicious eats at hipster cafes and lots of graffiti walls to get pictures #ForTheGram.
In this Exclusive package for Andaz Singapore, enjoy a delicious breakfast and access to hotel facilities such as the fitness centre and outdoor swimming pool. Guests get a complimentary daily in-room minibar and SGD100 F&B Credit per room. You can also enjoy 25% OFF Dinner at the hotel's restaurant, Alley on 25 and all-day refreshments at Sunroom on Level 25 (non-alcoholic beverages). Kids under 6 can enjoy a free breakfast and kids between 7-12 enjoy 50% off!
---
4. Lloyd's Inn Singapore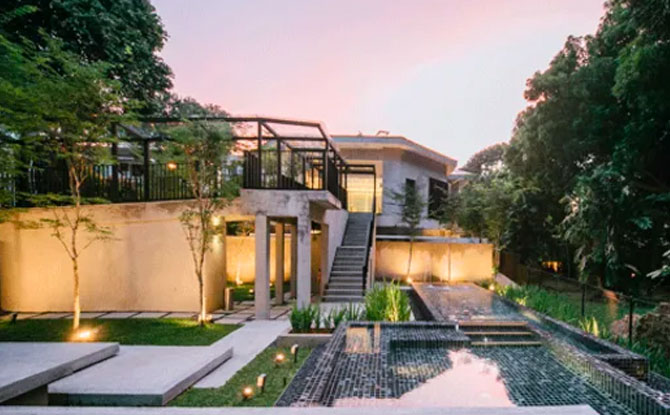 With it's minimalistic aesthetic and well-pruned gardens, stepping into Lloyd's Inn can be compared to being transported to the French Riveria. This beautiful hotel a short stroll away from Orchard Road is a nice getaway spot if you need a little break.
In your one night stay at the Standard Room or Business Room at Lloyd's Inn, enjoy 10% OFF the à-la-carte menu at Artisan Boulangerie Co @ 118 Killiney. The package gives the exclusive offer of breakfast for 2 people, a turndown gift and access to hotel facilities such as outdoor dipping pool
---
5. Sofitel Singapore City Center
Located just above Tanjong Pagar MRT station, Sofitel Singapore City Center is a great place for a staycation with your family! There are luxuriously furnished rooms, a ton of activities to do around the area such as the AIRZONE at City Square Mall, and a great view from the top floor.
In this exclusive Sofitel family staycation package, pamper the family with the Family Staycation package. This includes Breakfast for Three (two adults, one child), an Afternoon Tea Experience for Two (two adults) in 1864, Hotel's Lobby Bar, Tea-Time Snacks for the Kids in 1864, Hotel's Lobby Bar and Late Check-Out at 16:00 so that you can sleep in and fully enjoy the hotel's facilities. Oh, and of course, your staycation will happen in a Kids Themed Room! What a treat!
---
6. Mandarin Oriental Singapore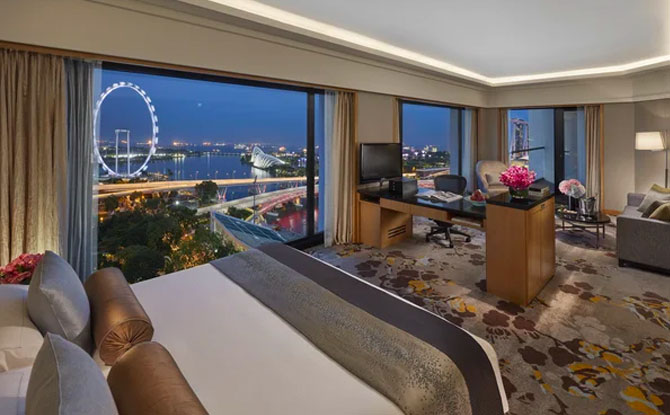 If slow and easy staycays are not your style, charge it up with a thrilling staycay when you get this exclusive Deluxe Room with Nerf or Kiztopia Access package at Mandarin Oriental Singapore! Mandarin Oriental Singapore is located right above Marina Square and offers guests a panoramic view of Marina Bay, but it is also a stone's throw away from Nerf Xperience or Kiztopia, two thrilling play areas that the kids are sure to love.
You will get to stay in 2 Deluxe Rooms for two adults and two children. (Inter-connecting room or room next to each other, subject to availability) Breakfast for 2 Adults and 2 Children are provided. And Mandarin Oriental is offering an early check-in at noon and late check-out at 16:00. Get 20% discount for F&B Outlets (Excluding Morton's Steakhouse, Teppan-Ya and Cherry Garden DimSum Brunch)
Adults get a Welcome Drink at MO Bar, and of course, the family gets a trip to Nerf or Kiztopia! Game on!
---
7. Hotel Mono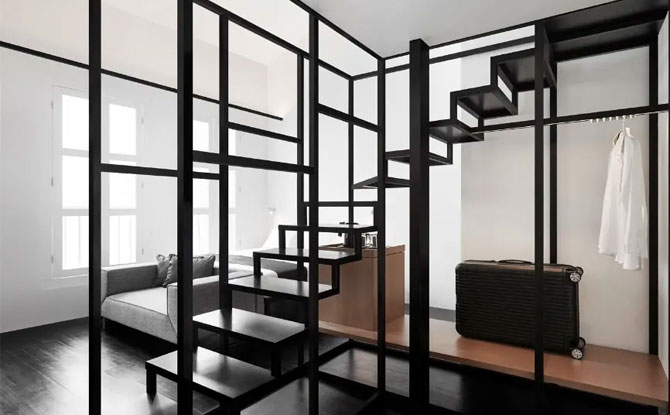 For parents who have an appreciation for modern design, Hotel Mono is a place that you should check out. This chic hideaway is set in six historical shop houses of modern design retaining the original charm of these beautifully rejuvenated buildings. The unique monochromatic aesthetic of this hotel is sure to make the list of "trendy staycations in Singapore" and the colourful streets of Chinatown are sure to balance out the classy rooms that you get to relax in!
There are three exclusive packages. For a couple's Staycation, enjoy a 1-night accommodation at Deluxe Double. Families get 1-night accommodation at Loft Room. There is also a special 2D1N Couple Staycation in Deluxe Double Room + Trishaw Uncle Chinatown Guided Tour where guests will enjoy a 1-night accommodation at Hotel Mono's Deluxe Double Room and a Trishaw Uncle Guided Private Tour where you and your partner can take a tour along Chinatown and see the city from a different point of view!
---
8. Fairmont Singapore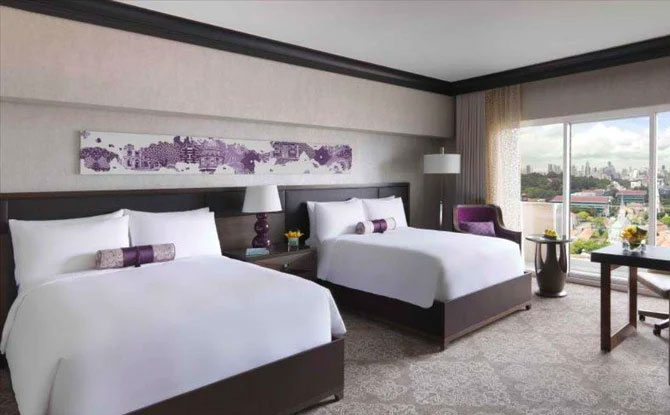 Add iconic activities such as the National Gallery and Singapore flyer when you book a staycation at Fairmont Singapore. With all the perks of being located just above the popular Raffles City, Fairmont Singapore has a great deal for a family staycation during the year-end-holidays.
Opt for a 1-Night stay at Fairmont room with balcony, breakfast & $100 dining credits. Get Breakfast for 2 adults and up to 2 children, one complimentary parking at Raffles City with unlimited re-entries, an SGD50 return stay voucher and SGD100 dining credits. If you book a stay for 2-Nights, the Second night is at 50% off (room only with no other inclusions)
If you're looking for something a little more luxurious, book a 1-Night stay at Fairmont Singapore's Signature, King Suite, with balcony, breakfast & $100 dining credits. This adds on a Balcony for you to take in the city view as well as a Bathtub!
---
9. Sofitel Sentosa Resort & Spa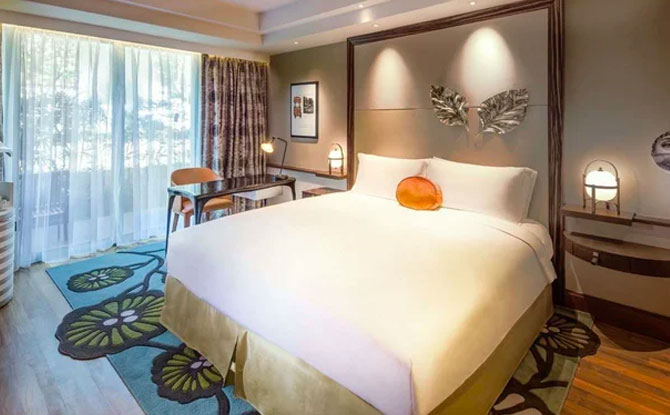 Staycation on a private island? Tucked away in a tranquil corner of Sentosa island, Sofitel Sentosa Resort & Spa comes pretty close to checking that off the list. There are a ton of fun activities that you can do on the island when you use the exclusive 1-night accommodation at Sofitel Sentosa Resort & Spa package.
Families get two connecting Luxury Room to sleep in for the night. In a family staycation of two adults and 2 children, all three meals and accounted for as you enjoy Breakfast at Kwee Zeen (A-la-Carte Set), lunch (3 Course Set) and dinner (3 Course Set). There are Daily Kids Activities and you can even rent the bicycle to explore the island! Full terms and conditions are on the site.
This story contains affiliate links. This means we earn a small fee if you purchase something through a link from our website. There is no additional cost to you and goes towards supporting Little Day Out's efforts to deliver the best news and reporting for families.