In extraordinary times, school holidays have to be spent indoors. While parents groan at the possibility of bored children at home while they struggle to work from home, how about signing up for some virtual holiday classes? From coding, language, cooking and art – there is something for every child. Check out our suggestion of May school holiday 2020 workshops, activities and programmes for kids in Singapore.
May 2020 School Holiday Workshops and Programmes in Singapore
---
Lorna Whiston's Online Camps
11 to 29 May 2020
Lorna Whiston will be running online camps this May school holidays with many classes for children aged three to 14. The camps will provide a supportive playground of self-exploration for children to discover and hone their unique skills and talents through fun learning experiences. 
Not only does Lorna Whiston Camps have experienced teachers to facilitate the learning, the price is all-inclusive and there is a good variety of choices for every child to learn a new skill virtually. 
Multi-Activity Holiday Camps for Preschoolers, ages three to five
Learn different activities daily in this multi-activity holiday camp. It offers a balance of educational and creative classes including drama, Zumba, art, science and Yoga. 
---
-- Story continues below --
English Explorers Camp, for ages three to eight
English Explorers, facilitated by experienced teachers, will be focusing on developing your child's English skills through fun interactive activities online and offline. The children will have a go at creative writing and story comprehension. The younger ones will also pick up phonics, grammar and vocabulary. 
Code Academy, for ages nine to 14
This is specially for the Minecraft, Scratch or Roblox fans! How about learning to design, code and publish their own game virtually? Code Academy will be teaching the children skills that go beyond playing games. Coding enhances critical and logical reasoning in kids, and they learn to become more effective problem-solvers. There are also innovative online programming courses with different levels for your child to progress towards.
Cooking Club, for ages six to 12
Is your child an aspiring chef? Cooking is fun! Your child will be cooking up a storm and guided by a team of professional chefs. Don't be surprised if your child gets all excited about cooking and healthy food. Under expert guidance, your little food explorers will be taking a virtual culinary tour around the world.
For more details, refer to this site, call +65 6871 8844 or send an email enquiry to admissions@lornawhiston.com.sg.
---
SAFRA Punggol Weekend Fun (StayHome Edition)
Sunday, 24 May
Join SAFRA Punggol for a day of fun on 24 May, 10 am to 4 pm online at www.facebook.com/safrapg! Exciting activities being held throughout the day include family workout, storytelling, art workshops, bento making and contests to win prizes. Members can stay tuned to spot Sea Otter toys throughout the day for a chance to win SAFRA Rewards Vouchers. Find out more details here.
---
Stage Camp by SRT
11 to 15 May 2020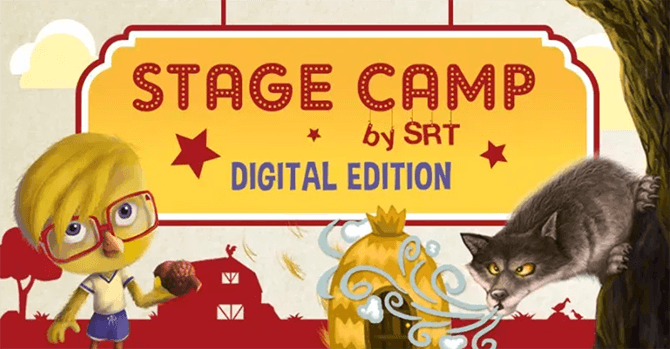 It certainly feels like the sky is falling! And Wolf has been unjustly charged! Really? Join SRT online for its digital stage camp, which will inspire children to see that the sky's the limit and to dream big, speak up and stand out. Conducted by experienced theatre practitioners, your child will be able to build their confidence, vocal skills and creative thinking at home at Stage Camp by SRT. 
Play Stage – Chicken Little for four- to six-year-olds
Join Chicken Little who is on a mission to inform the King that the sky is falling in this parent and child workshop. Embark on this exciting adventure with Chicken Little, weave through drama games and creative exercises before Foxy Loxy turns you into dinner. 
Together with an experienced SRT Theatre Practitioner, you and your child will learn performance skills such as storytelling, voice work and characterisation, develop confidence, practise communication skills, collaborate as a team, as well as craft and perform an original story. At the end of the week, invite your friends and family online to watch you and your child perform a retelling of the tale Chicken Little!
Don't chicken out and sign up for a week of imaginative play here! 
Theatre Stage – The True Story of the Three Little Pigs
In The True Story of the Three Little Pigs by Jon Scieszka, Wolf believes he has been framed! Is he telling the truth? Uncover what really happened this during the May school holidays and join SRT online to create an original version of The Three Little Pigs. Reveal it all through creative storytelling and performance techniques. Theatre Stage is an intermediate programme suitable for theatre aficionados and beginners alike who will be challenged to rethink the story of The Three Little Pigs. 
Your child will practice performance techniques such as role-play, stage presence, characterisation, improvision, explore theatre elements, hone listening and communication skills and more. The camp culminates in a digital presentation where family and friends will be invited to witness the untold story of The Three Little Pigs. 
For more details, send an email to learning@srt.com.sg or call +65 6221 5585. Sign up at this link. 
---
Hua Language May 2020 Holiday Zoom Programmes
4 to 29 June 2020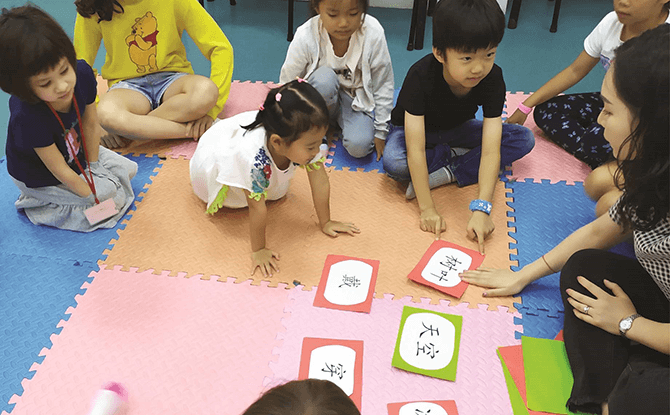 This May holidays, Hua Language has two online holiday programmes to give your child a boost in Chinese literacy skills. The Zoom classes will be great for polishing the rusty language skills and will prepare your child for school re-opening in June. 
Many children from English-speaking families may struggle with hanyu pinyin and confuse it with English phonetics. Hua has a special way of teaching hanyu pinyin so children can master it easily. Take this twice-a-week class every Monday and Thursday and Primary One children will have hanyu pinyin proudly under their belt. 
Make good use of your holidays during the Circuit Breaker period and practise the rusty Mandarin skills twice a week every Tuesday and Friday. Hua Language's May holiday Head Start programme includes more oral practice for children. Class sizes will be limited to 6 students for an optimal practice session. On top of oral practice, the classes will be covering other segments. 
Contact Hua Language via email at enquiries@hua.com.sg or send a message on the Hua Facebook page for more details.
---
Coding Lab May Holiday LIVE Online Coding Classes
4 to 31 May 2020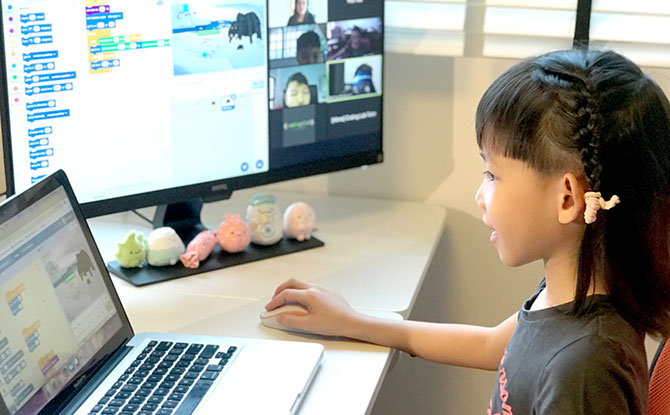 Coding Lab's holiday camps are back this May. Coding Lab believes in lighting the way for children to bring their imagination to life through coding. Learn from the school behind Singapore's top coders and be guided by passionate tutors who will impart the award-winning curriculum via live online classes. There is also a complimentary online concierge service offering 30-minute consultations and ensures technical issues are resolved promptly should hiccups arise. The live online classes harness the same technology and teaching strategies that helped the Japan-Singapore team clinch the Best Coding Award at Microsoft's Minecraft Cup competition. 
Lower primary students will learn visual programming of simple games and animations. Students will design their own interactive stories, animation, gaming ideas using Scratch. They will also combine visual blocks creatively and see their creations come to life. Attend five two-hour sessions between 4 to 31 May. 
Instill confidence and an adventurous spirit in your children who can become little app creators.  Apps have become essentials to our daily lives. Students will explore the path of mobile app development and use the MIT App Inventor Platform to create fully functional mobile apps. Kids can even code a full-fledged RPG Adventure Game or a Health Tracker using Python, a global top-5 programming language. Our experienced instructors will guide students to apply computational thinking and creativity to design their apps and test them on their phones. 
Want to be like Google – the search engine giant? Students will get to experience what it's like to be Google as they utilise Python to solve problems, and understand the Python code behind the virality of Instagram posts. The simplicity and practicality of Python are widely revelled by programmers and developers worldwide. 
Book Coding Lab's coding camps here or call 6528 2282 for more details. 
---
Art Grain's Hot Summer Art Workshop – May 2020 School Holiday Workshops and Programmes
Join Art Grain for its digital art workshops during the May 2020 school holidays. Learn skills like painting, oil pastel and digital art. Lessons are held via Zoom and two hours per session. Parents can choose to sign children up for classes twice a week. To sign up, head to this site. 
---
Summer Camp Online by Newton Show
Newton Show is bringing their camps online and all materials are included. The timings for these May 2020 school holiday programmes are either from 9 am to 12.30 pm or 1 pm to 4.30 pm. Camps are based on different themes. The Space Mission Camp revolves around space and science while the Periodic table chemistry camp surrounds chemistry and experimenting. Get more details and register here.