I was initially hesitant when the idea of visiting Spa World Osaka came up. Just the thought of being naked in front of people terrified me. However, after we found out that it was a family amusement pool, and being the AWESOME parents we are, we decided to pay it a visit with our daughters, 7 and 10 years old.
Hot Springs Water Park in Osaka
Osaka's Spa World is one of the world's largest hot springs complex. It features themed rooms modelled after different spas found around the world and also has a water amusement park at the rooftop, which is very popular amongst family with children.
Unfortunately, we had a packed schedule on the day of our visit to Spa World Osaka. Therefore, we were only able to spend a limited amount of time at the complex. My advice is to allocate at least three hours, if not the full day, for your visit to Spa World Osaka to enjoy the awesomeness it has to offer.
Checking In
It was close to noon when we arrived and it was not crowded at all. After we got our pre-booked QR codes scanned at the information kiosk, we received our admission tickets to the water park. The ticket includes admission to the onsen, the eighth floor water park and changing rooms.
Upon checking in at the counter, we received a bracelet that could be scanned to make purchases within Spa World Osaka, for example at vending machines or for massages or for the water slides (more on the last one later). The bracelet is used to check out and tally up the bill to be paid when leaving.
You have to take your shoes off immediately once you past the counters. We stored our shoes in one of the shoe lockers, which requires 100 yen coin each. This 100 yen coin will be returned when withdrawing the shoes on your way out. The locker was quite big as we were able to keep all four pairs of shoes in it. Remember to keep the key with you.
Next, my daughters and I went straight up to fourth floor where the women's changing room was. My husband went to men's changing room is on the sixth floor. You will need another 100 yen coin to store your belongings in the gender segregated changing room. This is where you have to be fully nude to enter the onsen. You are not allowed to wear swim suits nor wrap yourself in a towel to get into the onsen.
Rooftop Family Fun at Spa World Osaka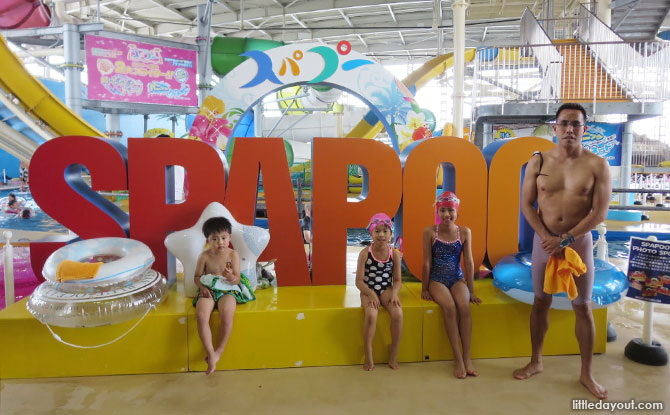 With the limited time we have, we decided to head right to the Spapoo roof top family pool (eighth floor). The elevator inside the gender segregated changing room is the ONLY way to get up to the eighth floor family pool. Of course, you will have to wear your swim suit to the family pool. Towels are available in the changing room before you head up to the pools.
At the water park / family pool at Spa World Osaka, there are two adult slides. Here is the catch, the rides are not included in the admission price. It costs 500 yen for single ride or 1500 yen for all-day rides per person.
In addition to the slides, the water park also has a lazy river that circles a small pool area.  The water throughout was warm.
There is also a "children only" area that is strictly enforced. This area has kid-sized waterslides (700 yen for all-day rides), sprinklers and a dumping water bucket, which made it a great area for younger kids to enjoy supervised play.
There are also outdoor and indoor jacuzzi-style hot tubs that were absolutely fantastic.
The water park also has vending machines and hot food items for sale. You are allowed to bring your own flotation ring or rent it for 700 yen for the day.
After the fun we had at the family pool, we quickly headed back to the changing room to dry off and change. There is a very nice vanity area you can use. Hair dryers, one-time-use combs and toiletries are provided.
Soak in the Good Times
There were still so many things we didn't have the time to explore and experience at Spa World Osaka.
There is a kiddy park with jump/bounce house, ball pit and toys just for kids located on the fourth floor outside of the woman's changing room. The fees are 500 yen per kid for all-day-play. Again, the admission fee to this area was also not included in the entry price. The catch was it was a one-time entry with no in/out access. You will have to pay again to re-enter.
We would definitely visit Spa World Osaka again given a chance. Next time, we will be sure to reserve at least half day for this wonderful place!
Spa World Osaka
Address: 3-4-24 Ebisu-higashi Naniwa-ku, Osaka-shi

Book your tickets to Spa World Osaka here.
This feature story includes affiliate links.