Snow fell for the first time in Kuwait early this year. Tokyo experienced its first white November in more than 50 years. Hawaii has reportedly been hit by 90cm of snowfall (although that's mainly around the island's two highest peaks).
With such unpredictability in the weather these days, it seems that our dream of a white Christmas in sunny Singapore may actually come true!
Till then, we'll just have to fake it at these places around the island.
Snow in Singapore at the Shopping Malls
Here are spots where you can dance in the "snow" a few times a day, for about 10 to 20 minutes at a stretch, without having to pay an entrance fee (though some malls require a minimum spend).
---
-- Story continues below --
Plaza Singapura
Photo credit: Plaza Singapura
A new player on the snowfront, Plaza Singapura has partnered with Snow City to create Singapore's first outdoor Snow FunHouse, which has been recognised by the Singapore Book of Records as the largest snow-filled display house.
This is one of the few places on our list that offers real snow. The Snow FunHouse is filled with eight tonnes of fresh snow, with an additional two tonnes produced every day to refresh it. Children and adults alike can have fun building snowmen, throwing snowballs, and whizzing down in a snow luge in sub-zero temperatures.
The Snow FunHouse is suitable for children aged three and above. To enter, you'll need to spend $30 in a single receipt to redeem an entry pass that admits two people. Winter jackets and footwear will be provided.
Activities such as cryogenic science shows, meet-and-greets, and kids' craft workshops are also held at the mall. Click here for the schedule of events.
Where's the snow: Front Plaza, Level 1
When: 5 – 25 December 2016, 11am to 9pm daily
Wheelock Place
Wheelock Place is another mall that is offering the winter wonderland experience for the first time. With three free snow shows around the giant snow globe at the entrance of the mall every night, it's easier to get the Christmas shopping done with kids in tow.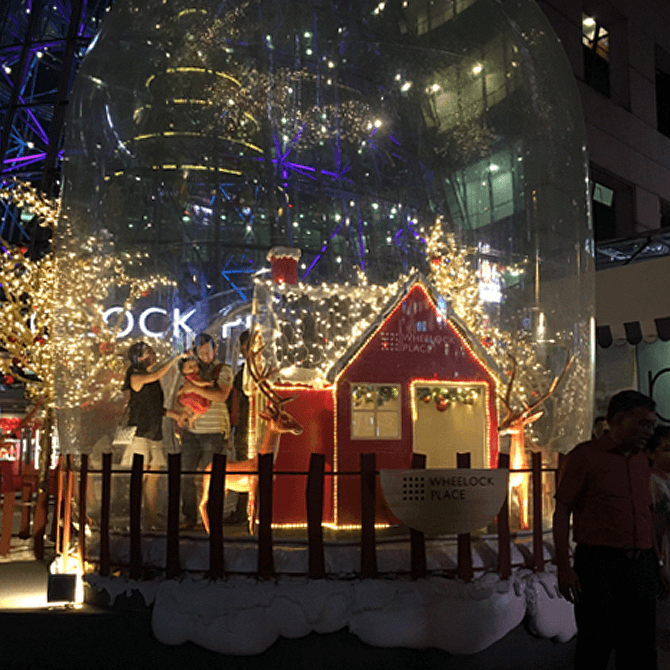 To enter the snow globe, you'll need to spend $50 in a single receipt. There isn't much space to play around inside; it's more of a photo opportunity. We recommend going inside during the day as the lighting in the globe isn't strong enough for a good night shot. If you do enter at night, you'll get a better picture if you stand towards your right when you're inside, next to the reindeer, instead of positioning yourself in front of the house.
Where's the snow: Level 1 main entrance, facing Orchard Road
When: 11 November 2016 – 2 Jan 2017; 7, 8, and 9pm daily
City Square Mall
City Square Mall is having an All-Star Nick Jr. Christmas this year. There are stations starring characters such as Bubble Guppies, Paw Patrol, and Team Umizoomi, accessible for play with $40 spent at the mall.
The snow playtime is free though! As the time for the snow show draws near, children and their families start parking themselves under the arch where the foam sprinklers are, eagerly awaiting the "snowfall".
When the lively Christmas music starts and the colourful lights are turned on, the delighted children start dancing and running about, arms outstretched to catch the "snow". Parents whip out their mobile phones to take wefies of their families. It is a wonderful sight.
Where's the snow: L1 City Green (Outdoor Park)
When: 18 November 2016 – 1 January 2017, 8 and 9pm daily (subject to weather conditions)
AMK Hub
Photo credit: AMK Hub
Further away from the city centre in the Ang Mo Kio suburb, a Christmas carnival awaits at AMK Hub, complete with "snowfall" every night. On Mondays, children enjoy free rides on the Royal Horse Carousel, Mini Pirate Ship, Reindeer's Sleigh Train, and a battery-operated ride from 12 to 10pm.
Where's the snow: Level 1, Main Entrance
When: 25 November – 25 December 2016; 8pm (Mon – Thu), 6 and 8pm (Fri – Sun), 20 minutes per session
Parkway Parade
Photo credit: Parkway Parade
In the eastern part of Singapore, it's a Moomin type of Christmas – cute, fairytale-like, with "snow" falling twice a night. Fans of the cute Finnish characters can also bring home mementos from the Moomin Pop-Up Store and enjoy themed lattes and pastries at the Moomin Snack Bar.
Where's the snow: Basement Outdoor Plaza
When: 24 November – 26 December 2016; 6 and 8pm on most days (there's only one session on some days, click here for the full schedule), 10 minutes per session
Tanglin Mall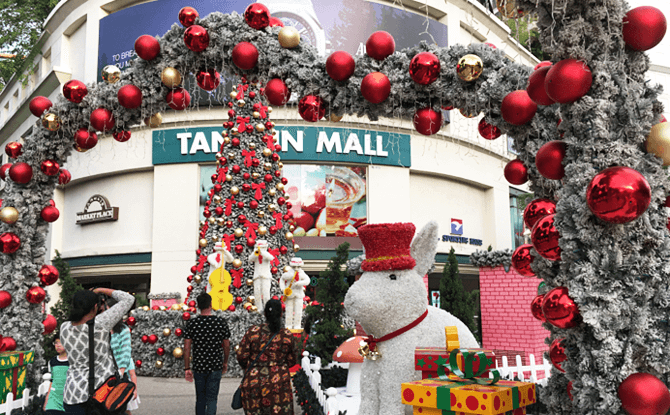 And let's not forget the grand old dame of the white Christmas experience. It's the only place along Orchard Road where children can play in knee-high "snow" – amid life-size winter animal topiaries, giant toadstools, and a grand Christmas tree in a fantastical garden setting.
Where: Main entrance
When: 12 November 2016 – 2 Jan 2017; Weekdays – Avalanche: 7.30pm, Snow: 7.45pm, Weekends/Public Holidays – Avalanche: 7.30 and 8.30pm, Snow: 7.45 and 8.45pm (subject to weather conditions)
SNOWY SPOTS
CHANGI AIRPORT
Besides the malls, another place you can go in search of "snow" is Changi Airport.
Good news! There's no need to board a flight to experience a white Christmas. Simply head over to T3 Departure Hall, where you'll be greeted by a 7m-tall Pikachiu standing next to a towering gingerbread house and huge Christmas trees. A light show accompanied by music, dancing trees, and soft falling "snow" comes on four times a day, with an additional show on weekends.
Pokemon fans will also get the chance to meet a life-size Pikachiu every weekend till 1 January 2017, and catch other Pokemon at various spots around Changi Airport. Will you be able to catch 'em all? Click here for the schedule of events.
Where: T3 Departure Hall, near Check-in Row 11
When: 18 November 2016 – 8 January 2017; 2, 6, 7, and 8pm on weekdays, with an additional show at 5pm on Saturdays and Sundays
For more information on the Pokemon phenomenon at Changi Airport, read Little Day Out's earlier article.
GARDENS BY THE BAY
Photo credit: Lucy Yeo
This year, Gardens by the Bay is charging an entrance fee of $4 (2 to 8 Dec), $6 (9 to 15 Dec), and $8 (16 Dec to 1 Jan) to its Christmas Wonderland. This is to "better manage the daily capacity to ensure the quality of the overall visitor experience is enhanced", according to Ms Sarah Martin, Director of Christmas Wonderland's organiser, Blue Sky Events.
New attractions and a wider variety of activities are promised. Most importantly, the crowd favourite Blizzard Time is back, taking place under the lights of the star sculpture, Spalliera Castel del Monte, which is inspired by a 13th century castle in Italy. At 19.7m high, it is the tallest luminary in Southeast Asia.
With fluffy "snowflakes" floating in the air, more than 60 luminarie sculpted by Italian craftsmen, and a European-style Christmas market, you could almost forget that you're in tropical Singapore. Bringing you back to reality, though, is the heat.
"It's so hot and humid for an Xmas outing!" said Lucy Yeo, who visited Christmas Wonderland with her husband and 2-year-old son. Many escape into the Ice Palace, where family-friendly activity stations such as snow playgrounds, an ice slide, and an ice-skating rink can be found. These activities do not come cheap though, starting from $4 for one ride down the ice slide and going up to $16 for a 20-min session in the Snow Playground.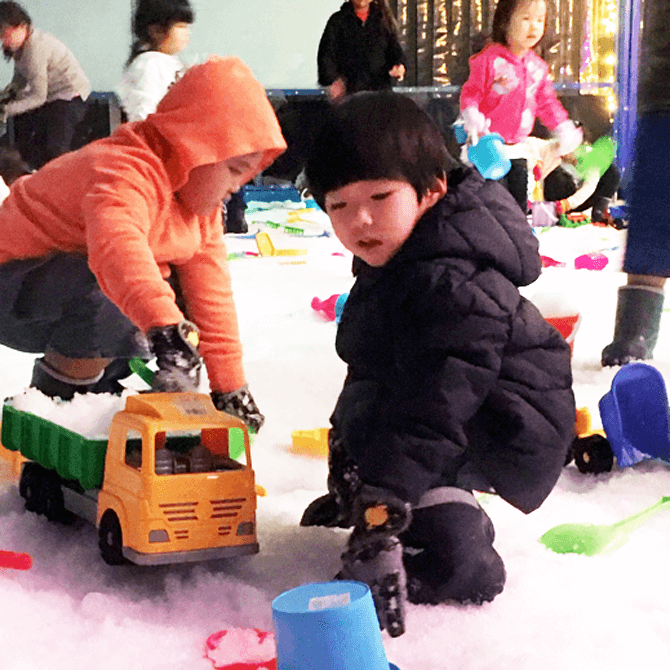 Photo credit: Julian Tay
Ms Yeo said that unlike last year, only those with tickets to the Ice Palace are allowed to enter this year. She has a tip for free "entry": "go queue for Paul (French patisserie), which is inside the Ice Palace!"
Another way to get free air conditioning is to pay Santa a visit at Santa's Cottage. Don't forget to get a photo with him during these times!
Where's the snow: Spalliera Castel del Monte
When: 2 December 2016 – 1 Jan 2017; 8, 9, and 10pm daily, 5 minutes per session
Read Little Day Out's earlier article to learn more about Christmas Wonderland 2016.
UNIVERSAL STUDIOS SINGAPORE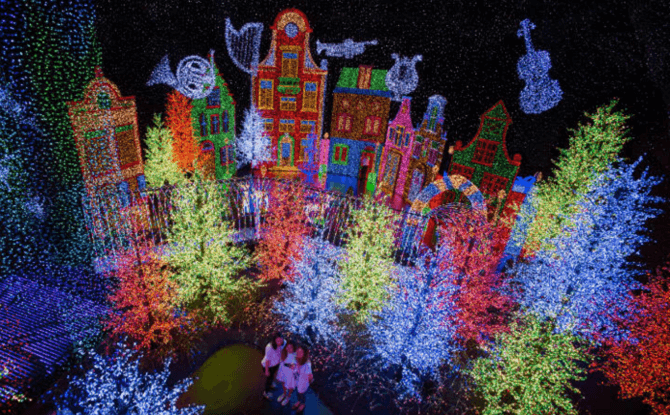 Photo credit: Universal Studios Singapore
Enjoy snowfall every hour as you walk through the streets of Universal Studios, immersed in the festivities at the theme park's Santa's All-Star Christmas. Headlining this year's celebration is the new Universal Journey, an all-new experiential festive light display that holds the Guinness World Records title for the largest light bulb display in an indoor venue.
Two other new experiences are also included in this year's celebration: Santa's Village and a music-filled show titled Bah Humbug! A Christmas Spectacular.
Tickets are at $74 for an adult, $56 for a child (4 – 12 years old), and $36 for a senior. An after-5pm family bundle admitting two adults and a child is available at $134 for this season.
Where's the snow: Selected areas in the theme park
When: 1 December 2016 – 2 Jan 2017; hourly during park hours
SNOW CITY
Photo credit: Snow City
Over at Singapore's largest snow playground, you'll get to meet the Abominable Snowman, visit Santa's cabin, engage in snowball fights, and slide down a 60m-long snow slope – under the falling snow. Feeling cold? How about a nice cup of hot chocolate?
Tickets are at $15 (Singaporean and PR) and $18 (Non-Singaporean) for an adult, and $12 (Singaporean and PR) and $18 (Non-Singaporean) for a child aged 3 to 12 – for an hour of snowplay.
Where's the snow: Snow City
When: 25 November 2016 – 2 Jan 2017, during opening hours
Note: For more information, visit www.snowcity.com.sg.
THE RINK
Skate under the snow on Christmas Eve and Christmas Day at this ice-skating rink located at JCube shopping mall. Or count down to Christmas with friends and family on Christmas Eve.
Tickets are at $28 for a 2-hour session on Christmas Eve (10.30 am to 9.30 pm) and Christmas Day (10.30 am to 11.45 pm), and $28 for the countdown event on Christmas Eve (9.45 pm to 12.45 am).
Where's the snow: The Rink
When: 24 and 25 December 2016