There are few places quite as iconic as the Singapore River. Symbolic of the commerce and hard work that built up Singapore, it is also a hub of recreation and leisure with historic buildings given new life. However, for families, did you know that there are several less well-known play spots and playgrounds along the Singapore?
In the past, the river itself was a playground where kids would jump in and turn it into their own swimming pool. Nowadays, Singapore River playgrounds and play spots may be overshadowed by dining and leisure establishments but they can still be found along the river. Here are five places that families in the know can find along the Singapore River.
---
5 Singapore River Playground & Play Spots
The mouth of the Singapore River feeds into the Marina Bay, which has its own ribbon playground. At the other end, the Singapore River is normally considered to end at Kim Seng Road where it connects to the Alexandra Canal.
Here are some play spots for families that can be found along the Singapore River.
---
Esplanade Park Playground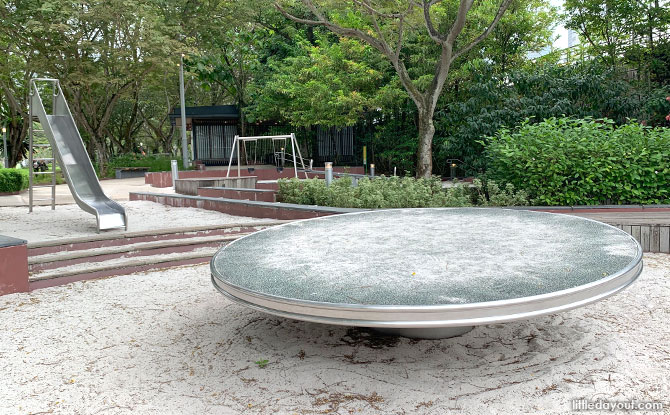 Just a stone's throw away from the mouth of the river is Esplanade Park Playground. The playground features old school play equipment like swings and slides. It is also just a stone's throw away from Esplanade – Theatres on the Bay.
Bonus tip: Esplanade's March On Children's Festival 2023 will be held from 9 to 19 March 2023. Find out more about this March 2023 school holiday programme.
---
Kulnari Mystery Golf
Combining mini golf with an escape room, Kulnari Mystery Golf is a play spot located at Circular Road. The old shophouse setting, just a couple of doors away from Boat Quay McDonald's, provides the scene for a throwback to the 1920s. Read more about Kulnari Mystery Golf.
---
The Polliwogs at Clarke Quay Central
Overlooking the Singapore River and the former godowns at Clarke Quay, The Polliwogs at Clarke Quay Central is an indoor playground that kids can enjoy in air-conditioned comfort. Highlights include a mirror maze, bouncy nets and mega slides. Toddlers get an treehouse-themed area. Get more details about The Polliwogs at Clarke Quay Central.
---
Robertson Quay Playground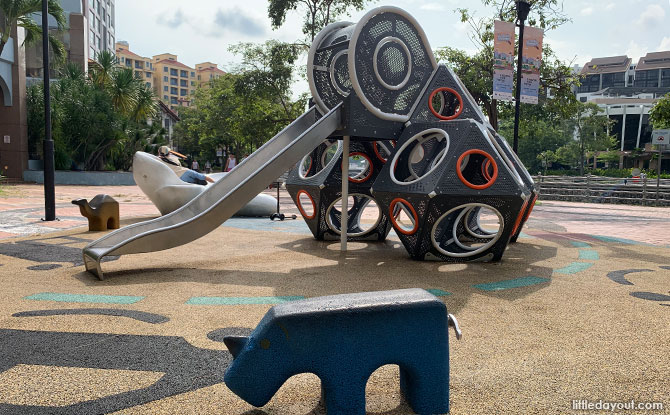 Blocks for the Future is a small children's playground at Robertson Quay. Grey blocks with white and orange trimmings are tessellated together to create a play structure for kids. This rather futuristic playground is flanked by two miniature animal forms – a blue rhino and a camel. Find out more about the Robertson Quay playground.
Bonus tip: Also at Robertson Quay is the KC Arts Centre where Fly High, a children's show about dreams and flight, is showing till 12 March 2023. Read our full review of Fly High here.
---
Kim Seng Nature Playgarden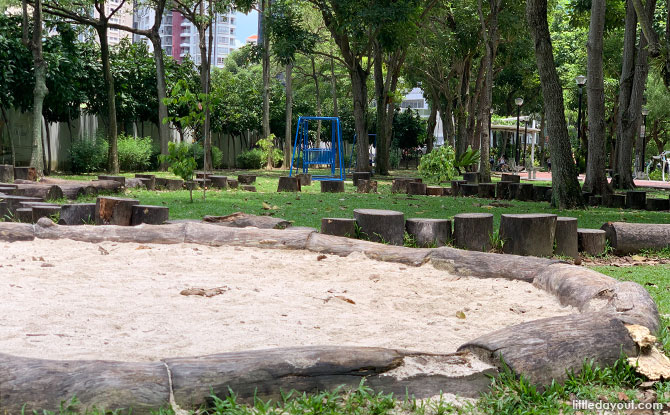 Like other nature playgardens in. Singapore, the Kim Seng Park Nature Playgarden makes use of natural materials to create a little play space for young children to have fun in nature. It can be found at the upper reaches of the Singapore. Find out more about the Kim Seng Nature Playgarden.
Take note that some sections of the Kim Seng Nature Playgarden may be under maintenance as of February 2023.