Singapore Garden Festival 2022 is back to knock our stalks off. This year, most of the festival is outdoors with highlights located at ION Orchard, Ngee Ann City and Singapore Botanic Gardens. Everyone is welcome to admire the vibrant foliage, the kaleidoscope of florals, find some gnomes, bunnies and critters and check out the green thumbs of gardeners in Singapore. SGF will be held from 30 July to 9 August 2022.
Did you know that Singapore Garden Festival is amongst the top flower and garden shows internationally? In addition to nurturing interest in greenery and nature, it gives local industry players the chance to showcase their talent and a platform for community gardeners and hobbyists to participate.
Here are some highlights of Singapore Garden Festival 2022 that will "leaf" you refreshed and inspired.
---
-- Story continues below --
Singapore Garden Festival 2022: Highlights & Things to Know
Nassim Core
A Specialised World Beneath at the Nassim Gate
Spot magic rabbit gardeners tending to Begonias, Medinillas and Philodendrons. Many would have grown Philodendrons during the pandemic, these large creepers have roots that absorb moisture from the air and looks for support on trees or other structures.
---
Secret Life of Gnomes, Terrace overlooking Palm Valley
Discover the secret life of gnomes dwelling among the figs, "strings of nickels" and lipstick plants that they call home. From the Gardens' Viewing Terrace overlooking Palm valley, the adorable gnomes can be found amongst the many beautiful and rare plants of the Zingiberales group or in English – plants like ginger, banana, heliconias and more.
This is definitely one spot for the 'gram, spot the miniature gnomes on tree trunks and their larger companions camouflaged in leaves.
---
National Orchid Garden
Heritage Orchids of Singapore
Orchid lovers will love the stunning display at the entrance to the National Orchid Garden. The Clock Tower plays host to a special display of heritage orchids, this celebrates the role orchids played in Singapore's floral heritage since the 1920s when experiments and micropropagation began.
Spot the orchid hybrids that have come out of Singapore's orchid hybridisation work over the years. Some highlights include the Dendrobium Lucian Pink, Arachnis Maggie Oei, Aranda Noorah Alsagoff and more.
There is also free Admission to National Orchid Garden during the Singapore Garden Festival 2022.
---
Marketplace
Want to shop for plants and all things plant-related? Head over to the Tyersall Gate where the coach park has been turned into a marketplace for foliage fanatics. Get shopping around the tent. Do remember to have your mask handy as it is indoors (and air-conditioned).
---
Eco-Garden, Bukit Timah Core
Singapore Gardeners' Cup
At the Eco-Garden, Bukit Timah Core, view five displays based on different themes including a birds, bees and dragonflies.
---
Flower Field
Also at the Bukit Timah Core is a Flower Field with sunflowers and other flowers like periwinckles and snapdragons. You can identify the Flower Field by the super-sized bee sculptures "buzzing" over the flowers.
---
Children's Activities at Jacob Ballas Children's Garden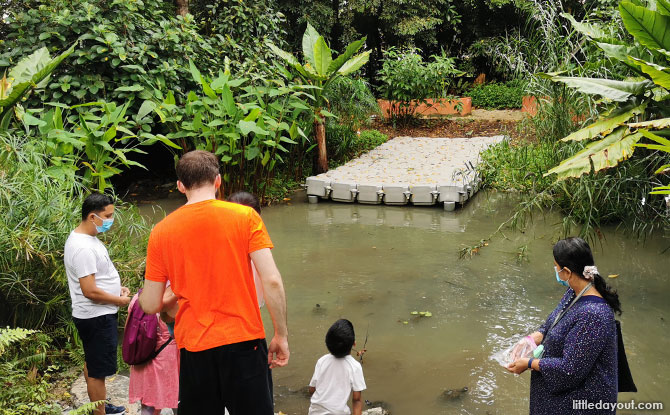 Children-centric activities will be happening at Jacob Ballas Children's Garden, just a stroll away. Various activities will immerse them in the spirit of nature. Kids and their parents can explore the beauty of horticulture with a DIY edible trail, put on their chef hats and be involved in culinary initiatives, or attend exhibitions and displays on both animals and edibles.
They can also play detective with animals, and shoulder the temporary responsibility of owning a pet. For artistically inclined children, they can make art in the garden using natural products like flowers or create masterpieces using leaf printing. Families can also simply embark on tours in nature, listen to storytelling and visit a mobile library. Reserve your spot here.
---
ION Orchard, Singapore
This year, Singapore Garden Festival is held at a new location – Orchard Road. This is particularly significant as Orchard Road used to be home to fruit orchards, nutmeg plantations and pepper farms back in the 1830s. To bring SGF to this accessible location pays tribute to its heritage.
Head to ION Orchard to see floral installation displays! Humid House is presenting a "Vessel Garden" display inspired by archaeology and the relationship between vessels and flora. Vessels are significant to Southeast Asian cultural and anthropological heritage, they will be accompanied by aquatic and subsistence plants.
Professional floral designer Harjianto will also present "Echoes of Almeda". It echoes the dream-like experience of walking along a serene pathway utilising bamboo accents, a fiberglass pond and flowers to instil a sense of tranquillity.
---
The Cavern of Edibles, ION Orchard
Ever stepped into a community garden near HDB blocks? Here's your chance to witness the prowess of community gardeners! The Community Garden Edibles competition showcases their gardening skills in cultivating quality edibles. Visitors can expect to see unique, uncommon edibles and a variety of huge fruits and vegetables all homegrown!
---
Ngee Ann City Civic Plaza
Show Gardens
Stroll over to Ngee Ann City Civic Plaza where you will find a 6 metre high centrepiece display with a waterfall! Go on a fascinating floral journey from the lowlands to the highlands, sandy shores, coastal forests to the lush rainforests featuring an interesting variety of plants. It is extremely challenging to design the landscapes as all the displays have to withstand the elements in hot and humid Singapore.
Visitors will get a chance to see salt-resistant, thick-leaved plants, a bog garden with carnivorous plants such as the Trumpet Pitcher and Venue Fly Traps following by a tropical lowland rainforest with a myriad of ferns, shrubs and a rich diversity of orchids, aroids and moss flanking the top of a waterfall.
You would not want to miss the rest of the plots of creations by award-winning local and international gardeners.
Amongst the displays are ones which make use of a bus-stop of yesteryear, a "cage" and a "bird's nest".
---
Head to Singapore Garden Festival 2022 In the Heart of Town
For some plant therapy, simply head to Singapore Garden Festival 2022 in the heart of town. Stroll around thoughtfully displayed foliage and floral displays, your love for all things green and lush may blossom into a succ-seedful hobby!
More details can be found here.