Shinjuku is a busy district of Tokyo, typically associated with shops, offices and restaurants. However, a short distance from the bustle of the city is Shinjuku Gyoen National Garden, an oasis of nature for those who need a temporary escape the urban din.
The area now occupied by Shinjuku Gyoen National Garden once belonged to a feudal lord, Lord Naito. It was then converted into a garden and opened as a national park to the public in 1949.
---
Walk in the Park
There are three main areas to visit at Shinjuku Gyoen National Garden. These are the English Landscape Garden, French Formal Garden and the Japanese Traditional Garden.
There are also forested areas within the park.
---
-- Story continues below --
We visited in early winter when the garden was turning different shades of browns and reds.
---
English Landscape Garden
The English Landscape Garden draws inspiration from idealised landscape paintings. It offers wide open lawns with provide plenty of space to stretch out and enjoy nature.
Next to Shinjuku Gyoen National Garden's English Landscape Garden is a Greenhouse which houses tropical and subtropical plants.
---
French Formal Gardens
The French Formal Gardens harnesses the principles of symmetry and reflects the desire to control nature.
---
Japanese Traditional Garden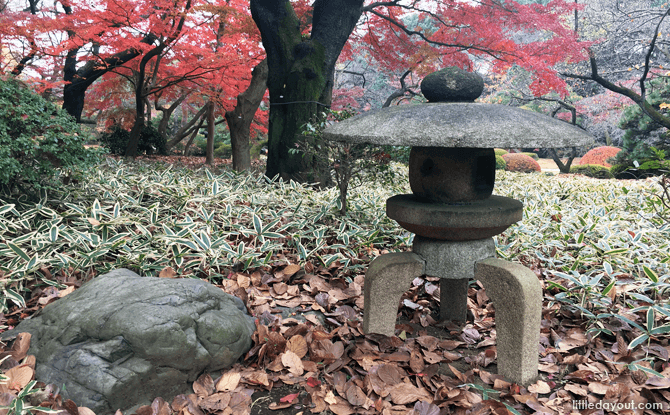 The Japanese Garden Traditional was our personal favourite section of Shinjuku Gyoen National Garden.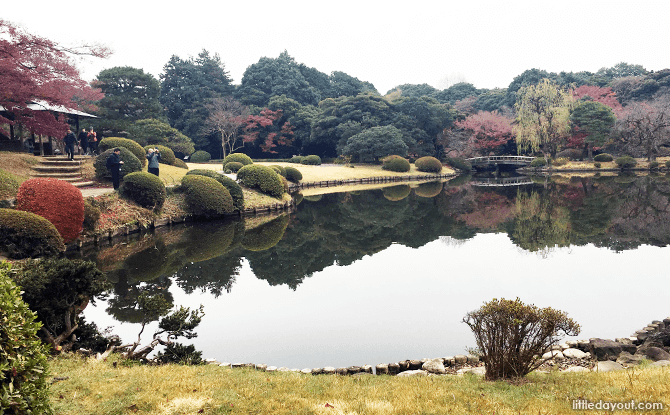 When we visited in early winter, the trees were shades of red and brown. Cute little bridges provide crossings over the main river at various points.
---
Relaxing in the Garden
A highlight at the Japanese Garden is the traditional Japanese tea house where you can stop to savour a cup of tea and some sweets.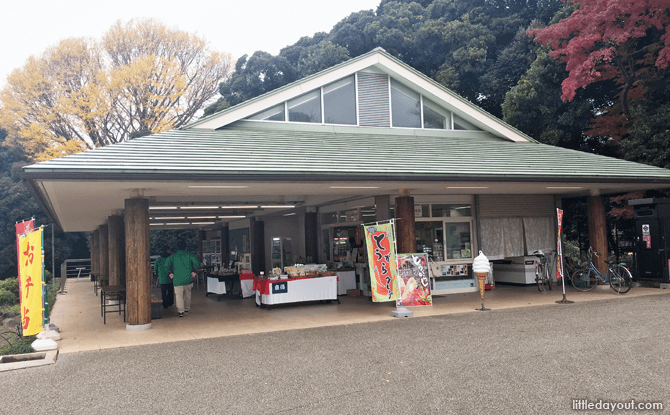 There are also plenty of rest stops around the park. They provide convenient spots where visitors can take a break and purchase refreshments.
Shinjuku Gyoen is also home to around 1,500 cherry trees. This makes it a popular spot for viewing the cherry blossoms in season.
There are three gates where visitors can enter Shinjuku Gyoen. The Shinjuku Gate is a 10-minute walk from Shinjuku Station. The Okido Gate is five minutes away on foot from Shinjukugyoenmae Station while the Sendagaya Gate is a five minute walk from JR Sendagaya Station.
---
Admission Fees for Shinjuku Gyoen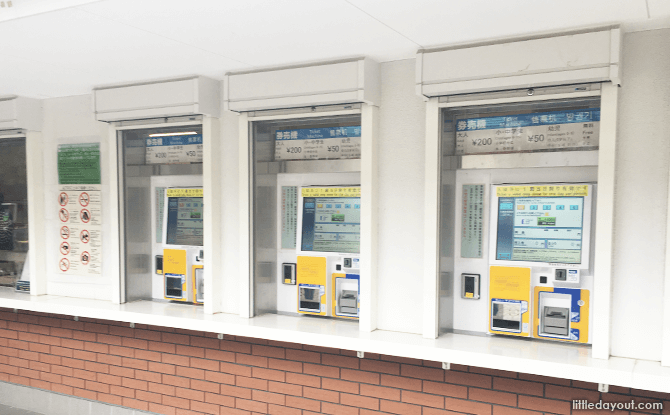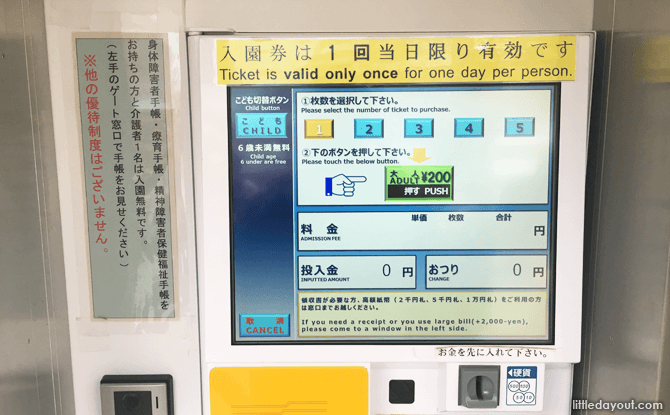 Entrance to the park is gated. Tickets can be purchased from vending machines at the gates. Admission fees are a reasonable 200 yen for adults, 50 yen for six to 14 year olds and free for children under five.
While it may seem strange at first to have to pay money to enter a park, this also means that the park is less crowded than other popular public parks in Tokyo such as Ueno Park and Yoyogi Park.
Shinjuku Gyoen National Garden, Tokyo
Address: 11 Naitou-machi, Shinjuku-ku, Tokyo
Opening Hours:
9 am to 4 pm (Gates close at 4.30 pm)
The Greenhouse 9.30 am to 3.30 pm (Closes at 4 pm)
Teahouse 10 am to 4 pm (Service may not be available certain days.)
Closed on Mondays (if the Monday is a national holiday, the following day); 29 Dec to 3 Jan
Ticketed Admission.