A unique staycation experience, SG Hotel on Wheels or SHOW has launched at Downtown East's Begonia Open Air Carpark. Designed as a 'pop-up', SHOW has two sizes of beautifully designed containers, each with five uniquely designed themes to choose from. We got a chance to stay at one of the 40-foot themed containers to see what it is all about.
---
SG Hotel On Wheels: Safari-themed SHOW-Room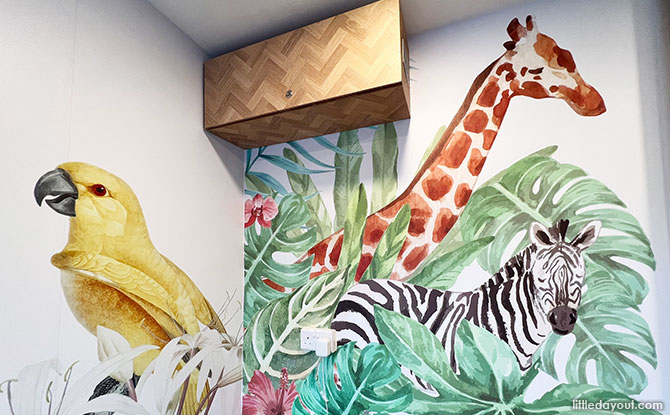 We got a chance to stay in the safari-themed SHOWroom. On entering the 40-foot trailer, we were immediately captivated by the beautifully designed walls which were filled with different animals such as giraffes, zebras, meerkats and more.
---
-- Story continues below --
There were many different animals to spot throughout the space and the colours made the room welcoming and got our stay off to a great start.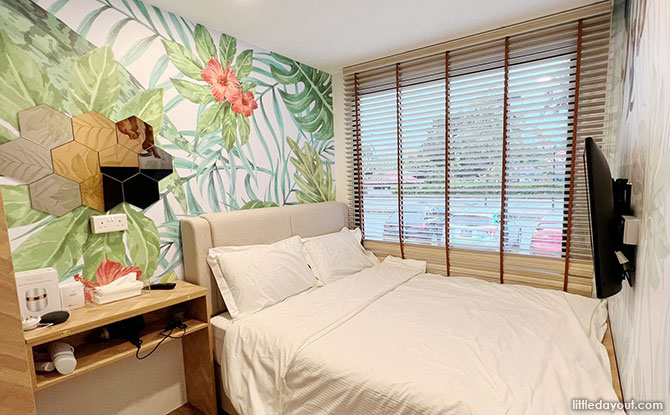 The 40-footer rooms at SG Hotel on Wheels are suitable for 4 persons and the 20-footer rooms are best suited for 2 persons.
All SHOWrooms have queen-sized beds and showers for guests to use and is also fitted with smart home technologies such as a remote access lock, Google Home system, Daikin Smart Aircon, Smart TV, and more. There is also a Nespresso coffee machine in each room for guests to enjoy their daily cup of coffee.
With the extra space, guests who book the 40-foot containers get to enjoy extra facilities such as a pantry that comes with a fridge and freezer, microwave, stove and more.
There is also a mini BBQ grill that can be rented free of charge with a refundable deposit of $50. With shops such as NTUC and Don Don Donki just a short walk away, it's easy for guests to prepare and enjoy hot meals during their stay.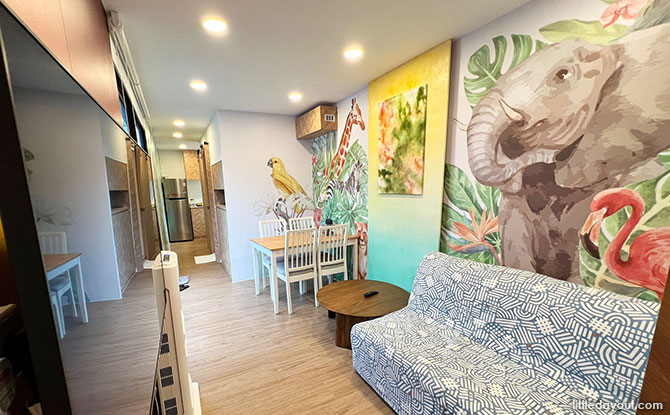 Another extra facility that is present in the larger containers is the cosy "living area" which will be able to accommodate two additional people in the space. The sofa doubles as a fold-out bed and has its own smart TV mounted on a wall with a unique background fitted to the theme of the room.
The rooms at SHOW have various features to ensure that hygiene and cleanliness is prioritised. Our trailer had an ECOM® MASK 030+ air purifier to keep the air fresh and clean. All SHOWrooms are fitted with an air-purifier according to the size.
We also appreciated that many items in the SG Hotel on Wheels room such as the bins and soap dispensers were activated by motion sensors, minimising the contact points within the room.
The SHOW Stay Safe Welcome Kit that we received upon check-in included handy items such as an ECOM Travel Size EA Mask Filter and Bion Spray, an EFIL Disinfectant Spray, Vitamin-C tablets, sunscreen and yummy healthy snacks from Shnack.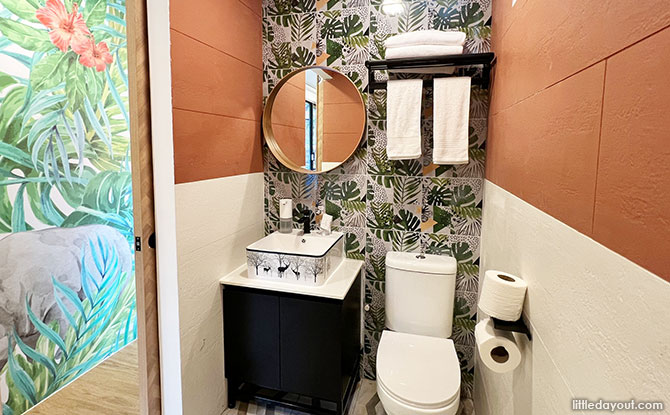 The showers are all designed according to the room theme. We liked the additional details such as the decals on the sink and the colour theme of the rain shower. Amenities such as soap, towels and a hairdryer are all provided in the SHOWroom.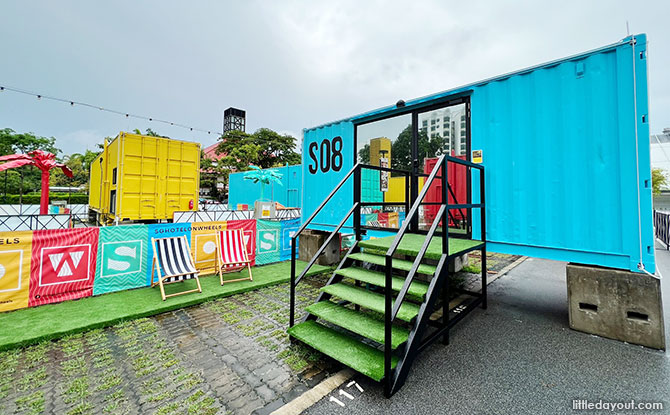 The exterior of the trailers is also a great space to enjoy as it has beach chairs and a fun tree installation that makes for a great photo. At night, guests can turn on lights that surround the trailer and enjoy the change in scenery from day into night.
---
Attractions and Activities to do while at SHOW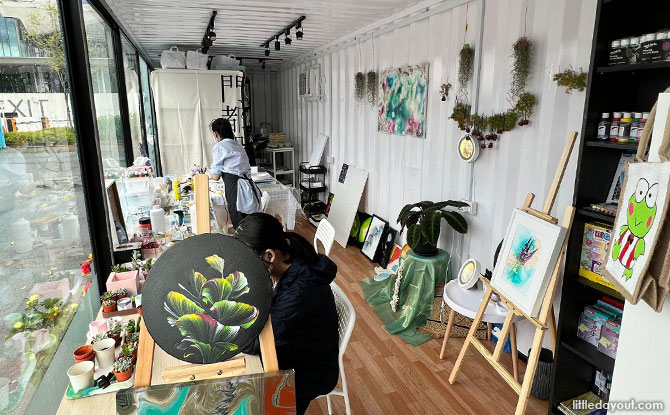 One of the best things about the SHOWroom being at Downtown East is the variety of attractions and fun activities that can be done during the stay. All SHOWroom bookings come with two complimentary day passes to the Wild Wild Wet water park.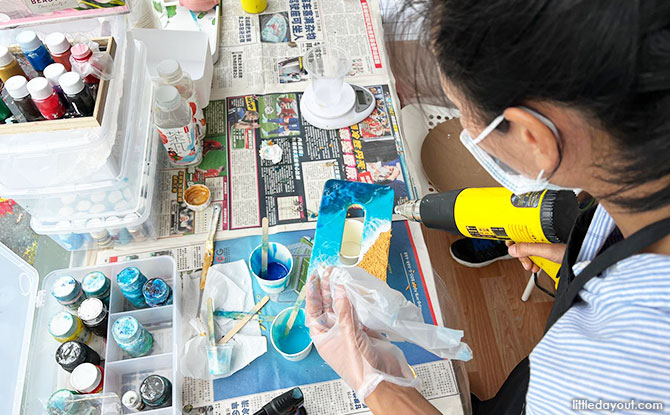 Guests will also receive a discount voucher to use at the onsite art gallery, Fara Design Studio.
Doubling up as an art installation, 'Galleria' by Ultimate X Fara Design Studio, is a space that guests can try their hand at activities such as Alcohol Ink Painting, Acrylic Pouring, Punch Needle Embroidery, Resin Ocean Art, and more. Slots can be booked here. There is also an option to walk in and book, subject to availability.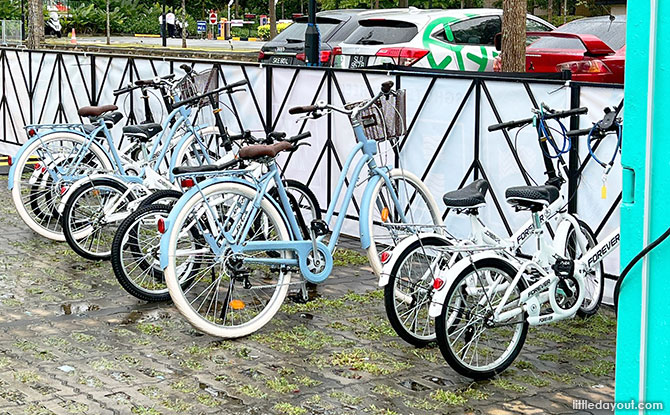 Guests can also rent bikes for the entirety of their stay with a refundable deposit of $20. There are also lots of eateries and food options that are a short 5-minute stroll away.
---
Light-up Installation at SG Hotel On Wheels Experience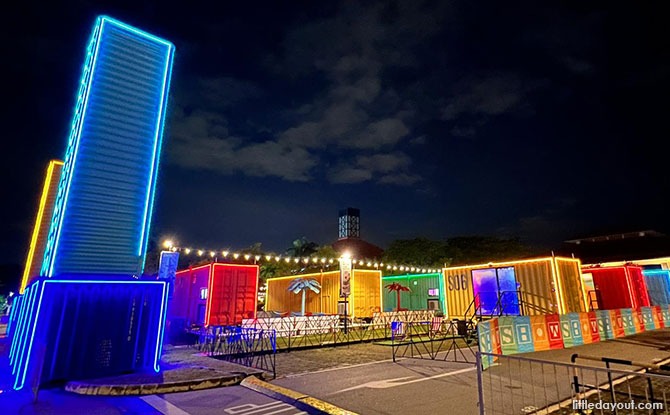 As night falls at SG Hotel On Wheels, guests can enjoy a four x 40-footer container light art installation with vertical towers – each over 12 metres high – looking over the SHOWroom compound. Each tower features its own unique design with neon lights spanning over Lumi Towers and all the SHOWrooms.
---
10 Room Designs at SG Hotel on Wheels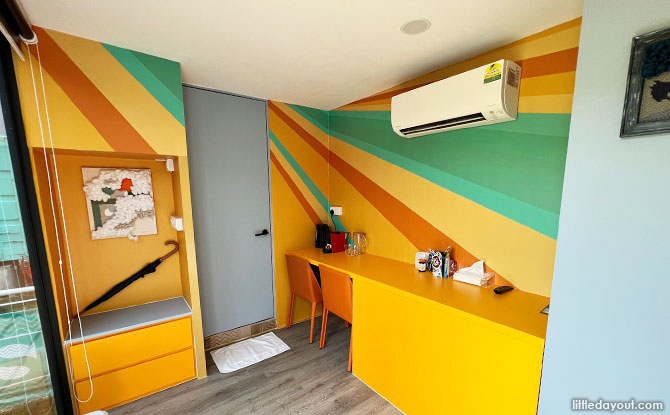 Other than the safari-themed room, there are nine other themed rooms to choose from. Here is a sneak peek at the different rooms.
The themes for the 40-footer trailers include a Street Punk Studio, Pop Art Room, Safari Paradise, Resort Retreat and Peranakan Suite.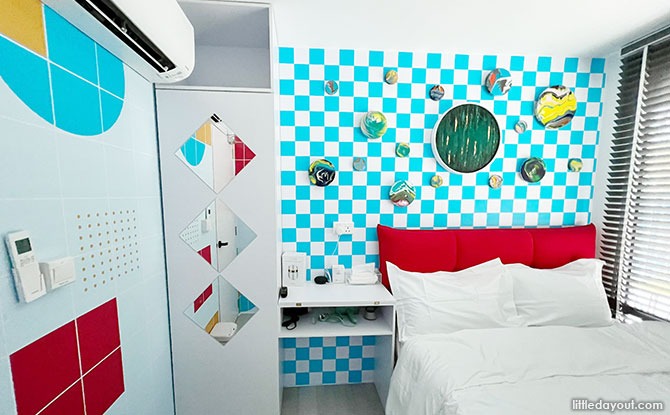 The Safari room that we got to stay in was our favourite but the other room that stood out to us was the colourful and fun Pop Art Room.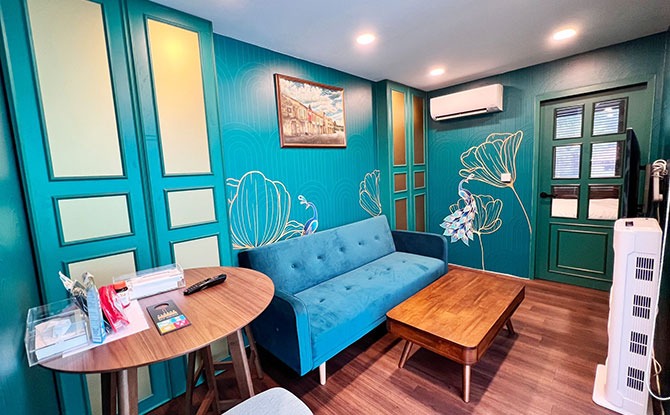 We also really liked the design of the Peranakan Suite which had beautiful details such as peacocks and traditional Peranakan prints.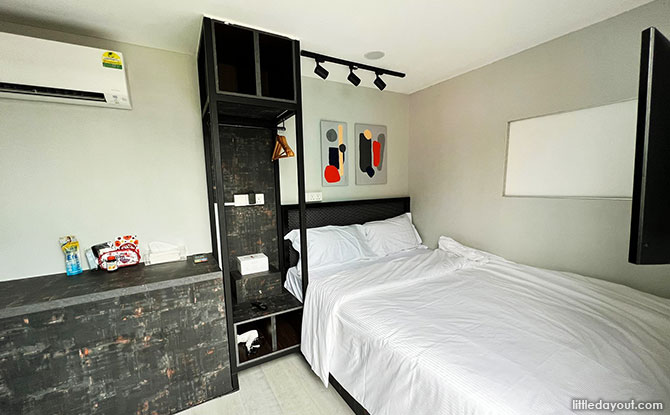 For the 20-footer SHOWrooms, choose from the themes of Resort Living, Industrial Chic, Modern Country, Minimalist Classic and Retro Mambo. We found the Industrial Chic designed room to be very pleasing to the eye.
---
How to Book an SG Hotel On Wheels Experience

The SG Hotel On Wheels experience is available from now till 20 March 2022. Prices start from $188 per night for 20-footer rooms, and from $248 for 40-footer rooms – subject to availability.
From now till 31 October 2021, NTUC Members can enjoy an exclusive discount of $30 off room rates and free Wild Wild Wet Day Passes based on room occupancy. All bookings are subject to availability, so bookings should be made quickly to avoid disappointment.
Find out more about SG Hotel on Wheels here.