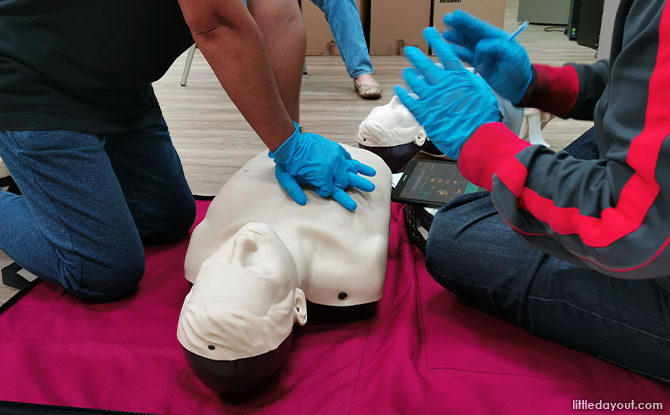 Do you know what to do when you see someone collapsing in front of your eyes?
What should one do when a loved one suddenly stops breathing?
The chances of the ailing person surviving can be increased if we perform basic life-saving skills. I attended Singapore Heart Foundation's CPR & AED Blended Learning Certification Course sponsored by Philips Foundation in the #breakthebias campaign.
Here's my experience and why I should think more people should attend lifesaving courses such as the one I completed.
---
-- Story continues below --
What is CPR? What does AED stand for?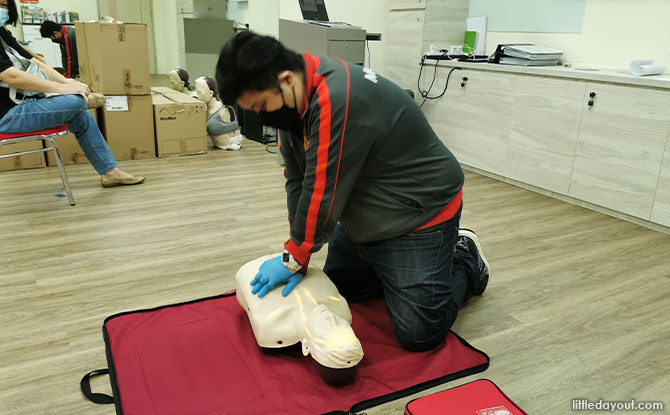 CPR stands for Cardio-Pulmonary Resuscitation, helps to restart the heart and gets oxygen flowing to the brain as soon as possible. CPR is administered mainly by doing chest compressions. CPR can also include mouth-to-mouth ventilation. If CPR is administered correctly, heart function may be restored and circulation may be maintained until other life support measures are taken.
AED stands for Automated External Defribillation. AEDs can be found in many HDB void decks, malls, schools, hotels and the community. AED delivers a shock when a Ventricular Fibrillation is detected, thus it can help a casualty with cardiac arrest promptly when administered.
---
Chain of Survival & DRSABC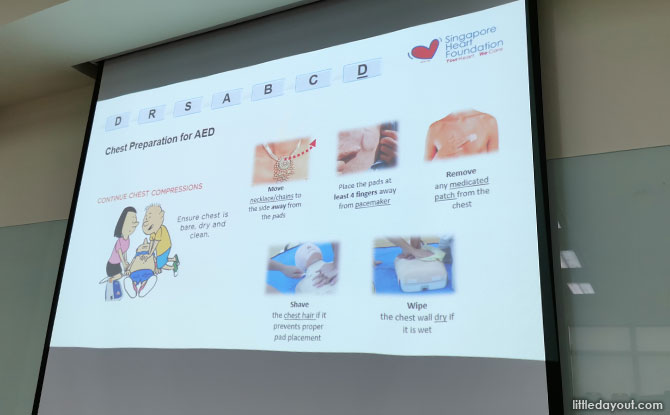 We learnt the importance of the chain of survival during the course – which has five elements: Early Recognition and Access, Early CPR, Early Defibrillation which are steps members of the public can take.
Participants of the CPR & AED workshop were also taught DRSABC which are the vital steps in determining the steps of lifesaving work. For instance, D stands for danger, one must ensure the casualty is not located in an area that is dangerous to the responder and victim. In a fire or in a gas leak situation, it is safer to evacuate or remove the casualty from the danger zone if possible.
---
Practice, Quiz and Certification
The 2 hour CPR & AED blended learning course consists of two parts – an online portion with some materials to read, videos to watch, online quiz followed by a face-to-face workshop and quiz at Singapore Heart Foundation. If participants pass the assessments, they receive a certification provided by Singapore Heart Foundation which is valid for two years.
---
My Thoughts and Review of the CPR & AED Certification Course at Singapore Heart Foundation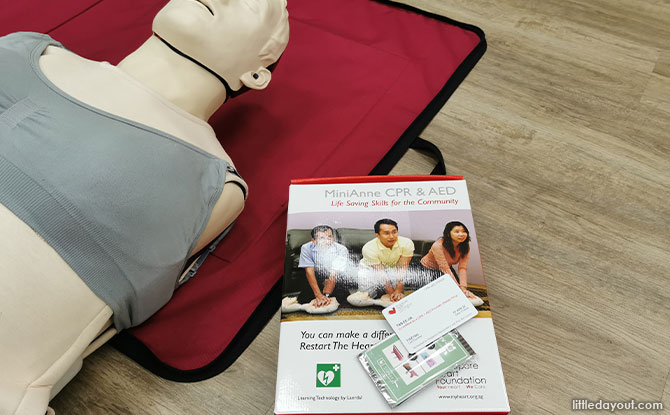 Jerry the instructor at Singapore Heart Foundation was a lifesaver (no pun intended) in delivering the at times complex material. He was humorous and used many analogies and examples to rationalise certain needful actions during the course of lifesaving.
Learning at the Singapore Heart Foundation was also personally very rewarding as it highlights how actions can be critical to saving a life. We practised on both male and female mannequins which were very helpful towards understanding the correct posture and positioning when performing CPR. The practice and assessment was accompanied by plenty of tips and correction by the instructors, who were very assuring and empowering throughout the workshop.
As it was my first time attending a course on life-saving, it was an eye-opening experience and definitely a practical one. I feel more equipped to respond in the right way – whether it's calling for help, providing CPR or looking for AED in the vicinity. We never know if our life-saving skills could be helpful to a family member, friend, neighbour or stranger.
Aside from getting certified for two years as a CPR & AED Provider, I could bring home a mannequin to practise CPR on. This was needful as I found administering CPR correctly was the most challenging bit. Practising would definitely help me with this needful skill.
---
CPR & AED Course by Singapore Heart Foundation
To find out more about CPR & AED courses held by Singapore Heart Foundation, click here.
Certification classes cost $64.20.