Cars. When the little boy (or girl) becomes interested in shiny machines zooming around on the road, a whole new world of Audis, Mercedes Benz, Volvos, Ferraris and Porches enters the consciousness.
Even Lightning McQueens and Francesco Bernoulli may become familiar names. This world has a wide range from miniature toy cars that kids can zip around with their little hands to electronically powered and Little Tikes pedal ride ons, and much more.
While most families will leave such matters to daddies, it is hard for mummies not to get in on the racetrack as well. If your kids are crazy about cars and all things with wheels, here are some ideas of how to get the racing pulse going around Singapore.
Ride-on Toy Cars
---
-- Story continues below --
Ride-on toy cars are always a hit with kids. There kid-sized toys, such as the ones from Little Tikes, can either be 'Flintstone' foot-powered or powered by electronic motors. In space-conscious Singapore, it is possible to rent these toys from toy rental companies offering both foot- and motor-powered cars as party or monthly rentals. The Singapore Toy Club even has a mobile Road Safety School where a temporary mini-course can be set up for kids between 3 to 6 years old to learn about safety while enjoying fun mini-cars.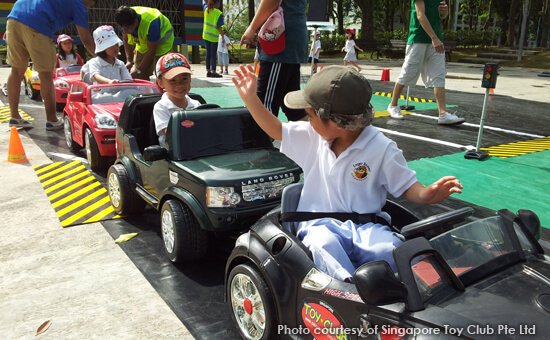 Singapore Toy Club's Road Safety School in session.
Road Safety Community Park
Yes, the Road Safety Community Park at East Coast Park is still around. Parents may have memories of walking, cycling or go-karting around its miniature streets while completing different tasks. The official road safety programme at the park is only conducted with school group but the park is open to the public whenever no training sessions are underway. Kids can bring their own little cars, bikes or trikes and enjoy manoeuvering around the downsized roads. No ERP will be in sight.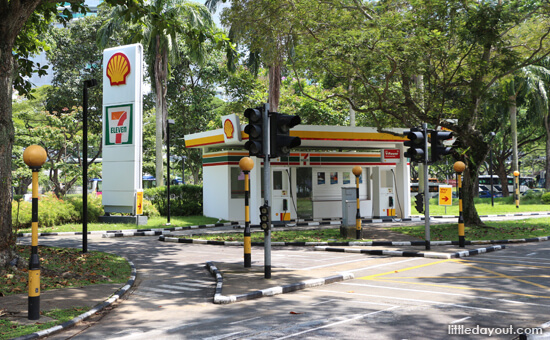 Miniature Shell station at the Road Safety Community Park.
RC Car Racing
At some point or another, Remote Control or RC cars end up on every little boy's birthday wish list. Over at Downtown East, Taroda Racing has an indoor, air-conditioned RC car circuit where kids can rent an RC car to take around the track. Children as young as four years old can rev up the engines while parents can enjoy a drink and look on from the café area.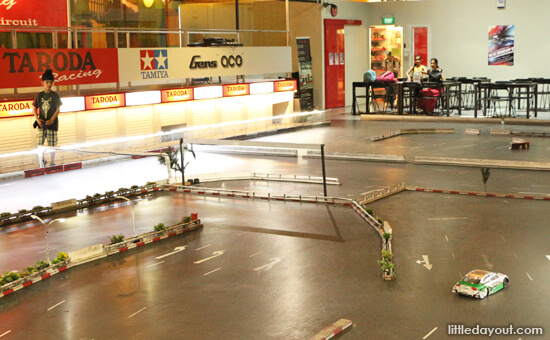 Indoor car racing at Taroda Racing.
Mini 4WD
Tamiya is one of the biggest names in 'serious' toy cars that even big boys can play with. Stargek at Paya Lebar is the place to be where you can get RC cars and buggies that are built-to-last. With full-blown RC cars costing from upwards of $250, an alternative choice is the mini 4WD cars. These mini cars, powered by electric motors, have plenty of modification options for kids to tinker and personalise. Inside Stargek, players can even send these mini 4WD cars zipping around a purpose-built race track and races are held for enthusiasts on Sundays.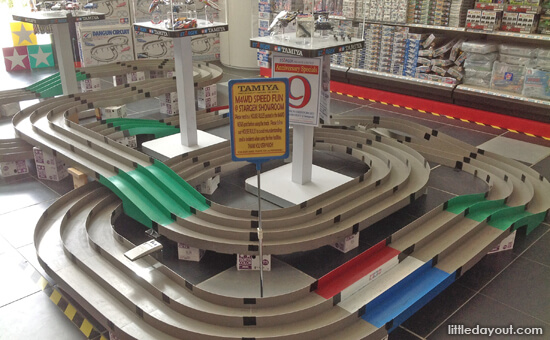 Stargek's Racing Track for mini 4WD Cars.
Skyline Luge Sentosa
A sure-fire fun experience is Skyline Luge Sentosa. Zooming down from the top of Sentosa's Imbiah Lookout to Siloso Beach on not much more than a plastic tray with handlebars, riders can choose between the 628 metre Jungle Trail or 688 metre Dragon Trail. Children under 6 years old or shorter than 1.1 metre have to ride in tandem with an adult.
Ready to launch at the Skyline Luge Sentosa.
Pedal Go-Karts
Many of East Coast Park's bicycle kiosks offer four-wheeled pedal carts where families can hop on for a seaside pedal. Over at West Coast Park, Pedal Go-Kart has individual carts that even children can captain on their own. A great way for kids to enjoy the freedom and space of the outdoors. 
Pedal Go-Karts at West Coast Park.
Powered Go-Karts
For those wanting to go full gas, there are two go-kart circuits in Singapore. In the West is the Kartright Speedway located at Upper Jurong Road while the Changi Karting Circuit can be found at the other end of the island. These fuel-powered karts can reach speeds of up to 70 km/h and are suitable for older kids only. Age and height restrictions apply (for example at least 10 years old and at least 1.45 metres to 1.5 metres in height). Check with the tracks on availability as they are sometimes booked out for private events or races.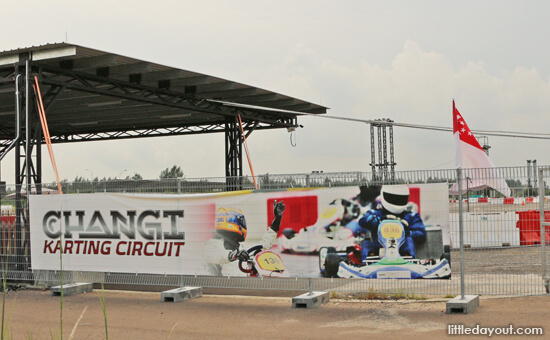 Changi Karting Circuit.
Slot Car Racing
Special mention here goes to slot car racing. You may not know it by that name but these are the toy car kits where tracks are laid out and players press a button to make the little cars placed in slots (ahem) race around the track. These kits are easy and fun for little boys to play with. For those in search of serious slot car kits, Hobby Bounties at Katong Shopping Centre carries Scalextric, the premium name in slot cars.
Hobby Bounties, stockist of Scalextric slot cars.
We hope we've given you a good list of places that you can check out other than the F1 track downtown! Have a high-octane, adrenaline-filled little day out!