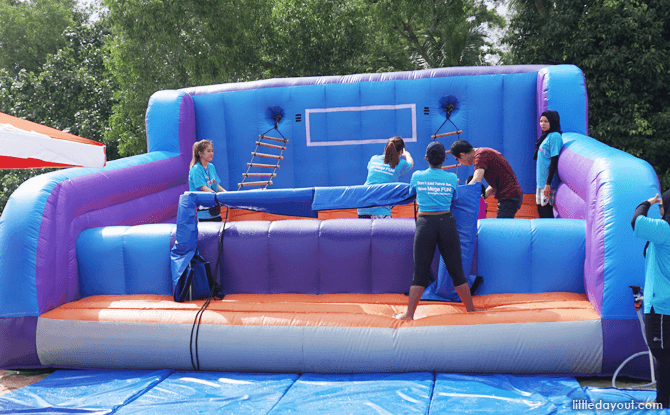 Bouncy inflatables are so much fun. It is no wonder that there so many opportunities for kids to get their bounce on with inflatable fun during the March school holidays 2018 in Singapore.
These "bouncy castles on steroids" can be found all around Singapore during the holiday period. Here are three of the biggest events with fun inflatables that you should know about during the March vacation.
#1. Sentosa's FunFest 2018 with We Bare Bears
Recharge at Sentosa and enjoy a massive inflatable playground at the beach. The playground includes the 50-metre long Aquaplane, a Sticky Wall and Kids Maze.
While at the beach, be sure to check out the many cute We Bare Bears inflatables that dot the landscape.
You will also want to be sure to take a picture with the towering 50-feet tall 3 layer bearstack as well.
#2. Art-Zoo Inflatable Park 2018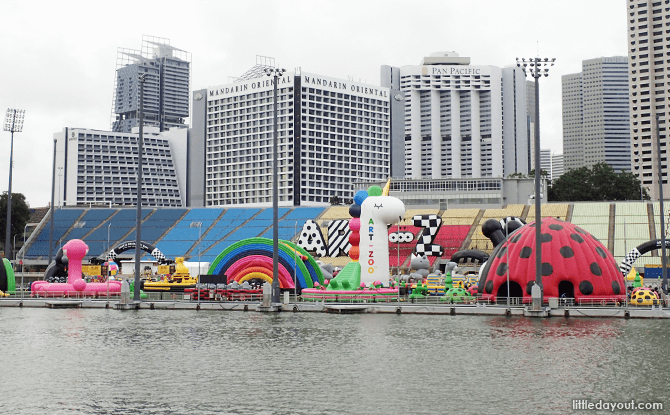 From three bears, move on to a whole crazy cast of animal characters at Art-Zoo Inflatable Park 2018.
This year's Art-Zoo Inflatable Park at The Float @ Marina Bay features 15 clusters of inflatable play art for kids and adults to enjoy bouncing around.
These include a magical unicorn, giant ladybirds and muscle-bound gorillas.
#3. Sesame Street Inflatable Playground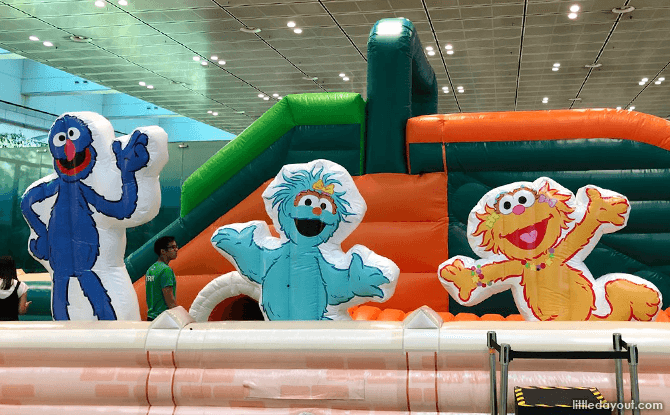 For those who wish to bring the kids to enjoy inflatable fun indoors, there is the Sesame Street Inflatable Playground at Changi Airport Terminal 3. This inflatable playground is part of Changi Loves Kids presents Discover the Fun side of Changi.
Pay a visit to the "Our Street to Yours" exhibition in the basement before heading up to the Departure Hall for a bouncy experience at the Sesame Street inflatable playground which includes a large ball pit.
Inflatable Playgrounds During March School Holidays 2018
For a comparison of these three inflatable playgrounds taking place during the March school holidays, take a look at the table below.
FunFest with We Bare Bears
Art-Zoo 2018
Sesame Street Inflatable Playground
When
10 to 18 March, 10 am to 6 pm
9 March to 1 April, Mon to Thu: 5 pm to 10 pm, Fri to Sun, School Holidays, Public Holidays & Eve of Public Holidays: 3 pm to 10 pm
9 Mar to 8 Apr.
Operating hours vary. During the school holiday week, public holidays, Sat and Sun: 12 pm to 11 pm. On Fri and Eve of Public Hols 23, 29 March and 6 Apr: 6 pm to 11 pm.
Where
Palawan Beach Sentosa
The Float @ Marina Bay
Changi Airport Terminal 3, Public, Departure Hall Level 2 (Near Row 11)
How Much
Free
Between $16.80 to $18. Children under 24 month enjoy free admission with each full paying ticket.
A minimum spend of $60 ($80 for supermarkets) in a maximum of two same-day receipts from any Changi Airport Public Areas retail or F&B outlet is required to redeem one Activity Pass for entry to the Inflatable Playground.
Highlights
10+ inflatables at the beach including a 50-metre long Aquaplane, Bumpy Bouncer, Loopy Ladder and more.
15 clusters of inflatables including The Black Forest, Blue Bay, Magical Rainbow and more.
Sesame Street-themed inflatable playground with slide and ball pond.
March School Holiday Activities: View a List of Holiday Fun