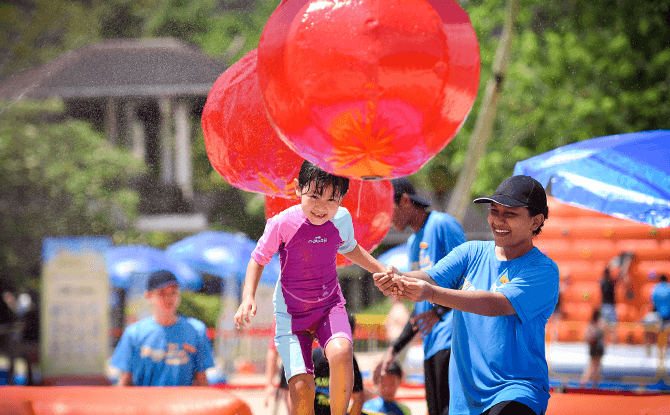 Kick back and enjoy wonderful March School Holidays activities at Sentosa for a perfect family day out from 10 to 18 March.
Look out for mega fun activities taking place around the island. From giant bouncy inflatables to the many attractions and dining choices, there are just so many activities to choose from.
Free Admission to Sentosa
From 10 to 18 March 2018, all locals and local residents will be able to enjoy free admission to Sentosa via the Sentosa Express or by driving in.
Those entering via Sentosa Express only need to tap their EZ-link cards at the turnstiles while locally-registered vehicles with IUs can simply drive through.
Walking in via the Sentosa Boardwalk is free too!
FunFest 2018 with We Bare Bears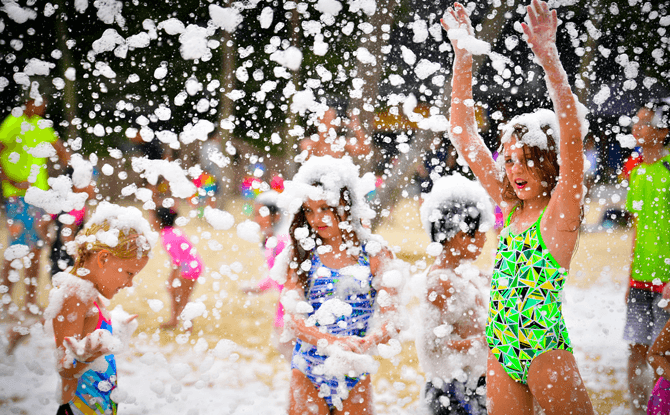 Sentosa's FunFest is back bigger and better! Get soaking wet and have boundless fun at the largest inflatable playground by the beach.
Among the highlights of FunFest 2018 is a 50-metre long Aquaplane. Slide your way through curtains of spray – courtesy of multiple rows of sprinklers – as you make your way from one end to the other.
You can also try out the Loopy Ladder or leaping on to a Sticky Wall with your craziest pose and have oodles of laughter trying to get off.
Grizz, Panda and Ice Bear from Cartoon Network's We Bear Bears will be at FunFest 2018 too! In fact, there will be over 300 We Bare Bears inflatables at Palawan Beach, and a 50-feet tall 3 layer bearstack!
Admission to FunFest 2018 with We Bare Bears is free. It is open from 10 am to 6 pm between 10 and 18 March 2018.
BBQ by the Beach
Tuck into a sumptuous barbeque feast at Palawan Green every evening, 10 to 18 March, from 5 pm to 9 pm.
On the grill will be sizzling Black Angus Sirloin Steak, Skewered Tiger Prawn and other mouth-watering delights.
If you are looking for the perfect way to end off the day, it doesn't get much better than a delicious meal by the beach with family and friends. Ala carte prices start from $5.
Movies by the Beach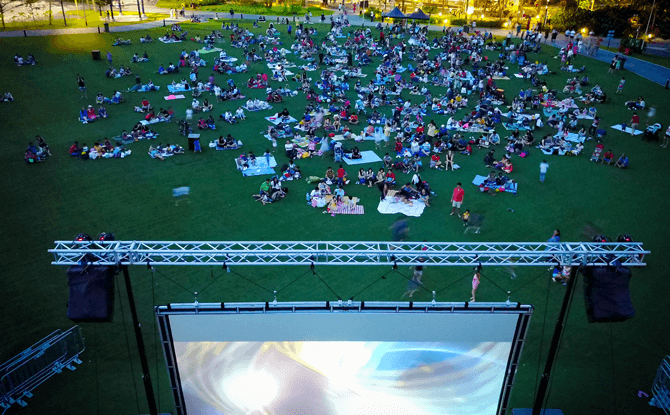 After a fun-filled day of play around Sentosa, settle down for a relaxing time and enjoy a movie by the beach.
Free movie screenings will be held in the evenings of 10 to 18 March from 7.45 pm onwards. Catering especially to families and kids, these screenings will feature Cartoon Networks' We Bare Bears cartoons and other family favourites!
More Free Activities
Besides FunFest 2018 with We Bare Bears and the beachside activities, there are plenty of other fun (and free) sides of Sentosa to explore and experience.
Children between the ages of 3 to 10 years old will enjoy the swashbuckling fun at the free Palawan Pirate Ship water playground.
And in celebration of the International Year of the Reefs, there will be a "The Fun Odyssea" programme happening on 17 & 18 March where you can learn all about marine animals and science with lots of hands-on activities.
Be enthralled by the cheeky antics of parrots, the playful behaviour of macaques and the majesty of birds-of-prey at Animal & Bird Encounters at the Palawan Amphitheatre.
For a journey back in time, head over to Fort Siloso. Take the Fort Siloso Skywalk, a treetop trail set 11 storeys up into the heart of Fort Siloso and start your exploration of the preserved coastal fort.
You can also embark on a journey to uncover the island's wild side at Sentosa Nature Discovery. Trek along jungle paths and experience a Sentosa filled with chirping birds and singing cicadas.
Great Promo Deals!
Exclusive Mastercard® Card Offers
Mastercard® card holders enjoy up to 50% off at participating dining outlets, attractions, hotel packages in Sentosa. Visit www.sentosa.com.sg/Mastercard for more information.
Sentosa Islander Membership + Day Out at Universal Studios Singapore™
Take advantage of this promotional bundle which includes year-long Islander Membership and evening entry to Universal Studios Singapore™ on either Friday, 9 March 2018 or Saturday, 17 March 2018.
This special bundle costs only $35 for individuals and $70 for families. While stocks last!
Find out more here.
There is Just So Much To Do at Sentosa!
With so many different fun, exciting and FREE activities taking place around Sentosa, you and your family can easily spend a day, or even two, to recharge and soak in all the island has to offer.
For more information, visit the Sentosa website.
This feature is brought to you by Sentosa.