Gardens By The Bay has brought back Poinsettia Wishes to the Flower Dome on 27 November 2020. This marks the return of the Gardens' signature floral display which have been on hiatus since the lifting of the Circuit Breaker period earlier this year.
Find out more about Poinsettia Wishes 2021 here.
---
Poinsettia Wishes 2020 Brings A Slice of Europe To Flower Dome
As part of the floral display, Poinsettia Wishes 2020 will feature festive plants such as poinsettias, cyclamens, pansies and hellebores. This year, the poinsettias featured in the floral display were brought in from Malaysia to reduce carbon footprint.
There will also be real Christmas trees sponsored by O2Plants Pte Ltd.
---
-- Story continues below --
Poinsettia Wishes 2020 features the creative input of Dutch Ambassador to Singapore Her Excellency Margriet Vonno.
Among the highlights of the Poinsettia Wishes 2020 display is replica of Gouda City Hall.
The historic Town Hall in Gouda is an iconic landmark in the Netherlands. The town is of course well known for the cheese of the same name and the town hall is the site of outdoor cheese markets. It is also a location frequented by many during Christmas time. There will also be a wishing well as a representation of the hopeful spirit of Christmas.
There are also nutcracker dolls which have been creatively repurposed, in keeping with being green, from past floral displays.
After Poinsettia Wishes concludes, to extend the usage of plants post-display as well as spread cheer to the community, flowers that are still in good condition will be handpicked, packed and gifted to charities.
Last year's Poinsettia Wishes saw iconic sights found in the Nordic countries represented around the Flower Field at Gardens by the Bay. This year, the four Nordic Embassies in Singapore – The Royal Danish Embassy, Embassy of Finland, Embassy of Sweden and the Royal Norwegian Embassy – are coming together again. They will help to bring festive programmes to complement the Poinsettia Wishes floral display. These include crafting workshops for underprivileged children.
---
A Nordic Weekend With Swedish Lucia Procession at Poinsettia Wishes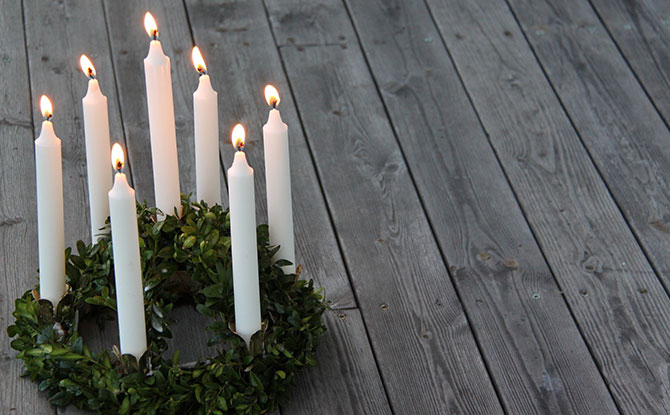 Something special this year is that there will be a traditional Swedish Lucia Procession held as part of Poinsettia Wishes 2020.
The Swedish Lucia Procession is an atmospheric event and an iconic sight that usually includes a singing line-up of candle-carrying characters dressed mostly in white gowns. This is symbolic of Lucia, an ancient mythical figure with an abiding role as a bearer of light in the dark Swedish winters. It will take place on Sunday, 13 December 2020, 7 pm to 7.20 pm at the Flower Dome.
In addition, during the same weekend, 12 and 13 December, there will be a Nordic Santa Meet-and-Greet at the Flower Dome.
Gardens by the Bay also lined up other Christmas programmes throughout the month of December, including meet-and-greets with Wise Wee, the Garden's mascot, and performances by visually-impaired singer Adelyn Koh, and Singapore Special Voices, a choir group founded by parents of special needs children.
---
Visiting Poinsettia Wishes 2020
For those who are looking forward to Poinsettia Wishes, take note that it will be held from 27 November 2020 to 3 January 2021. Admission charge to Flower Dome applies.
More details will be made available on the Garden's By The Bay website soon.