We all love sipping a good cup of coffee while watching the children play to their hearts' delight. Given that our beloved island nation is small, we might find it challenging to find a good coffee place with plenty of outdoor play spaces for the children to run, scoot and jump around. Isn't the unsaid parenting rule to expend all their energy till they knock out? Sleep-deprived parents searching for child-friendly cafes in Singapore, there is hope!
Child-friendly Cafes in Singapore
Here's our top picks for kid-friendly cafes for the parent with a caffeine addiction!
---
1. Olla Specialty Coffee
Nestled in Sunset Way, Olla Specialty Coffee is one of the new kids on the block offering coffee and waffles. Its owner is a seasoned competitor in the National Barista competition scene, so his aromatic brews definitely perks anyone up. Although it is a micro-café, Olla spares a thought for the youngest customers by offering colouring materials, crossword books and storybooks. As it is situated next to a small market square, there is some space to run or scoot around while parents enjoy a cuppa or a houjicha latte. The children will definitely enjoy the ondeh ondeh waffles topped with gula melaka gelato, or the We know your tastebuds can't resist the sugar either.
Address: 109 Clementi Street 11, #01-03, Singapore 120109
Opening hours: Tues to Sat, 8 am to 6 pm (Mondays if it's a public holiday)
---
-- Story continues below --
---
2. CSHH Coffee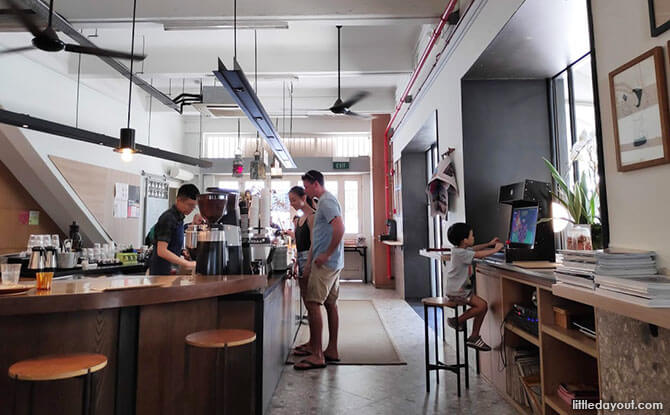 Chye Seng Huat Hardware Coffee (CSHH Coffee) is a quintessential hangout for coffee connoiseurs and the hipster crowd. It might not come across as "child-friendly" but its big plus points are a vintage styled video console, charming interiors and some outdoor space, outdoor murals for some prancing and wandering. This is where the tribute to coffee will not fail the sleepiest of parents.
Address: 150 Tyrwhitt Rd, Singapore 207563
Opening Hours: 9 am to 10 pm on weekdays and Sundays, 9 am to 12 am on Fridays and Saturdays, Closed on Mondays
---
3. Wildseed Café & Bar
Seletar Aerospace Park is a journey to the far North for most. But it doesn't disappoint with its aviation-themed playground and choices of food and beverage. Wildseed Café & Bar is surrounded by lush greenery and brings you to a quaint side of Singapore. Children will enjoy the spaces here, as well as the colouring sheets. This café is also furkid friendly.
Address: Level 1, 3 Park Lane, Seletar Aerospace Dr, Park, 798387
Opening Hours: 9 am to 11 pm daily, 9 am to 12 am on Fridays and Saturdays
---
4. Wheeler's Yard
Wheeler's Yard is not just a cyclist's hangout but a café well-hidden in an alley off Balestier. It used to be a warehouse hence the high ceilings, spacious interiors and plenty of space to showcase the all the two-wheel beauties from bicycles to vespas. The restless children can cycle about the open spaces or even try out the bicycles and scooters on sale.
Address: 28 Lor Ampas, Singapore, Singapore 328781
Opening hours: Mon to Thurs: 11 am to 7 pm (closed on Tues), Fri to Sun: 11 am to 8 pm
---
5. Coastes
For the beach bums and mums, this Mediterranean styled café/restaurant by the beach would charm any sun-loving families. Enjoy western styled brunches with coffee while the children build sandcastles right next to the tables.
Address: 50 Siloso Beach Walk 01-06, 099000
Opening Hours: 9 am to 10 pm daily, 9 am to 11 pm on Fridays and Saturdays
---
6. Trapizza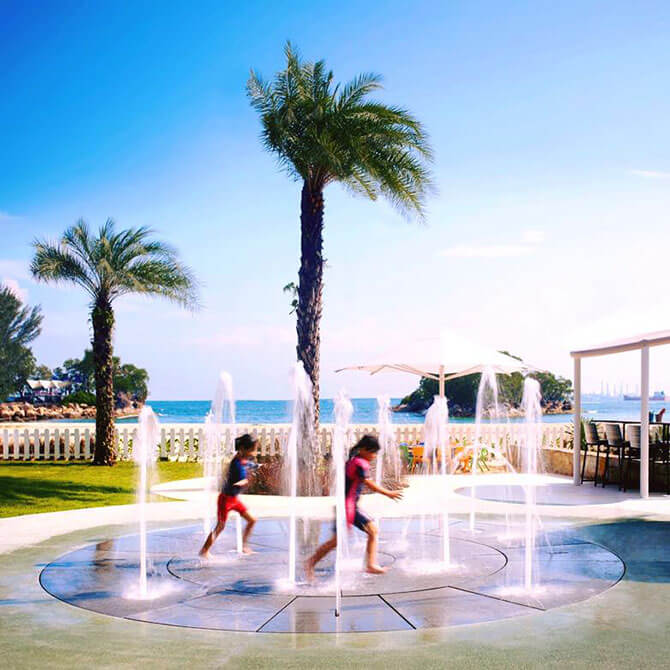 Also at Sentosa, Trapizza underwent a revamp recently and now boasts of water play area in addition to the sand playground. This spot is a parent's dream as the beachfront restaurant offers plenty of sensory play experiences. We love the thin crust, wood-fired pizzas here!
Address: Level 1 on Siloso Beach
Opening Hours: Weekdays 11.00 am to 10.00 pm; weekends: 9.00 am to 10.00 pm
---
7. Kith Café, Robertson Quay
One of Kith Café's outlets is situated at Robertson Quay. Children will love to watch the passing boats, while scooting around next to the river at this child-friendly cafe in Singapore. Parents can chill by the riverside while their children play catch or watch the many pets and their owners jogging by.
Address: 7 Rodyk Street #01-28, Robertson Quay, Singapore 238215
Opening Hours: Mon to Fri : 7 am to 4 pm, kitchen closes at 3.30 pm; Sat to Sun : 7 am to 6pm, kitchen closes at 5.30 pm
---
8. Camp Kilo Charcoal Club
A bi-monthly Sunday Funday is where families can visit Camp Kilo Charcoal Club. This outdoor meat-heavy eatery is located near the Kallang riverside. It has a family-friendly atmosphere with games setup for families to bond and hula hoops and skipping ropes to play. Parents can choose to feast on bbq-ed meat and cool drinks while keeping watch on the children nearby.
Address: 66 Kampong Bugis #01-01, Singapore 338987
Opening Hours: 5.30 pm to 11 pm (Fridays); 11 am to 11 pm (Saturdays & Sundays)
---
9. Grub
A well-loved burger joint at Bishan-Ang Mo Kio park, Grub is close to lots of nature for outdoor exploration. It serves up café food as well as desserts and finger food for the little ones. There are also parent-child activities organized during certain weekends such as sand art and sensory play dates. Parents like organising meetups here given the large expanse of space where children can play while they catch up over coffee and cake.
Address: 510, Ang Mo Kio Ave 1, (Bishan – Ang Mo Kio Park, Pond Gardens), Singapore 569983
Opening Hours: Mon to Fri, 11.00 am to 10.00 pm; Sat, Sun & Public Holidays, 9.00 am to 10.00 pm
---
10. Bayswater Kitchen Keppel Bay
Who can resist a brand new playground at Bayswater Kitchen at Keppel Bay? Climbing, running, ball-throwing, merry-making – sure gets your child busy having fun. As parents sit nearby and watch their children play, they can enjoy the seabreeze and seafood.
Address: 2 Keppel Bay Vista, 098382
Opening Hours:
Tuesday to Friday, Lunch: 11.30 am to 3.00 pm; dinner: 6.00 pm to 11.00 pm
Saturday – Dinner: 6.00 pm to 11.00 pm (Last Orders 10.30 pm)
Sunday & Public Holidays – Brunch: 11.00 am to 4.00 pm; A La Carte: 6.00 pm to 10.30 pm (Last Orders 10.00 pm)
Closed on Mondays
---
11. Bee's Knees at the Garage, Singapore Botanic Gardens
Bee's Knees is both a kid and furkid-friendly spot at the Cluny side of Botanic Gardens. Housed in a heritage building, Bee's Knees also has al-fresco seating just next to the foliage garden. Children will enjoy spotting the wildlife such as jungle fowl, birds, squirrels frolicking near the café. It also opens early for a quick espresso and the children eager to catch the morning rays.
Address: 50 Cluny Park Road, Singapore Botanic Gardens, Singapore 257488
Opening Hours: 8 am to 6 pm daily
---
12. Tiong Bahru Bakery Safari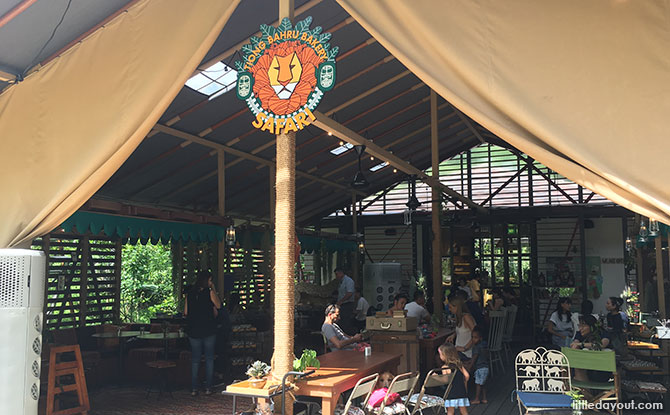 A safari-themed bakery is always worth exploring especially if it serves great coffee and croissants. If you are in an exploratory mode, try the beetroot latte while the kids hunt down chickens, bunnies and go wild at the animal-themed playground shared with Open Farm Community.
Address: 130E Minden Road, Singapore 248819
Opening hours: Daily 8 am to 5 pm
---
13. Baker & Cook Dempsey
Another spot for families at Dempsey is Baker & Cook which was recently opened in July. This chain of bakery-café is popular for its baked goods. But kids will flock to this spot for its sprawling outdoor playground with teeter-totters, slides, baby-friendly swings and a boat perfect for play-pretend.
Address: 30C Loewen Road, Singapore 248839
Opening Hours: Daily & Eve of Public Holidays, 8 am to 10 pm
---
Tips for Café-hopping with Children
Before you go and visit a café with children, pack a few items and your café experience will be as smooth as your latte. Bring some colouring materials, blank sheets of recycled paper, activity packs, a storybook, a ball and a change of clothes just in case the weather changes.
Prepare the child for the café environment where sometimes loud noises may not be welcome if it is a quiet café. Using the "library voice" would be ideal for café time.
Enjoying each other's company is a wonderful way of spending those precious moments at a favourite spot. Who knows – it could become a parent-child date that may become a tradition.