Located in the heart of Northshore District in Punggol Eco-Town, Northshore Plaza is the newest mall in Punggol. It houses a supermarket, food court, restaurants, eateries, shops, childcare centre, and enrichment centres. It is also HDB's first seafront neighbourhood centre.
Northshore Plaza is split into two sections. Northshore Plaza I and Northshore Plaza II. The two Northshore Plazas are connected via a bridge which goes over Northshore Drive. Here are things and stores one can expect to see at Northshore Plaza.
---
Stores at Northshore Plaza
Giant
A supermarket that sells a variety of products, Giant is a familiar spot to many to buy both fresh and canned ingredients to stock up their pantry, as well as other household necessities such as cleaning products, and more. This outlet is operates for 24 hours which makes it even more convenient to get items that one might need. It is located on level 1.
---
-- Story continues below --
Anytime Fitness
With outlets around the island that open around the clock, it's easy to get a workout in. This Anytime Fitness outlet at Northshore Plaza has all the various equipment needed for a good sweat and workout. They have a variety of machines for static workouts as well as an open area for a circuit-style workout.
---
Decathalon
Northshore Plaza I is home to the first Decathlon experience store in Northern Singapore. The brand's second duplex store will be located on levels one and two of Northshore Plaza I, spanning 4,200 square metres, boasting 19 test and innovation zones, its first-ever Instagrammable mural and more.
---
Clipper Barber
Clippers Barber is an affordable classic barbershop with a modern revamp. Here, customers of all ages can sit back, relax, enjoy a professional grooming service at the hands of the shop's barbers, who do signature fades & clean cuts.
---
Nippon Home
Nippon Home carries a range of products that includes toys, stationery, household, electrical, hardware, sanitary and many others to cater to all age groups. The company also provides value-added services such as key duplication, plumbing and handyman services.
---
Masego
Experience the first and only safari theme spa in Singapore. Surrounded by the lushness of a Safari haven, customers can unwind to the gentle humming of tropical birds as they relax and indulge their senses in signature spa therapies inspired by Mother Nature.
---
Minutiae
Minutiae is a one-stop beauty service stop that provides customers with pampering services from head to toe. They offer an extensive range of beauty services ranging from nails, lashes, eyebrows and hair.
---
Healthcare Services
Visitors to Northshore Plaza I can get access to healthcare and medical services at places such as Pro-Health, Pinnacle Family Centre and Advanced Dental.
---
Food at Northshore Plaza
There are many different food options at Northshore Plaza I & II. Here's a run down of some.
Fast Food: McDonald's (Plaza I), Little Caesars Pizza (Plaza I), A&W (Plaza II), Four Fingers (Plaza II)
Restaurants: Hai Di Lao (Plaza I), Gaku Sushi Bar (Plaza II), Dancing Crab & Slappy Cakes (Plaza II)
Casual Dining: Nomstar (Plaza II, Level 3), VS Cafe (Vietnames, Plaza II), Gurney Drive (Plaza II), Grove (Plaza I), Mama Huluruk (Plaza II)
Coffee / Cafe: Fun Toast (Plaza I), Coffee Bean & Tea Leaf (Plaza I), Creamier (ice cream, Plaza II), Well Collective (Plaza II)
Food Court: Cantine (Plaza II, close to the sea)
Some stores include F&B outlets such as Coffee Bean and Tea Leaf, McDonald's, BlackBall, Fun Toast and more. Read more here.
---
Enrichment Centres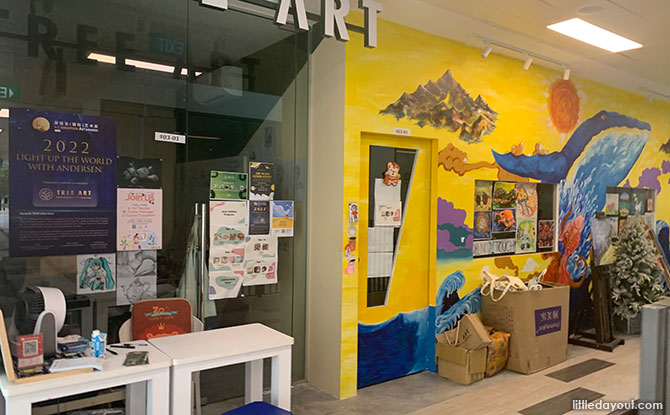 The third floor at Northshore Plaza I is where all the enrichment centres are located. The escalator leading up to the third floor is just beside McDonald's.
There is also a small playground for 2 to 5 year olds on the third floor.
---
Playgrounds at Northshore Plaza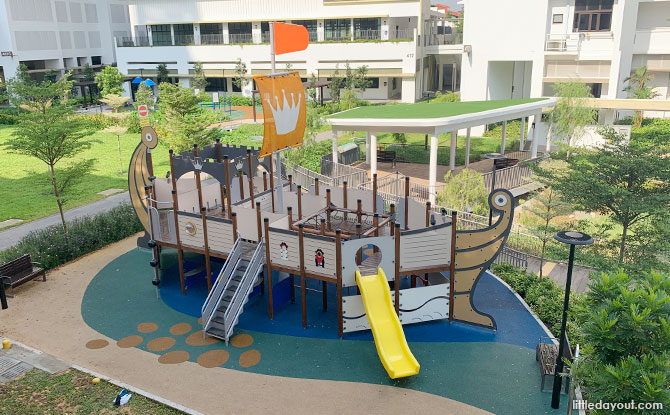 You can find a ship playground next to Northshore Plaza II.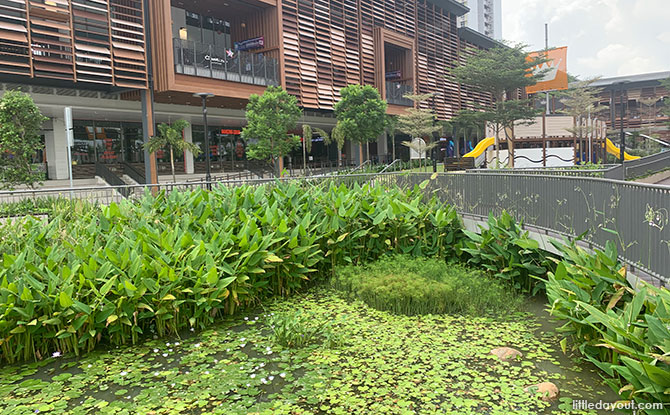 Close to the ship playground, you will find the Dragonfly Pond, a little spot where kids can put their observation skills to the test and try to spot different insects.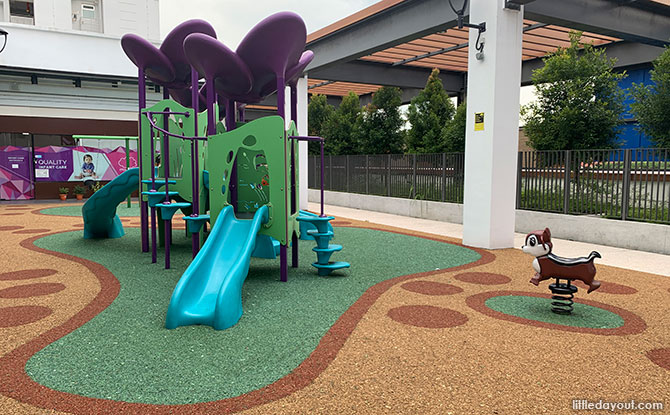 As mentioned earlier, there is also a small playground at Northshore Plaza I, Level 3, beside the enrichment centres.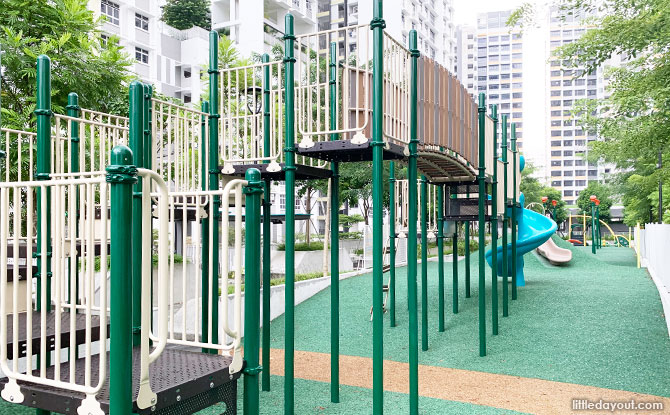 If you venture away from Northshore Plaza I towards either Block 407A (multi-storey car park) or Block 407B (another multi-storey car park), there are nice outdoor playgrounds to found too. Find out more here.
---
Other Facilities at Northshore Plaza I & II
Other than commercial facilities, Northshore Plaza is also designed around a comprehensive network of community spaces and parks. There are lots of open spaces, making the mall very airy.
There is also a small green open space in the middle of the mall that visitors can sit at for some fresh air.
The community visitors are also able to easily access Northshore Plaza from the nearby residential blocks and the Samudera LRT station.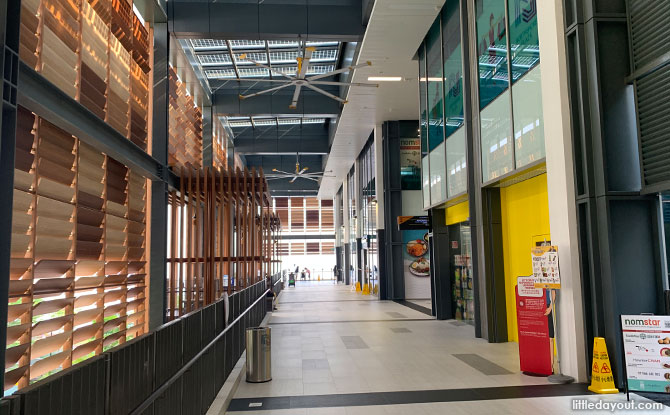 Northshore Plaza II has a naturally-ventilated corridor extending alongside the common green to Punggol Promenade, providing convenient and sheltered access to the waterfront.
It also has a look out area where visitors can enjoy the views of the water to the north of Punggol.
There is a Daiso, Cheers and Apex Veterinary Clinic at Northshore Plaza II.
---
Northshore Plaza I & II
Blocks 407 & 418, Northshore Drive, Singapore 820407 & 820418
Website