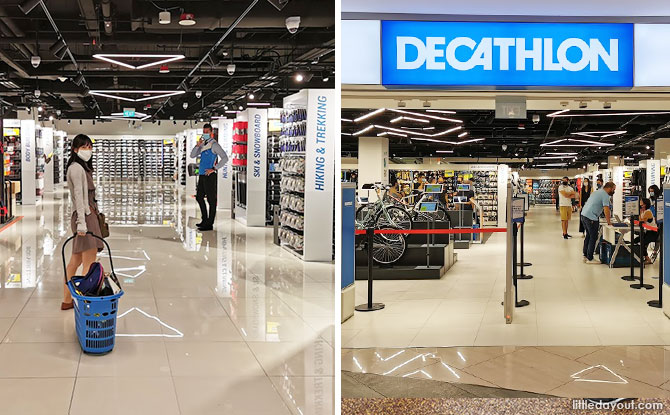 Everyone loves Decathlon. And we all probably own an item or two – or perhaps a whole cupboard of Decathlon sports equipment. A new experience store, Decathlon Centrepoint, has opened in the heart of Orchard Road and it brings new meaning to downtown shopping!
Decathlon Centrepoint is the brand's fifth experience store in Singapore and the first two-storey outlet with plenty of spiffy techy features. We check out why THIS Decathlon store is worth popping into when you are along Orchard Road!
Five Reasons to Visit Decathlon Centrepoint
---
1. It is conveniently located in the heart of town!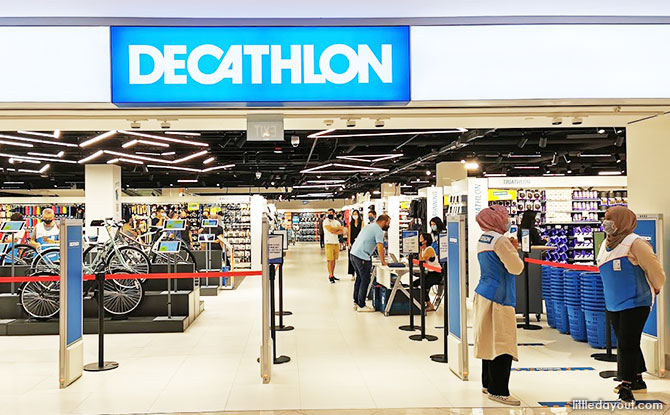 For shoppers who love to head to town for some shopping, dates, fancy meals, you can also make your sports purchases very conveniently at the Decathlon Centrepoint experience store.
---
-- Story continues below --
With free delivery options above $60 or self-collection after two hours, you can be pretty much hands-free while you run your errands or finish a meal after shopping. Decathlon Orchard takes over the space where Metro or Robinsons used to be right at the front of The Centrepoint, just across Somerset MRT station.
---
2. Experience the Decathlon Virtual Reality Test Zone
Decathlon Orchard uses futuristic technology to help you plan your next camping trip. Simply put on the VR headset that takes you on a camping trip overseas! This helps you to try out the gear such as tents.
Experience different climates and terrains with the headset on to decide which kind of tent, sleeping bag and other equipment fits your trip best.
---
3. Put Your Best Foot Forward for a Foot Scan
The Decathlon Centrepoint store also provides free foot scans to take precise measurements of your feet. This means better fitting shoes. The machine even tells you the difference in foot size comparing both feet.
After the scan, you can even try on the sports shoes and race around on the track just like an athlete.
---
4. Experience other Sports Test Zones – Rock-climbing, Basketball, Cycling and more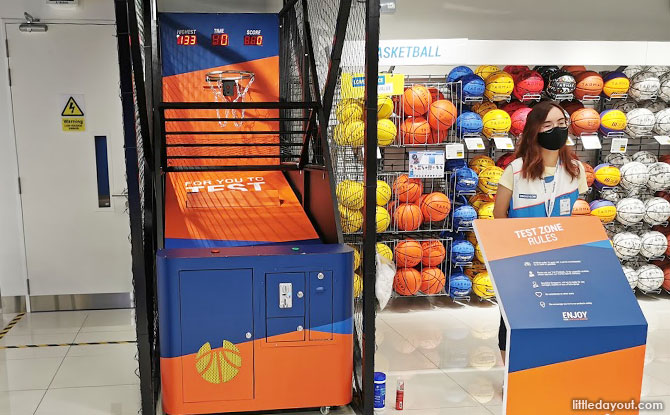 The best thing about Decathlon experience stores are the test zones! The best way to know if sports equipment is worth the purchase is to try it out.
There are elements such as a rock-climbing surface, basketball hoop, cycling track, racing track as well as an area to test out big backpacks. However, due to the COVID-19 restrictions, the test zones may not be open at the moment.
---
5. Meet Robots that are Very on the Ball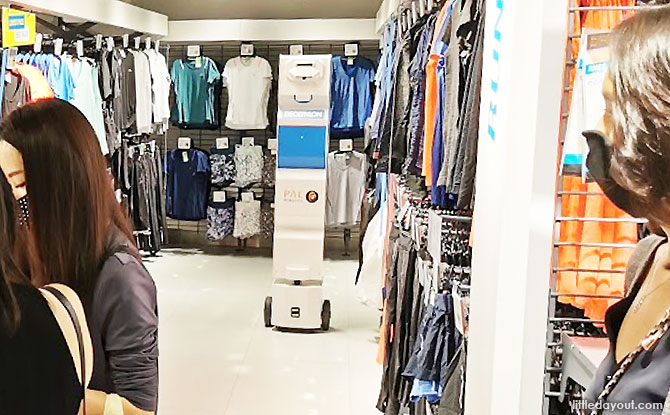 Want to see robots in action? Here's your chance. Decathlon Orchard at Centrepoint has a few roving bots all ready to check on stock levels. This frees the staff up to interact with the customers while their worthy bot-colleagues rove the store. They may ignore you for selfies though, since they are ultra-professional stock-checkers.
---
Decathlon Centrepoint: Sports Spot at Orchard
Aside from Decathlon's large collection of sports equipment, shoppers will appreciate the spaciousness of the store and the amount of space dedicated to classes. We would certainly be back to get our usual supply of googles, swimwear, sportswear and affordable equipment!