Making their public debut on the evening of 29 April 2021 at the Night Safari are a pair of young Indian rhinoceros brothers. Visitors can see 7-year-old Thulie and 4-year-old Newari at their new exhibit along the tram route and can also from the walking trail a short distance away from the East Lodge.
---
Thulie and Newari
Strictly speaking, Thulie and Newari are half-brothers. They have the same mother but were sired by different bulls. The duo arrived from Al Bustan Zoological Centre in the United Arab Emirates and are part of an internationally managed breeding programme to improve the genetic diversity of Indian rhinoceros under human care.
Between the two of them, Thulie is the bolder one while his younger brother Newari is more shy.
Thulie weighs in at 1.9 tonnes while Newari is 1.7 tonnes. Moving them from the United Arab Emirates to Singapore required months of planning and preparation by teams at both Al Bustan and Wildlife Reserves Singapore.
---
-- Story continues below --
On their eight-hour flight from Dubai to Singapore, they were accompanied by Wildlife Reserves Singapore's Assistant Curator of herbivores Yusoff Man.
The Indian rhinoceros is also known as the greater one-horned rhinoceros. They are listed as vulnerable under the IUCN Red List of Threatened Species, with an estimated population of about 2,200 mature individuals in the wild in India and Nepal.
---
New Rhino Exhibit
The rhino brothers will be housed in a new facility at the Night Safari that is about the size of four and a half Olympic-sized swimming pools. They will share the exhibit area with Night Safari's two female rhinos, Gomati and Mary, on a rotational basis.
The rhino exhibit is also designed to allow up close guest interactions. This means that visitors to Night Safari can look forward to new interactive programmes featuring the Indian rhinos in the future.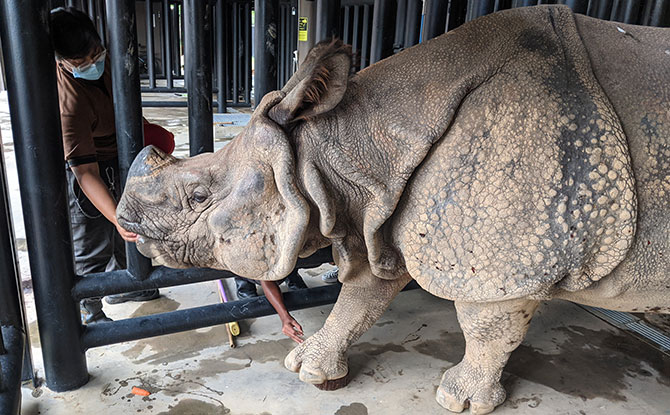 The new rhino facility also has back-of-house areas which have been designed to allow keepers to carry out their duties, including training and interaction, under protected contact through a safety barrier.
Saravanan Elangkovan, Deputy Vice President, Wildlife Reserves Singapore, said "We are thankful for the collaboration with Al Bustan Zoological Centre for the successful transfer of the Indian rhinos. The last time we received an Indian rhino was more than a decade ago and she is still with us today. The arrival of these two males is exciting, not only for the animal care team, but also for our guests who have more wildlife experiences to appreciate. We look forward to showcasing the new rhino exhibit which has been designed in line with international standards and features that encourage the animals to express their natural behaviours."