We celebrate Singapore's birthday this August and there are plenty of National Day 2020 activities to join in as part of the nation's birthday celebrations (which includes the National Day Parade, of course). It has been a tough year but we still have much to be thankful for and the National Day 2020 Singapore celebrations – both online and offline – remind us of that. There are also various National Day 2020 events, promotions and deals available in the month of August 2020 too! We round them up below.
---
National Day 2020 – Virtual Istana Open House
2 August, 10 am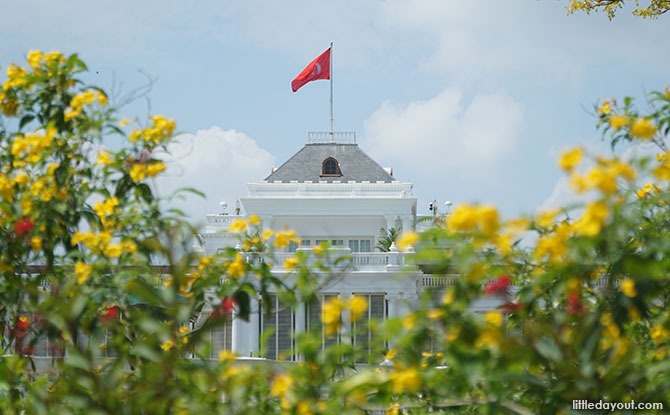 This time, Istana Open House 2020 on National Day will be held virtually instead. The livestream will be on President Halimah's Social Media pages. Go on a virtual tour around the Istana and check out green spaces and places rarely seen by the public.
---
-- Story continues below --
There is also Istana's 14.5 metre deep well and air raid shelter which is known as the "bunker". Participants can also watch a museum artefact "come to life" and discover its story. There will also be a virtual tour of the newly-opened jewellery gallery at Asian Civilisations Museum.
---
National Day Activities 2020 at the Museums
Museums' National Day 2020 Open Houses
Love a good scavenger hunt? How about going on a digital one while learning about Singapore's history? Solve puzzles, accomplish tasks, share reflections and get to redeem a special souvenir if you complete The Hunt@National Museum Singapore.
You can also visit Asian Civilisations Museums' latest galleries – Fashion & Textiles, Jewellery and Ceramics digitally. Or put on your very own VR headsets for an even more realistic experience.
Keen to visit the Indian Heritage Centre? Have your own guided tours using your mobile phones using QR codes around the galleries!
Here are the museums' National Day 2020 Open Houses dates:
National Museum of Singapore: 7 to 10 August 2020
Asian Civilisations Museum: 8 to 10 August 2020
Indian Heritage Centre, Malay Heritage Centre, Sun Yat Sen Nanyang Memorial Hall: 8 and 9 August 2020
---
Virtual Escape Room by National Museum of Singapore
How about embarking on a virtual escape room as a National Day 2020 activity you can do from home? This escape room takes you back in time to find missing national symbols. Solve the mystery through a series of puzzles and clues, and learn about national monuments. Click here to begin your escape!
---
Story-telling on NHB Social Media pages
Chua En Lai and other talented personalities will be telling stories of Badang the Magnificent. Discover how a slave became a very strong man and his connection to the Singapore Stone – an artefact which can be seen in the National Museum. Check this page for more information.
---
Collect NHB Heritage Institution Trading Cards
From 5 to 15 August 2020, collect a series of 9 digital "trading cards". This is a collaboration between Indian Heritage Centre, Malay Heritage Centre and Sun Yat Sen Nanyang Memorial Hall. Children can learn about local pioneers like Zubir Said, Tan Kah Kee and S Rajaratnam who contributed significantly to Singapore's nation building efforts. Head to either one of the Facebook pages to find out more.
---
Digital Prelude of "Home, Truly: Growing up with Singapore, 1950s to the Present"
This is home truly, I'm sure you know the rest of the lyrics. Try this National Day 2020 digital experience which relieves Singapore's journey from its beginnings throught the eyes of Nadine, a curious nine-year-old and Hock Seng, her grandfather. Each chapter of the story was illustrated by a different artist in their unique style. Access the digital journey on Roots.sg
---
National Day Concerts 2020
Arts@SBG presents NAC-ExxonMobil Concert in the Gardens
8 August 2020
Learn more about Xinyao, a uniquely Singaporean genre of music with roots tracing back to the 70s. The Arts@SBG concert will be all about Xinyao. This concert is also wholly online, streamed on National Arts Council Singapore Facebook and NParks SG Youtube page. Find out more here.
---
Gardens by the Bay & Mediacorp National Day Concert 2020
10 August 2020, 8 pm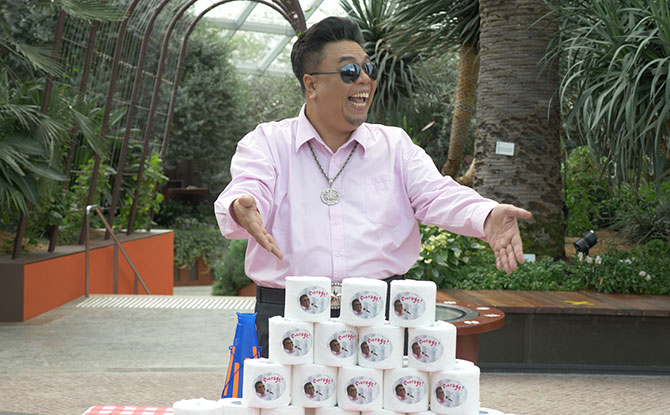 Tune in to a National Day Concert 2020 set around Gardens by the Bay on 10 August, 8 pm. The guest-of-honour is President Halimah Yacob and you can look forward to an entertaining line up of celebrities and artists. More details here.
---
SSO National Day Concert – Pay as You Wish
15 to 29 August 2020
Apart from the National Day concert held at Gardens By The Bay, there are others such as ticketed The SSO National Day Concert streamed live, on a pay as you wish basis. Each ticket allows five views. The SSO National Day Concert will be premiering on 15 August and viewable till 29 August. More details here.
---
Singapore-themed Art Performances
Enjoy a repertoire of performances from digital musical performances paying tribute to frontline or voluntary personnel, Jazzy interpretations of folk tunes and local compositions and Augmented Reality filters for National Day 2020 on the theme of Singapore's past, present and future.
Singapore Art Museum will also be featuring four heart-warming short films by local filmmakers, free for viewing on SAM's Facebook and Youtube channels. The Stay Home Shorts: National Day Edition is an online short film series featuring local films focusing on what it means to call Home.
---
Sing-alongs for National Day 2020 Singapore
SingNation! at CHIJMES
1 and 8 August 2020
Since choir sessions are prohibited and KTV lounges are still closed, unleash your inner diva and join in the various sing-along initiatives. Join in SingNation at CHIJMES with a group singing event. Held on 1 and 8 August and led by conductor Darius Lim, the singing event will be held online together with other singers. Indicate you interest here.
---
National Day Sing-along! With SFCCA and SCCC
8 August 2020, 7.38 pm
Wear red and sing along with SFCCA and SCCC. This annual event is now online and will be graced by President Halimah Yacob on 8 August. The Sing-along will be live streamed on the different Facebook pages of SCCC and SFCCA.
---
Other National Day 2020 Events
Sports Hub National Day Fiesta with Ah Lian
9 August 2020, 1 pm
Watch a 55-minute live show hosted by Ah Lian and other artistes for Singapore Sports Hub's National Day celebration on 9 August. There will be #PlankThatSong and KpopX Fitness workouts to boost the heart rate after all the feasting at this National Day 2020 event. Get stronger as one Singapore here.
---
Families for Life #FFLSHARETHECARE National Day 2020
Do something good this National Day 2020, make desserts to raise funds for President's Challenge. President's Challenge is celebrating its 20th anniversary and empowers persons with disabilities, many have been adversely impacted by the pandemic.
Families can contribute by purchasing the "Red and White" National Day agar-agar kit, recipe by none other than President Halimah Yacob! Purchase the $10 agar-agar kits from Phoon Huat stores and get an e-recipe booklet. More details, including other ways to donate, here.
---
Singapore Cycling Federation's Indoor Cycling Challenge
8 and 9 August
Avid cyclists can join in the indoor cycling challenge with challenges on both 8 and 9 August. Sign up here to get your adrenaline rush.
---
Sentosa's Massive Flag of Unity
Want to see your message on a gigantic flag of unity on Siloso Beach? Send in your messages sharing hopes and aspirations for Singapore here. This call to rally Singaporeans to stay united will see a display spanning 4500 sqm across Siloso Beach, featuring 10,000 recyclable red and white flags carrying one heartfelt message. You may even get a chance to receive a pair of wireless earbuds worth $20 by participating in this National Day 2020 event.
---
National Day Promotions at Various Attractions
Want to hang out at a local attraction during the long weekend? There are plenty of deals for visitors for the month of August.
Jewel Changi Airport 55% Off
Enjoy 55% off Changi Experience Studio standard rate tickets. Details here.
What's more, slide and bounce to your heart's delight for Jewel Changi Airport Canopy Park attraction tickets for August when you get 55% off ala carte standard tickets. This excludes Canopy Park tickets and Bundle Packages. Details here.
---
Singapore Cable Car & One Faber Group
Get 55% off Singapore Cable Car Sky Pass, 55% off Wings of Time, 55% Sentosa Island Bus Tours! This calls for a trip to Sentosa and Mount Faber. P.S. The best washrooms are atop Mount Faber. Check out the details here.
---
Wildlife Reserves Singapore
Singapore's wildlife parks are celebrating National Day 2020 with Wild About Singapore activities. See animals in action, including our favourite otters at work and play. And with Night Safari's reopening, there comes a 50% off admission deal for tickets purchased till 31 July. Wild details here.
---
Singapore Flyer
Check out Singapore's beautiful skyline from the top – go on the Singapore Flyer with a special price of $55 for a group of 4, including 1 child. Details here.
---
Sentosa NDP Coupons
Each household will receive free coupons to be used at Sentosa attractions. Coupons will be valid from 1 Aug 2020 to 31 March 2021. Pre-register, then redeem the fun passes at Sentosa Ticketing Counters. Visit this site for more instructions.
This story contains affiliate links. This means we earn a small fee if you purchase something through a link from our website. There is no additional cost to you. This helps to support Little Day Out and keeps us going.