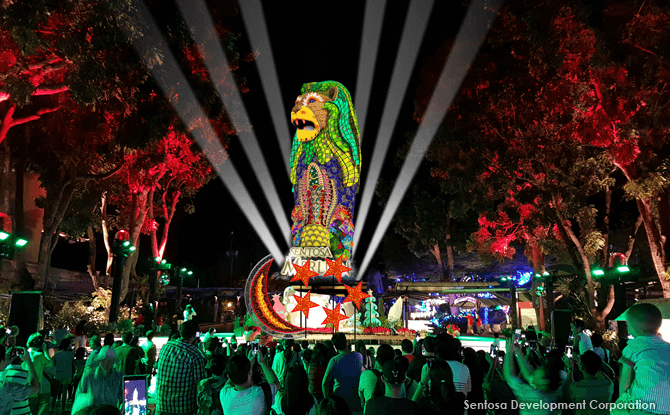 Singapore turns 52 this year and as much as National Day is a time for us Singaporeans to proudly put on the red-and-white and fly the five stars and crescent moon, it is also a chance to chill out and enjoy some quality time with family and friends. To aid you on this latter mission, here are some fun activities and things to do to celebrate National Day 2017 in Singapore.
Ideas of Things to Do for National Day 2017 in Singapore
Singapore Expo PlayLAH!
4 to 6 August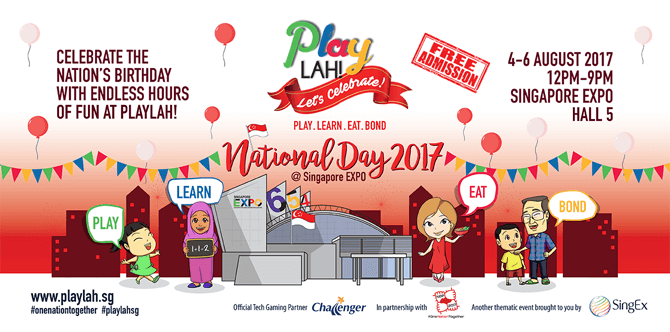 PlayLAH! Let's Celebrate! National Day 2017 at Singapore Expo features an exciting line-up of activities across four dedicated zones. Kids can enjoy bouncy inflatables and rides while the whole family can participate in craft and colouring workshops and sample local Singaporean food. Purchase coupons for use at PlayLAH! Let's Celebrate National Day 2017 online.
Have a 'So Singapore' Experience at Sentosa
4 to 13 August
Sentosa celebrates National Day 2017 with fun activities around the island. Travel back in time at Sentosa's Heritage Carnival 2017 – So Singapore. Meet interesting costumed characters from Singapore's pre-war years, and indulge in timeless good food from more than 20 stall at Palawan Green. Find out more.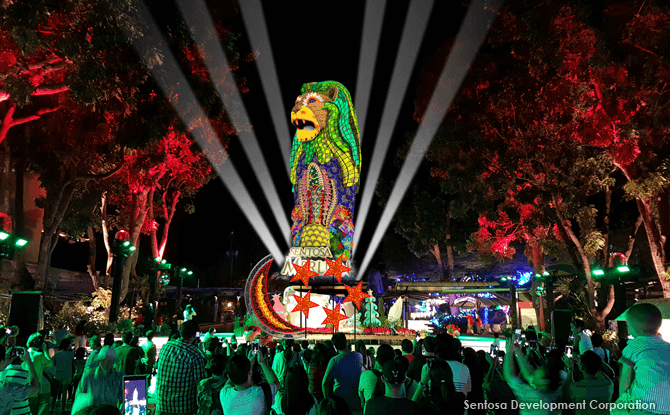 When the sun goes down, head over to Merlion Plaza to watch a special National Day 2017 edition of the Merlion Magic Lights! show. This light-and-sound spectacular will be take place till 27 August. There will also be performances held at Merlion Plaza every Saturday till 26 August too.
Orchid Extravaganza & Garden Rhapsody, Singapore Edition
Till 20 August
Gardens by the Bay brings out the blooms to tell the Singapore tale at the Orchid Extravaganza display at the Flower Dome. Using the lifecycle of a butterfly as a metaphor, visitors can admire the flowers which the story of how Singapore underwent a metamorphosis over the last 52 years.
From 1 to 20 August, a special National Day 2017 edition of the Garden Rhapsody light show will taking place at Supertree Grove. This will feature familiar Singapore tunes recorded by local artists in tribute to the nation.
Singapore Zoo, River Safari & Jurong Bird Park Celebrate National Day 2017
Visit two of Singapore's iconic wildlife parks and get to enjoy 52% savings off combo tickets in the month of August. In addition, on 5, 6, 9 and 10 August, enjoy National Day-themed activities around the parks. Soak in holiday atmosphere with performing buskers, special animal shows and unique Singapore-themed creations at the park's restaurants. Find out more.
Civic District Outdoor Festival
4 to 6, and 11 to 13 August
The inaugural Civic District Outdoor Festival takes place over two weekends in August 2017. With the theme, "When Time Stood Still", the outdoor festival will see the Civic District turned into a canvas for multimedia and art installations, and a backdrop for music and theatre performances. And, of course, there will be a food market too!
Families for Life Picnic – NS50 Edition
5 August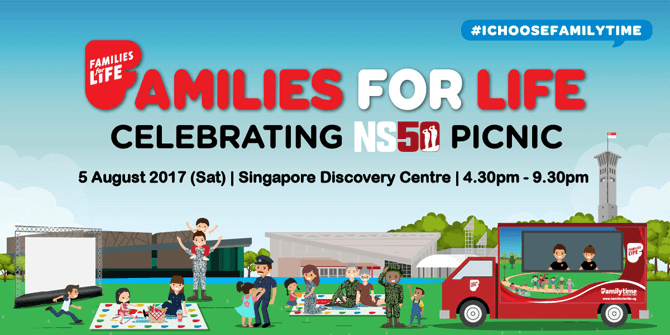 #IChooseFamilyTime and bring your family down to S'pore Discovery Centre for the Families for Life Picnic on Saturday, 5 August. It is being held in conjunction with the NS50 Celebrations and you can expect NS50-themed activities, complementary snacks and fun carnival games. You will even be able to pedal out over Discovery Lake in a boat! Free but registration is required.