On 2 November 2021 evening, more than 4,000 McDonald's meals were distributed to the residents and staff at two dormitories – The Leo and Westlite Juniper – to help spread some cheer ahead of Deepavali this week.
---
McDonald's Distributes Meals To Migrant Workers at Two Dormitories
The specially curated McDonald's meals included two pieces of Chicken McCrispy, an Apple Pie and a canned drink. The meals were prepared by more than 70 McDonald's restaurants across the island. There were also specially catered meals for vegetarians amongst the migrant workers.
McDonald's also developed a digital greeting card which the migrant workers to send holiday greetings to their friends and family locally and abroad.
One of the beneficiaries, Rahman Mohammed Shahneazur, Resident at Westlite Juniper, said, "My friends and I sometimes enjoy ordering burgers and fries from McDonald's to Westlite Juniper after a day's work, so I'm very happy that McDonald's is treating us to this special meal for Deepavali. I'm also happy that Westlite and the people in Singapore care about migrant workers."
"We would like to extend our heartfelt thanks to McDonald's for their support and care for our migrant workers here at The Leo. We appreciate the kind gesture that will definitely put a smile on the faces of our residents and bring some cheer during such challenging times. We wish all of our Hindu residents a Happy Deepavali and happy holidays to the rest of our residents!", said Chiang Chee Keong, Assistant Director (Compliance), MES Group, The Leo.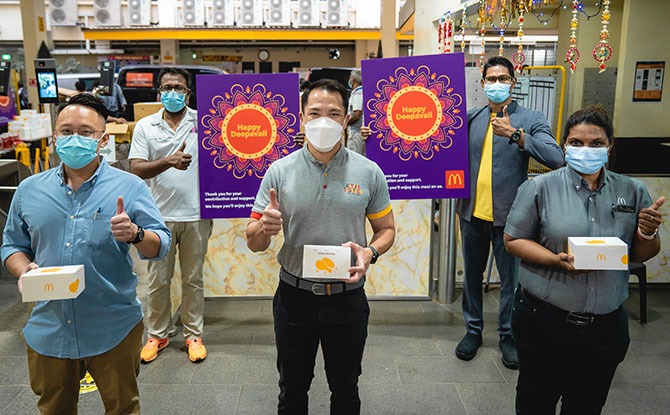 Benjamin Boh, General Manager, McDonald's Singapore, "We know it has been another long and challenging year for our migrant workers – the heroes in our community whose contributions we do not take for granted. We hope our small gesture of appreciation will help light up their smiles this Deepavali even as they think of their families back home."
We think it was a caring gesture by McDonald's Singapore and hope it brought a smile to all the beneficiaries.