McDonald's has launched its new D24 Durian McFlurry in Singapore this July 2018. We paid a visit to our closest McDonald's to get the scoop and give this new cool treat a taste test.
Durian In The House
As we stepped through the doors of the Golden Arches, we could already get a whiff of McDonald's D24 Durian McFlurry puree. All hail the King of Fruits!
Not unexpectedly, it consists of vanilla soft serve ice cream, ladled with a scoop of durian puree and whirled together in a frenzy into a classic McDonald's McFlurry mix.
On the McDonald's Singapore website, it says of the D24 Durian McFlurry, "Finally, it has reached our shores! Made with real D24 durian puree, it's a delightfully creamy treat that no durian fan should miss out on."
McDonald's D24 Durian McFlurry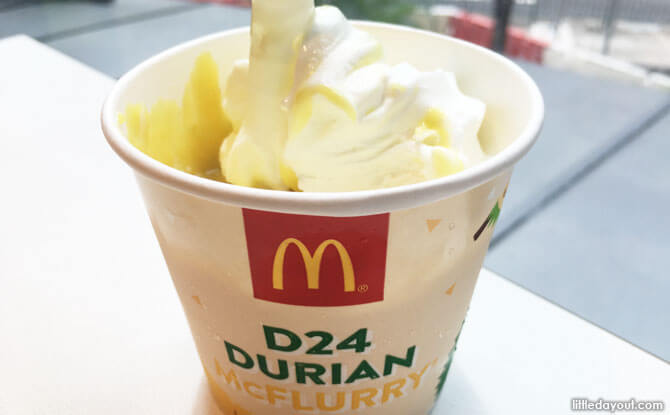 We tucked in to the McFlurry before us to find out if it was as what the McDonald's website says.
The McDonald's Durian McFlurry was good.
The durian puree blended nicely with sweet soft-serve vanilla ice cream and came together in a creamy, icy swirl.
We especially liked that there were bits of durian pulp in the D24 Durian McFlurry – of course, it would have been nicer if there were more.
While you can't (and shouldn't) compare it with handmade, artisanal durian ice creams, it is a nice, local treat that you can get at your local McDonald's. If anything, our only complaint was that it was too sweet.
Overall, we enjoyed the D24 Durian McFlurry and would have it again.
Celebrating The Local Flavours We Love
This special menu item is part of McDonald's Celebrating The Local Flavours We Love series, #MCDCELEBRATESLOCAL.
In conjunction with the D24 Durian McFlurry, there is even a free Durian mobile phone wallpaper which can be downloaded from the McDonald's website to help you show your love for local flavours.
There are three more empty wallpaper spots, which makes us wonder what McDonald's Singapore will be revealing next.
McDonald's D24 Durian McFlurry is available after breakfast hours and while stocks lasts.
And if the rapid way in which McDonald's Sausage McGriddles appeared and then disappeared is anything to go by, you might want to head down to a McDonald's nearby soon to sample this local McFlurry creation.
The McDonald's D24 Durian McFlurry costs $4.