McDonald's Sausage McGriddles is back in Singapore. After a hiatus of several years, the sandwich is now available on McDonald's all-day menu.
We popped into an outlet to give it a taste test.
McDonald's Sausage McGriddles: With And Without Egg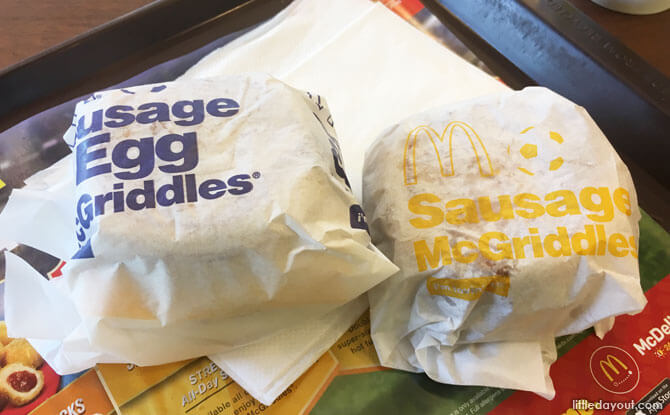 The Sausage McGriddles is available in two variants, a plain version and one decked out with an egg and cheese.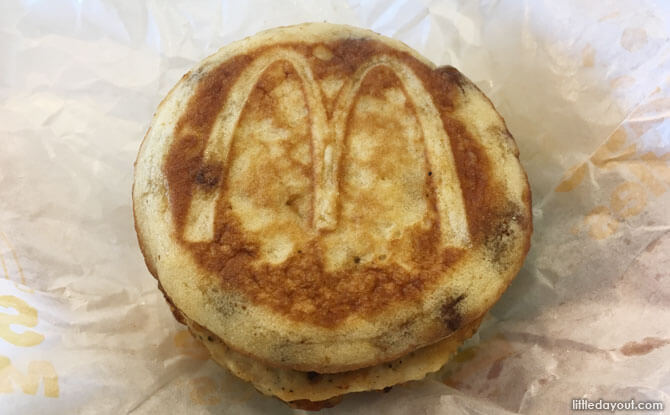 As we unwrapped the sandwich, we couldn't help but notice that it looked smaller than we remembered. The "buns" are made from syrup-infused batter, similar to hot cakes but in muffin form. A large "M" features prominently on the top of each griddle cake.
---
-- Story continues below --
Sandwiched in between is a chicken sausage patty, just like what you get in a Sausage McMuffin.
Together, the combination of the "sweetish" griddle cakes and the saltiness of the sausage patty provided a confusing hit of flavour to the palette.
Unlike a Sausage McMuffin which clearly caters to those who want a savory breakfast option, the McGriddle brings together the savory and sweet. Not unpleasant if you are tired of plain-old savoury bites and looking for alternatives. Or if you are the type of person who eats orders McDonald's hot cakes with the sausage patty and eats them together.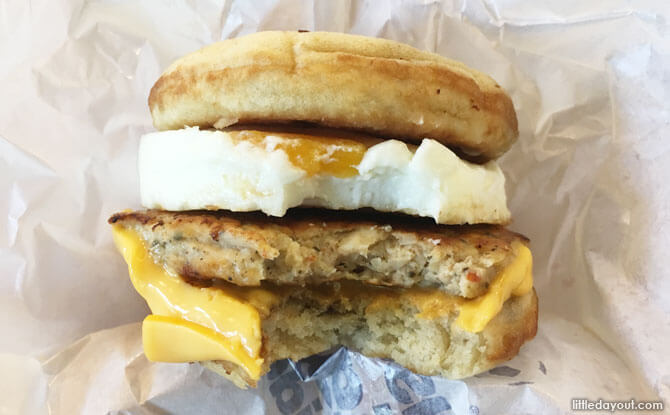 The Sausage McGriddles is back for a limited time only. A Sausage McGriddles breakfast meal with hash brown and drink costs $5. It costs $6 for breakfast meal with the Sausage McGriddles with egg.
Bites for the World Cup Season
Other savoury items which McDonald's is introducing for the World Cup season are Chicken Pizza Kicks – chicken meatballs filled pizza sauce – and the Happy Sharing Box which includes 12 pieces of Chicken Pizza Kicks and eight pieces of McWings. These are priced at $3.90 and $13.65 respectively.
Sweet menu items include the Party McFlurry (made for sharing!), Banana Shake and Banana Cone.
McDonald's will also be screening World Cup matches at 22 of its restaurants.