It has been 25 years since Night Safari first opened its gates, introducing visitors to the nocturnal world of animals. To celebrate its silver anniversary on 26 May 2019, Night Safari is offering discounted admissions for Singaporeans and Permanent Residents for entry between 25 to 31 May 2019.
Special Prices for Local Residents during the Night Safari Birthday Week
Instead of the usual prices of $49 for adults and $33 for children, Singaporeans and Permanent Residents can purchase Night Safari tickets for just $25.
These tickets are available for purchase online from 17 to 31 May 2019 and can only be used for admission between 25 and 31 May 2019, from 8.15 pm onwards. Terms and conditions apply.
Nocturnal Adventures
Singapore's Night Safari is home to almost 900 animals representing 100 species. These include Asian elephants and Malayan tigers.
---
-- Story continues below --
In addition, there are native animals that reside in the forest within the park. These include the Sunda colugo and green crested lizard.
Visitors can explore four walking trails that criss-cross the park.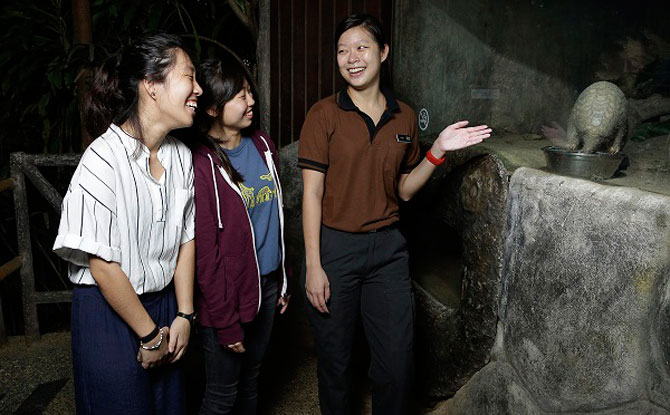 While walking along the trails, visitors can also view all-new pangolin and wallaby keeper interactions. The pangolin keeper interaction takes place at 8.30 pm daily along the Fishing Cat Trail while the Wallaby interaction will be held at 9 pm daily at the Wallaby Trail.
There is also the Night Safari tram which will bring visitors around the park and a new Creatures of the Night Show which stars otters, binturong, wolves and other animals.
Those who wish to get an even closer look of the animals can sign up for the Safari Adventure Tour – 25th Anniversary Edition. This will be held on the Fridays, Saturdays and Sunday from 25 May to 30 June 2019 and includes a private buggy tour and chance to prepare a special enrichment treat for the Asian elephants.
Get more information on the Night Safari's 25th anniversary specials here.