This year marks Lee Kuan Yew's 100th birth anniversary and the commemoration continues with LKY: THE EXPERIENCE at Prinsep Link. The experience provides a look at his life through his memories, milestones and motivations in a journey through time.
---
LKY: THE EXPERIENCE At Prinsep Link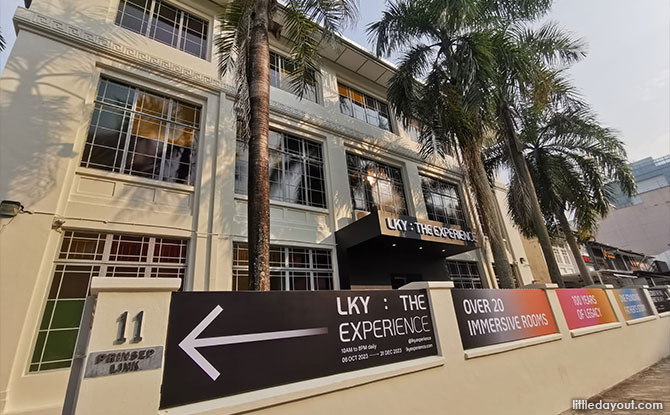 Sited at 11 Prinsep Link and spanning over 17, 000 sq ft, the ticketed LKY: THE EXPERIENCE is made up of over 20 immersive rooms.
Each of these rooms unlock a different chapter of Mr Lee's life and unveil a less well known side of him as a child, student, husband and statesman.
---
-- Story continues below --
---
100 Stories: Free Showcase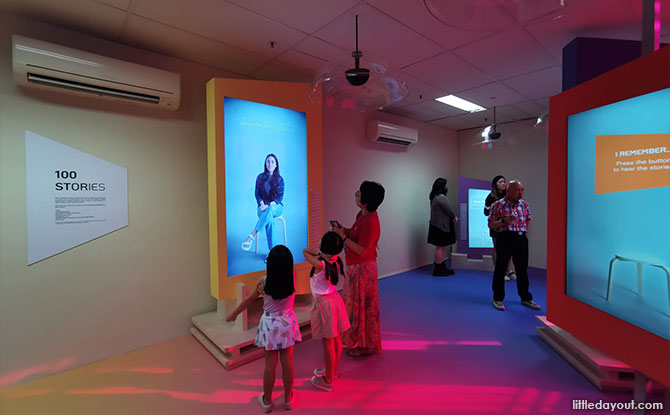 Even if you choose not to enter the ticketed zones at LKY: THE EXPERIENCE, you can pay a visit to 100 Stories room on the first floor of the building.
As the name implies, section of the showcase features 100 stories collected from people from all walks of life.
You can watch video interviews features with some of those who know Mr Lee Kuan Yew personally including his tailor, security officers and chef. There are also interviews with actors who performed in a musical about his life.
Through these stories, you can get a glimpse of what Lee Kuan Yew was like beyond work.
---
Zone1: The Moments
Venturing into the ticketed area at LKY: THE EXPERIENCE, visitors, both young and old, will get learn stories about Mr Lee's life through interactive installations, multimedia displays and hands-on activities.
LKY: THE EXPERIENCE is divided into three zones, each reimagining iconic chapters and moments of his life.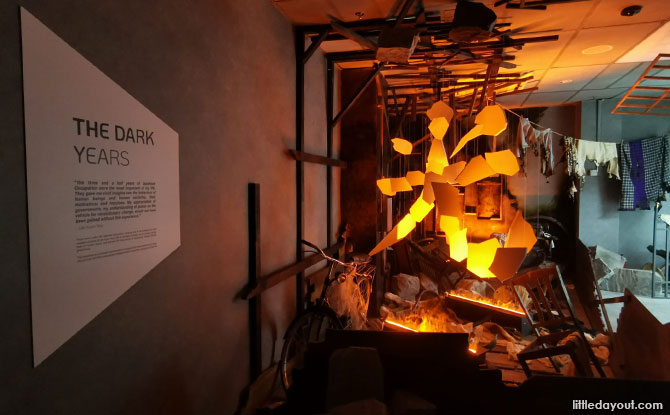 The first zone is titled The Moments presents the story of Mr Lee Kuan Yew's life through interactive sets depicting his fondest childhood memories, formative years, life as a devoted husband and turning points that have shaped his political views.
See his memories from his carefree days as a young boy playing his grandparents' plantation to his wedding ceremony and trace his journey through his schooling years. They also show how his experiences during the Japanese Occupation also shaped his ideals and convictions as a leader.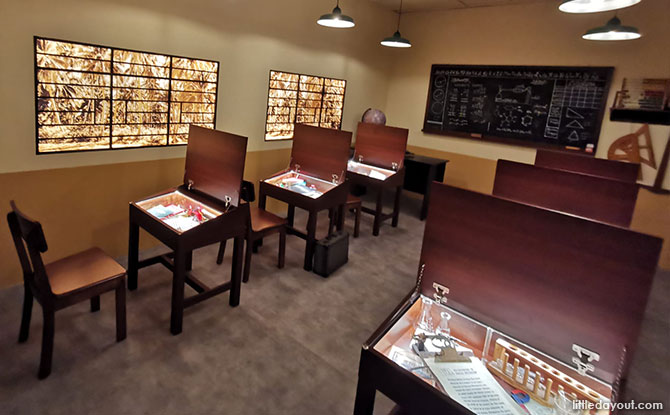 Step into rooms such as Schoolboy Days where you can learn about what he was like as a student. He got into quite a lot of trouble for mischievous deeds!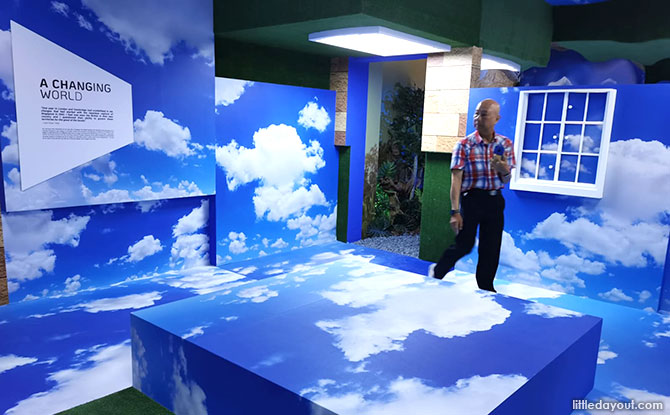 Then came the formative years that he spent in Cambridge. That was when he saw that the world was changing and his impressions of the British colonial masters changed as well.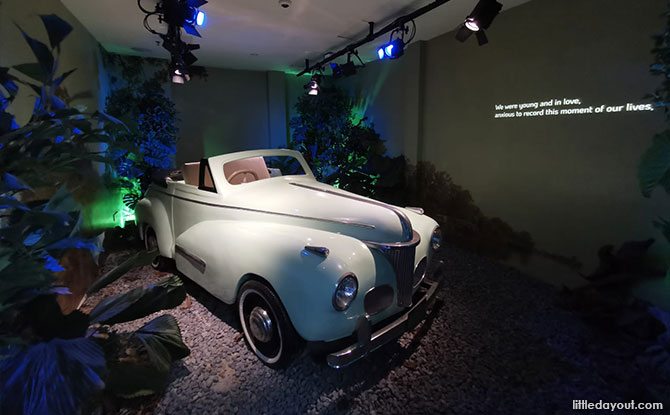 There are several rooms devoted to his relationship to Kwa Geok Choo, who would later become Mrs Lee. The significance of Lee Kuan Yew's life partner was highlighted in the four rooms dedicated to the seasons spent with her.
Our favourite was probably the room with her silhouette cast on a wall, and an empty chair at the writing desk. You can see her writing pad coming to life as the TV shows Lee Kuan Yew giving a speech.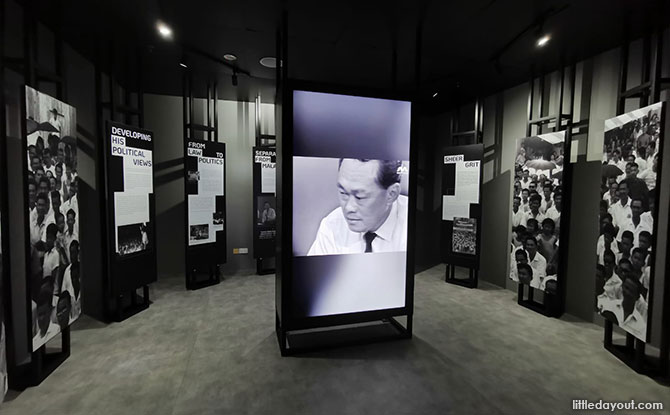 And no exhibition on Mr Lee Kuan Yew would be complete without a look at his political career.
---
Zone 2: The Beliefs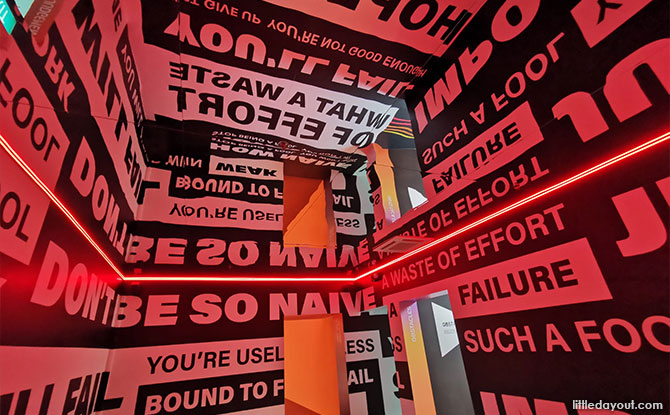 On Level 2, there are themed rooms with gamified experiences inspired by Mr Lee's ideas and values.
Lee Kuan Yew often held his own and deftly navigated through an ever-changing environment.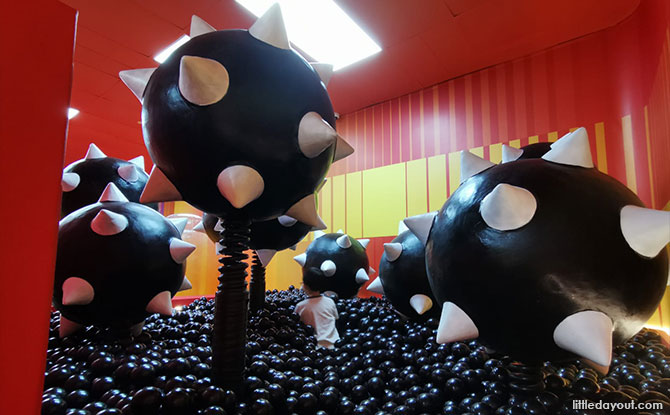 See if you can stay your course by taking on an obstacle course that tests your agility and reflexes. Children will love attempting the challenges and jumping into the ball pit, overcoming hurdles to get to the finishing line which spelt "You made it!".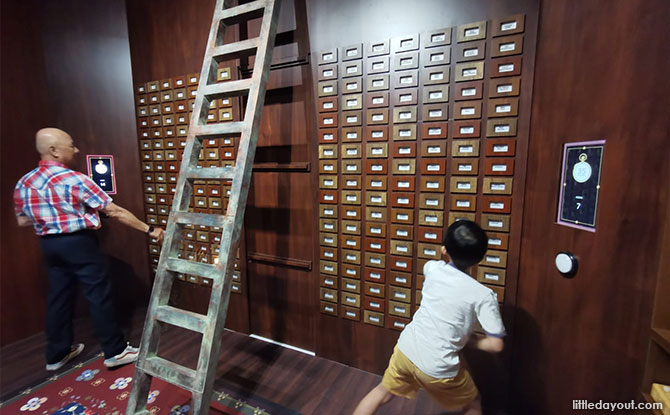 Then get hands-on to tackle challenges, representative of the issues Singapore faced such as social unrest, healthcare and water scarcity. Or try typing out a speech on a typewriter as accurately as possible.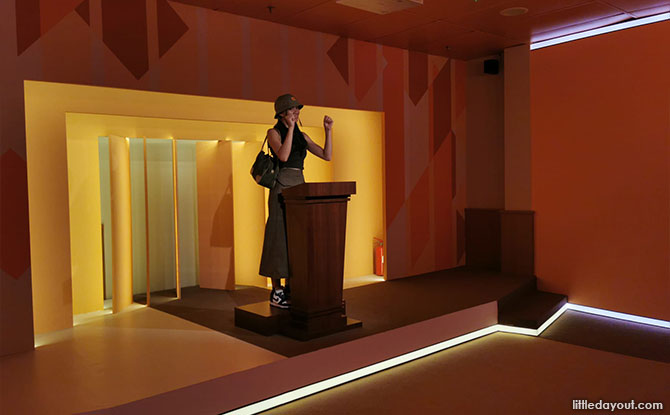 You can also try taking to the podium to deliver a speech and see it played back on a vintage television.
Then slide down the rainbow to see what is on the other end. The rainbow slide represents his iconic quote "Follow that rainbow, go ride it". It inspires us to never stop chasing our dreams.
---
Zone 3: The Unwritten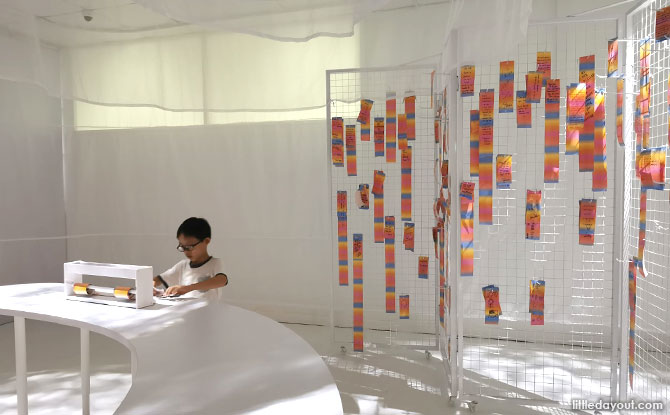 The final zone titled "The Unwritten" leaves us to reflect on the journey taken to discover how Lee Kuan Yew's life has shaped his life that impacted the path of our nation.
You can pen down your thoughts and hopefully be inspired to write your own stories and live a life worth telling.
There were also digital game booths in which you can earn garlands by mimicking Lee Kuan Yew's poses.
Families will enjoy the experiential journey at LKY: THE EXPERIENCE where they can learn about the life of Lee Kuan Yew.
As it was a high touch experience, everyone can press buttons, open up panels and even slide open a shelf to unveil the opening of the next room or open a wardrobe to get to a different space at LKY: THE EXPERIENCE.
What this experience reminded us was also how similar Lee Kuan Yew was to any other ordinary human being with flaws, a "troublemaker" childhood who copied his classmate's notes, struggles with discrimination and had different perspectives from the authorities, and one who loved and lost. We left the experience learning about the untold stories of Lee Kuan Yew, got reminded of his humanity and definitely more motivated to follow that rainbow.
---
LKY: THE EXPERIENCE – How to Get There and Buy Tickets
LKY: THE EXPERIENCE takes around 60 minutes to go through.
As LKY: THE EXPERIENCE spans three levels and there is no lift available, be prepared to take the stairs.
When: 6 October to 31 December 2023, 10 am to 8 pm daily
Where: 11 Prinsep Link
Ticket Prices: $18 per pax, 20% discount for senior citizens and free for children aged 12 and below
Website
Partial proceeds of ticket and merchandise sales will go to over 200 criticial social service programmes supported by Community Chest