Chinese New Year is usually a time filled with rousing festivities; when people look forward to seeing performances of lion dance in Singapore in 2021. However, it is not surprising that things are much different this year with the need for safe management measures.
For enthusiasts looking for lion dance in Singapore in 2021, there are far fewer opportunities to do so "live" this year. Instead, you may have to be content with viewing the lion dance online. Alternatively, there are places with nice photo spots showing the lion dance. We round these places up below.
---
Lion Dance In Singapore 2021
National Museum of Singapore
National Museum of Singapore is holding a lion dance performance on 13 February 2021 – HOWEVER, spaces are limited for safe management purposes and tickets to the live performance are already SOLD OUT. Instead, you can catch this 2021 lion dance performance live streamed on the National Museum of Singapore Facebook page at 10 am.
---
OTH's Dragon, Lion and Phoenix Prosperity Dance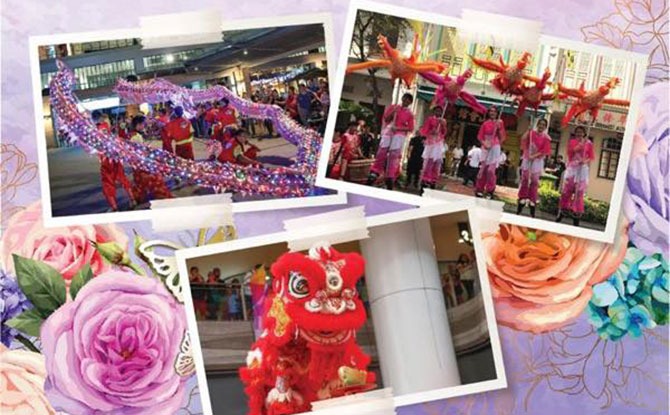 Our Tampines Hub will be holding a  Dragon, Lion and Phoenix Prosperity Dance by the Tian Eng Dragon & Lion Dance Center as part of its virtual "CNY Spring Fest" concert on FaceBook LIVE on Friday, 12 Feb at 8 pm. In addition, there will be music concerts, cultural dance performances and amusing cross talk segments on the Our Tampines Hub Facebook page.
---
CapitaLand AR Lion Dance
In a usual year, you would be able to catch lion dance performances at the shopping malls – this is not a usual year. So, instead of live lion dance performances, Capitaland has introduced a Virtual Lion Dance. The AR lion dance experience can be viewed via the URL link www.capitaland.com/VirtualLionDance. From 29 January till 26 February 2021, there is a special promotion where you can take a photo with the AR lion to unlock a unique reward code. Details here.
---
ION Orchard Virtual Lion Dance
From 1 to 15 February 2021, visit the ION Orchard Facebook page for a virtual lion dance performance. Answer a question for a for a chance to win 168 ION+ Points (worth $67 in shopping vouchers). 8 winners will be chosen. More information here.
---
Rise in Valour Chinese New Year Seasonal Light Show
Usher in the Chinese New Year with tales of valour and good fortune at ION Sky. A special Chinese New Year show is on a limited time till 26 February. Redeem tickets to this multimedia experience with every $20 spend in a single receipt. More details here.
---
Lion Dance Installations
If you can't watch live lion dance performances, the next best thing may be to take a picture with lions instead.
Lion Dance Display at Dahlia Dreams
Inside the Flower Dome, one of the highlights of Dahlia Dreams is a lion dance display. Find out more here.
---
Majestic Dragon at Universal Studios Singapore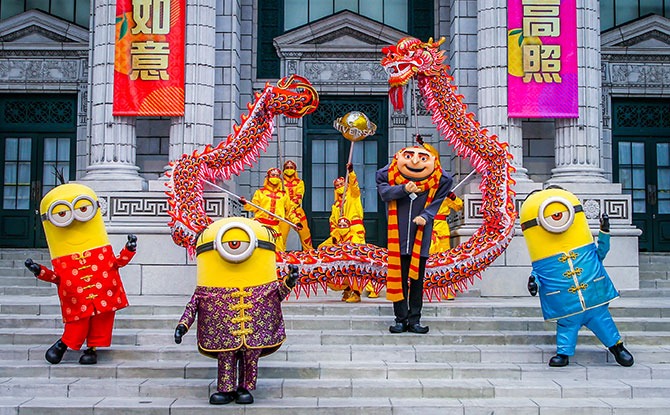 Rather than lions, Universal Studios Singapore has meet-and-greet opportunities with a majestic dragon and other colourful characters, dressed to their Chinese New Year nines. Find out more details.
---
Lion Dance Exhibition at River Hongbao 2021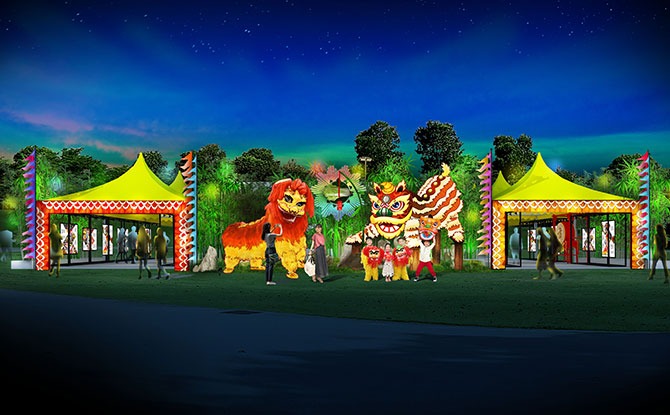 Want to learn about the traditions behind the Lion Dance? River Hongbao 2021 will be having a lion dance exhibition which includes a selection of lion dance artefacts from private collectors and organisations, some dating back to the 1950s. It also shows the significance of the lion dance in different cultures and countries, as well as the history of the lion dance and its development in Singapore. Find out more about River Hongbao 2021.
---
Double Prosperity Festive Installation
At the Sun Yat Sen Nanyang Memorial Hall, you will find an outdoor installation featuring two large 'Foo Dou' Guardian Lions. There will be online programme on the memorial hall's Facebook page which include the dos and don'ts when it comes to watching a lion dance performance.
Do you know of any other lion dance performances or must-see installations for Chinese New Year 2021? Drop us a note at hello@littledayout.com.
Find more places to enjoy the festive atmosphere in Singapore.