Usher in the roaring new year of the Tiger in 2022 at Chinatown as it holds various activities for all to participate in. From the Chinese New Year Celebration 2022 Official Street Light-Up to various on-site and online activities, here are some of the things to see and do at Chinatown this Chinese New Year.
---
What To See & Do Chinatown Chinese New Year Light Up & Celebrations 2022
Chinatown Chinese New Year Light Up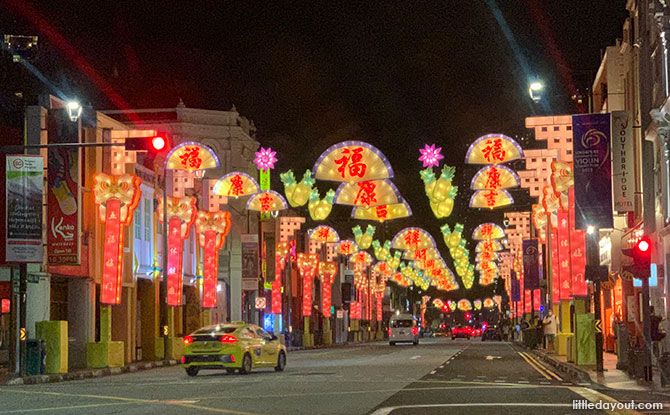 One of the highlights to mark your calendars for includes the Chinatown Chinese New Year Celebration 2022 Official Street Light-Up. The lights will be on display from 7 January 2022 to 2 March 2022 and located along the New Bridge Road, Eu Tong Sen Street and South Bridge Road. The lights will be on from 7 pm to midnight.
Those who wish to catch the opening ceremony can do so on the various social media platforms such as Noontalk Media, Chinatown Festivals Facebook Page and their YouTube channel
Adopting A Chinatown Chinese New Year Lantern
The public may adopt one or more recycled lanterns they like after the Chinatown Chinese New Year Celebration Street light-up ends on 2 March 2022.
Adoption of recycled lanterns is free but the applicant will have to arrange their own manpower and transport to collect.
Interested parties may email adoptalantern@chinatownfestivals.sg for enquiry.
Application Dates for adopting a lantern will be from 15 to 22 February 2022. The successful applicants will be notified by the 1st week of March by the contractor.
---
WWF and Temenggong Tigers Sculptures
To celebrate the year of the Tiger, members of the public can also appreciate WWF and Temenggong Tigers Sculptures on display from 7 to 26 January 2022 at Kreta Ayer Square. These tigers have been painted by local artists to promote the importance of global animal conservation and the environment.
---
Chinatown Wishing Tree
There will also be a Chinatown Wishing Tree at Chinatown Point Atrium from 7 January to 15 February. Visitors can donate a minimum of $2 for a card to write well wishes for themselves and loved ones on the "Make a Wish" card and hang them on the wishing tree.
All proceeds will go to Kreta Ayer – Kim Seng Community Development Welfare Fund that will be used to organise community programmes to help the needy elderly and low-income families.
---
Online Getai, Baking Classes and more
For the first time, visitors can also enjoy a "Getai" performance online. Famous getai artistes will be presenting their best songs and dance at online getai. Other interesting online activities include Love Letter Baking, Tiger Origami, and a cooking demonstration on how to prepare a good 'pen cai'.
For more details and information on the upcoming events, visit the website here.
---
---