Chinese New Year in 2023 falls on Sunday, 22 January, and it will be the time where all who celebrate will welcome the Year of the Rabbit. As with all celebrations, it isn't quite complete without goodies to share! Here are some places that you can get your Chinese New Year goodies from for 2023.
---
Where to Buy Chinese New Year Goodies 2023
Pineapple Tarts Singapore
If you enjoy melt in the mouth pineapple tarts, try some award-winning pineapple tarts from Pineapple Tarts Singapore. Their pineapple tarts are made using a traditional recipe passed down through generations. They are baked with butter and this adds a rich taste to the sweet and sour balance of the pineapple filling. The buttery crust adds a good layer of texture and the tarts are sure to be devoured in just one sitting.
Enjoy freshly baked CNY goodies delivered right to your doorstep with just a click of a button. Spend above $100 and get it delivered free. They also offer other Chinese New Year treats such as Snow White Kueh Bangkit, Crispy Sia – Hae Bee Hiam Prawn Rolls, and Xing Fu – Premium Almond Cookies.
Drop them a message on Whatsapp at 8127 0477 for any enquiries. They are located at 11 Sin Ming Road, Thomson V Two, #01-30 Singapore, Singapore 575629 Get more information at the link here.
---
Wang Lai Bakery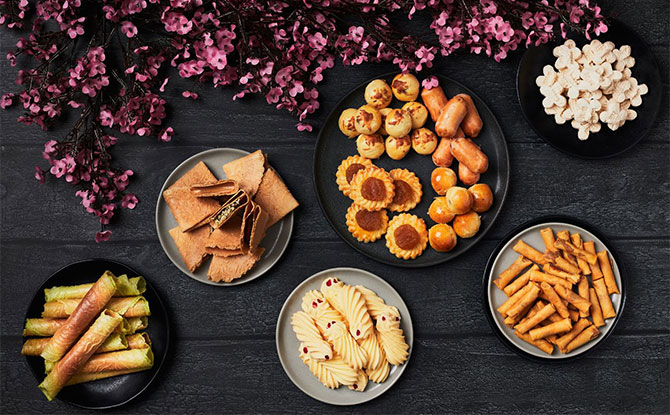 Wang Lai Bakery was established in 1968 and uses premium quality ingredients to make their delicious yet affordable pineapple tarts. All their products are handmade and homemade. They offer both Melt In Your Mouth Pineapple Balls and Melt In Your Mouth Open Face Pineapple Tarts, amongst many other CNY goodies.
Each piece of this delicacy oozes a tangy sweetness on taste, leaving you to drool for more. The flavours of the sweet and tangy traditional pineapple tarts are filled with pineapple paste that goes well with the soft, yet dense and buttery crust, making it a great CNY goodie for the new year.
---
Nature's Field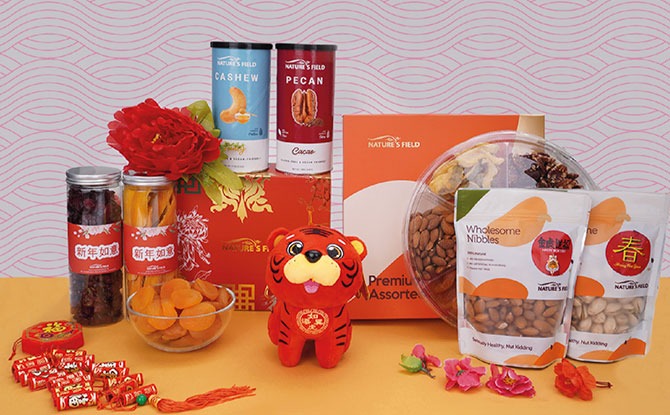 Nature's Field specialises in healthy, flavoured nuts that are 100% baked with all-natural ingredients and do not contain artificial flavourings or colourings. This year, they are launching new products such as the "Wheel of Fortune" Gift Box, a nut and dried fruit sharing platter consisting of their top-selling items.
They are also bringing in two new brands for customers to enjoy. "Muda Shu" is a brand of premium prawn and fish crackers made with real prawns and free from artificial colouring and preservatives. "Farmer's Pickles" is a range of pickled vegetables and fruits.
Customers can find Nature's Field products at their retail store, Nut's & Nibble, located at Takashimaya Basement 2 as well as their CNY pop up store at Vivo TANGS. Visit their website here.
---
Ding Bakery
For a taste of homemade goodness, get your hands on Ding Bakery's range of Chinese New Year goodies. This highly rated bakery has over 800 reviews online with an overall rating of 4.8 stars. That's due to their unique recipe and use of only the best ingredients in their mouthwatering goodies, which are baked daily. While probably best known for their melt-in-your-mouth pineapple tarts, Ding Bakery has all the classic CNY confections including peanut cookies, kueh bangkit, hae bee hiam and much more. For CNY 2023, they have rolled out special pineapple tart flavours too.
Find out why Ding Bakery is so highly recommended here.
---
Kele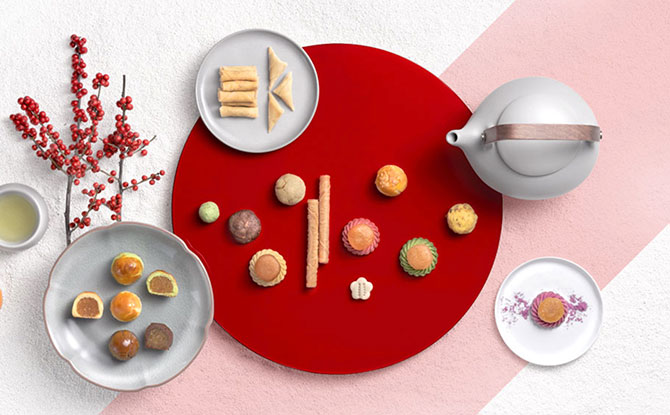 Other than their delicious rolls and mooncakes, KELE's Pineapple Tarts are also a popular item on the table at Chinese New Year gatherings. This year, their signature pineapple tarts are available for order in their original flavour and unique flavours such as Rose, Golden Cheese and Sweet Potato. Other Chinese New Year goodies from them include Green Pea Cookies, Chicken Floss Rolls and Kuih Bangkit. Order your Chinese New Year goodies early to get a 10% discount!
---
Bee Cheng Hiang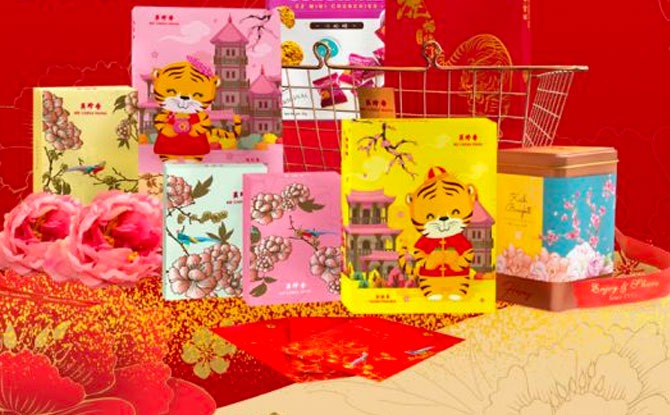 Bee Cheng Hiang is offering a variety of CNY snacks for the festive season. Get Crispy Chicken Rolls, Cashew Nut Cookies and more. There are also a series of hampers if you want little bit of everything. Hamper contain items such as Bakkwa, Golden Floss Rolls, Love Letters and more. 
---
MINDS
Enjoy Chinese New Year goodies made by certified bakers from MINDS. Choose Mandarin Orange Chocolate Chip Cookies, Dark Chocolate Oatmeal Cookies or Golden Pineapple Tarts. There is also a Chinese New Year gift set available for gifting to your friends. Order them here.