With Chinese New Year less than a month away, many are getting ready preparing ingredients for meals, gifts for loved ones and buying festive treats. Much of the shopping can be done online, with some brands holding sales at their warehouses. From nuts, dried seafood, canned seafood, CNY goodies and desserts, you can enjoy discounts at the annual CNY sales.
Check out our list of both online and onsite factory or warehouse sales. Do remember to keep a safe distance from one another when shopping onsite, take note if booking of timeslots are required before heading down.
---
CNY Factory and Warehouse Sales Online 2022
Fragrance Bak Kwa Factory Sale
Who else loves bak kwa? Enjoy deals such as 50% off bak kwa strips and chilli bak kwa, one-for-one truffle potato chips at Fragrance Bak Kwa Factory sale. The Chinese New Year 2022 sale is on till 31 January.
Location: 60 Woodlands Terrace, S738466
Singapore Food United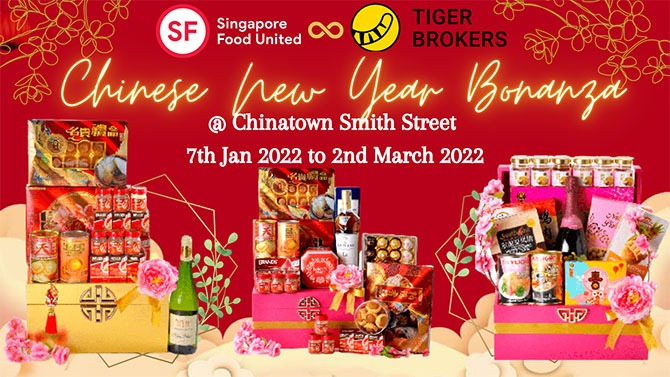 Although the Chinatown Street Bazaar will not be happening this year, you can still browse street side stalls. Singapore Food United has banded together different brands at its Smith Street stall from 7 January to 2 March 2022. Browse the products available at the stall or on its site here.
---
Hosen's Annual CNY Warehouse Sale
Abalone, canned fruits, canned food – common ingredients required for the Chinese New Year feasting will be available at Hosen's Annual CNY Warehouse sale! Do note that only fully vaccinated individuals can enter the premises.
When: 5 Jan to 26 Jan 2022, 9 am to 6 pm daily
Where: 267 Pandan Loop, S128429
---
Teck Sang Chinese New Year Sale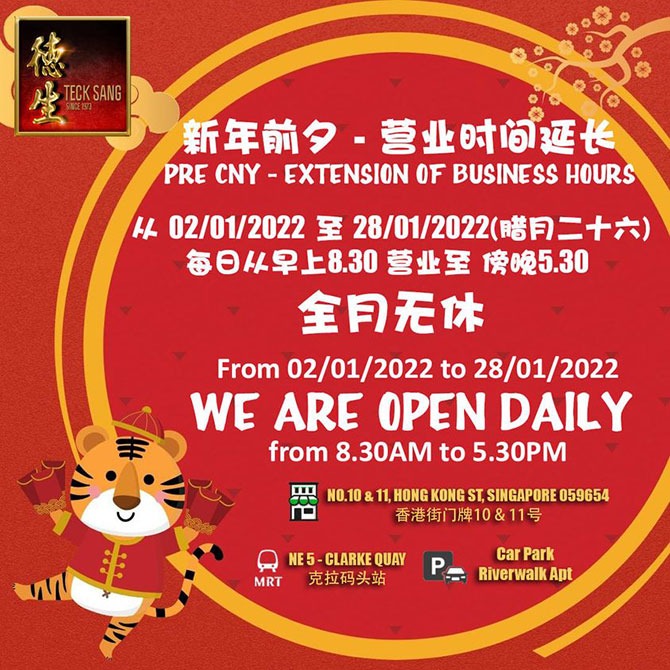 Purchase nuts, dried fruits in bulk and packaging-free at Teck Sang. They offer both online and onsite options with free delivery above $108.
When: From now till 31 January 2022
Where: 10. 11 Hong Kong Street, S059654
---
Online CNY Sales
New Moon
New Moon is a brand familiar to those looking to buy abalone for gifting or to include in traditional Lunar New Year dishes such as pencai. Check out the online sale with flash deals and discounts with minimum purchase.
More details here.
---
Nature's Wonders/Tai Sun's Chinese New Year Specials
Enjoy storewide discounts  with a storewide mix and match and promotion bundles at Nature's Wonders online. Pistachios, cashews, fruits, cranberries and other varieties are available here.
---
Bee Cheng Hiang CNY Sale 2022
A perennial favourite – bak kwa is a CNY delicacy not to be missed during Chinese New Year. Check out the deals online at Bee Cheng Hiang's CNY sale here.
Apart from bak kwa, you can get popular goodies such as prawn rolls and pineapple tarts.
---
Warehouse Club X Far Ocean CNY Warehouse Sale
Far Ocean is back with their annual warehouse sale with up to 70% discounts. Purchase steamboat, BBQ and CNY feast essentials from the sale. Get more details.
Where: 15 Fishery Port Rd, S619735
When: 14 Jan to 31 Jan 2022, 9 am to 5 pm
---
Fassler Gourmet's CNY Bazaar Warehouse
The Fassler retail warehouse will be open on 22, 23, 29 and 30 January this year for shoppers to purchase seafood between 9 am to 3 pm. There will be exclusive 99 cent and $1.99 deals at the warehouse sale. Purchase sashimi, smoked salmon, steamboat items, dried fish maw, sea cucumber and abalone.
When: 22, 23, 29, 30 January, 9am to 3pm
Where: 46 Woodlands Terrace Singapore, Singapore 738459
---
Happy Shopping and Stay Safe this Chinese New Year
Even though the shopping experience will be quite different this year, there are still plenty of options to choose from for the annual festive shopping. Keep safe and happy shopping!
---
---