With Chinese New Year less than a month away, many are getting ready preparing ingredients for meals, gifts for loved ones and buying festive treats. Much of the shopping can be done online, with some brands holding sales at their warehouses. From nuts, dried seafood, canned seafood, CNY goodies and desserts, you can enjoy discounts at the annual CNY sales.
Check out our list of both online and onsite factory or warehouse sales. Do remember to keep a safe distance from one another when shopping onsite, take note if booking of timeslots are required before heading down.
---
CNY Factory and Warehouse Sales Online
Singapore Food United
Some brands have banded together to digitalise the shopping experience. Head to the Singapore Food United platform to see how you can purchase various necessities from clusters of brands in different parts of Singapore.
Shop from brands like Tai Sun, Fragrance, Fortune, Hosen and Kwong Woh Hing. You can choose to shop from factories situated in the same clusters or specific brands. The benefit of using this platform is the chance to skip the factory-hunting and visiting the one-stop website. How convenient!
More here.
Bee Cheng Hiang
Get all your Chinese New Year goodies and Bee Cheng Hiang bak kwa online from the Bee Cheng Hiang store. Check out the specials such as 25% off 3 tins of pineapple tarts or 25% off  4 bottles of prawn rolls.
Shop here.
---
Teck Sang 
This dried snacks wholesaler is holding its sales online this year. You will find most of what your family needs – abalone, ginseng, preserved sausages, mushrooms, black sesame candy, CNY snacks here. The extensive variety is sufficient for the annual CNY festive shopping. Enjoy free shipping with spending of $108 or more.
Click here.
---
Tong Garden
More nuts for CNY snacking? That's probably a healthier choice compared to many other goodies. Get your fill of nuts and dried fruits here.
---
Hai Sia Seafood
Seafood is not to be missed during Chinese New Year as it is synonymous with abundance and joy. Hai Sia Seafood has also its online store where steamboat bundles are discounted. The steamboat deals come with either salmon or red snapper collagen broth plus different ingredients sufficient for a meal for a family of 8! You can also purchase Chinese New year steamed fish bundles.
Find out more here.
---
Fragrance Bak Kwa
More Bak Kwa options? Try Fragrance Bak Kwa, it also has a range of CNY gift sets ideal as presents for relatives.
Shop here.
---
Onsite Factory Sales
Camel Nuts
If you still prefer heading down to factory sales, Camel Nuts' warehouse is open from Monday to Saturday 8am to 5pm. Customers will not be able to browse but will be given a product list with pricings to place their orders on the spot.
Address: 127 Defu Lane 10
Dates: 18 Jan to 6 Feb
---
Far Ocean Warehouse Sale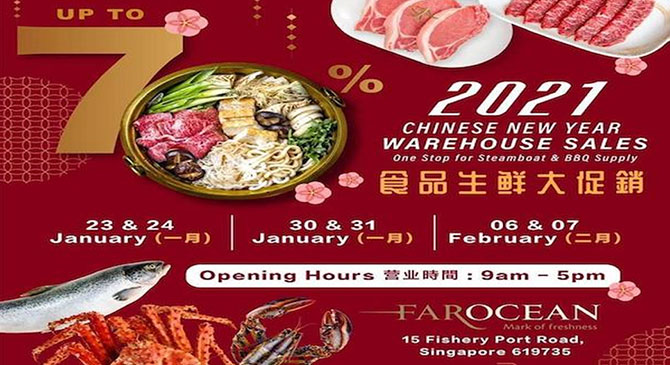 Far Ocean Warehouse Sale is back. Get your steamboat and BBQ supplies on 30, 31 January and 6, 7 February 2021. SAFRA members get an additional 5% off purchases.
Address: 15 Fishery Port Road
Operating Hours: 9 am to 5 pm
---
Lock & Lock
Containers for CNY goodies? Get the household items at the Lock and Lock showroom.
Address: 2 Pandan Avenue
Dates: 15 Jan to 6 Feb, 9 am to 6 pm Monday to Friday, 9 am to 1 pm on Saturdays
---
Happy Shopping and Stay Safe this Chinese New Year
Even though the shopping experience will be quite different this year, there are still plenty of options to choose from for the annual festive shopping. Keep safe and happy shopping!