Colourful tiger sculptures have popped up at Kreta Ayer Square, part of efforts to raise awareness about tiger conservation and the impact of climate change on tigers as we get ready for Chinese New Year and the Year of the Tiger.
---
Tigers at Kreta Ayer Square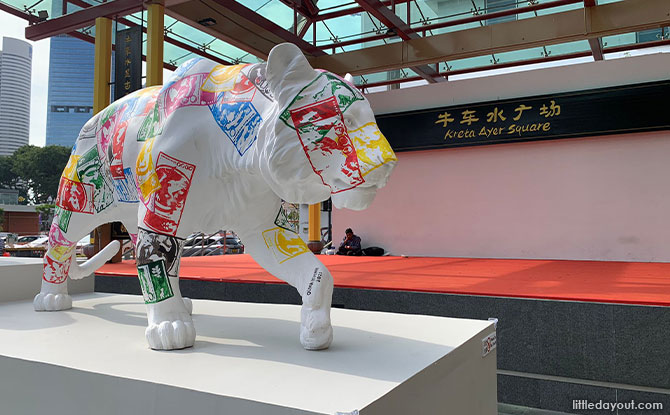 The tiger sculptures at Kreta Ayer Square are presented by the World Wide Fund for Nature (Singapore) in partnership with Chinatown Festivals Committee and Temenggong Artists-in-Residence. They can be view at the space between the Budda Tooth Relic Temple and Chinatown Complex between 7 January and 15 February 2022.
Celebrate the Year of the Tiger by spending some time admiring some beautifully decorated tigers designed for a good cause. The World Wide Fund for Nature (Singapore) is launching their Tiger Trail in Singapore in February 2022 to raise awareness about tiger conservation and the impact of climate change on tigers.
---
-- Story continues below --
Preview of AR-Mazing Tiger Trail
The colourful tiger sculptures are a preview of World Wide Fund for Nature (Singapore)'s upcoming AR-Mazing Tiger Trail. This is a three-part islandwide mission trail that is centred around tiger conservation and other key environmental causes. the Tiger Trail will features a gamified AR-venture filled with immersive AR filters, fun quizzes and other activities.
The Tiger Trail will feature over 40 life-sized tiger art sculptures and art pieces all around our garden city designed and decorated by international and local artists. Singaporeans will recognise notable names such as Ashley Yeo, Kumari Nahappan and Yip Yew Chong.
As for the 12 tigers currently on display in between Chinatown Complex and the Buddha Tooth Relic Temple, each with an interesting concept behind the design.
---
Notable Tigers At Kreta Ayer Square
There is a tiger designed by Red Hong Yi, a Chinese-Malaysian contemporary artist known as "the artist who paints without a paintbrush", she creates mixed-media installations by reinterpreting everyday materials through the accumulation of objects.
In this installation, she uses the material rattan to form the tiger head and the art of knotting and cording to secure the joints, showcasing the art of Chinese knots.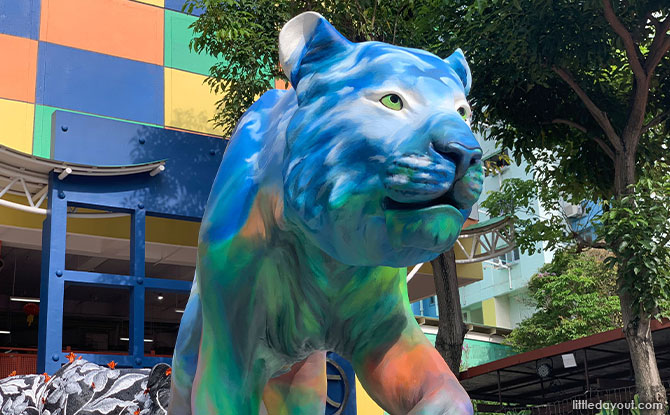 Visitors will also spot a Malayan Tiger titled "On The Search" with painterly strokes and colours by artists Ji Hyun Kim (South Korea) and Harshita Agarwal (India) from Laselle. The landscape of clouds and vast wilderness worn by the Tiger is meant to signal a sense of loss as the tigers are losing their home, eventually leading to their demise.
There is a tiger by Poppins, a ceramic artist with more than six years of experience and the founder of Laal Maach. The artist designed "Lily… Tiger Lily", a tigress who is nurturing, protective, tender yet very strong. The black base paint was mixed with the soil Lily was standing on. White clay was used to give character to the flowers, and the butterflies are made of porcelain.
Head down to Kreta Ayer Square if you wish to view the tigers, especially if you are thinking of enjoying the Chinese New Year festivities in Chinatown.
More details about the Tiger Trail will be announced in due course. Read more about the Tiger Trail here.