How many people does it take to build a 300 metre long snake? The answer: 5,000.
That is the number of visitors it took to help LEGOLAND® Malaysia achieve its Chinese New Year goal of building the world's longest LEGO® snake. Park visitors were invited to contribute to this record attempt over 9 days from the start of the Chinese New Year celebrations, and they responded by building an eye-catching and colourful snake with close to a million LEGO Bricks.
Bringing the Snake to Life
The snake was designed in-house by the team of LEGOLAND Master Model builders, led by Model Shop Manager Stefan Bentivoglio, and they built the head in advance to get things going. Visitors then assembled the body parts in specially built tents, with some incorporating interesting designs and symbols into the sculpture.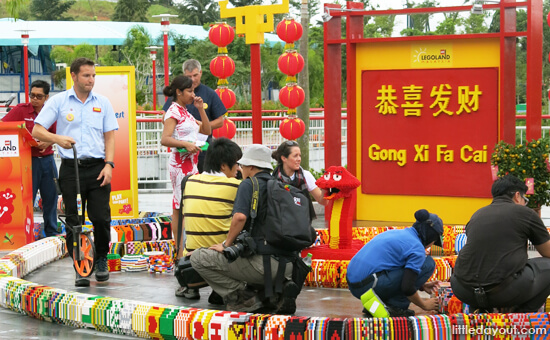 Speaking at the event to mark the record attempt, Siegfried Boerst, General Manager of LEGOLAND Malaysia announced the final length of this snake – 318 metres. Mission accomplished, and more.
In the end, the length itself did not matter as it seemed to be more about creating an enjoyable activity where they could get visitors excited about the act of LEGO building for a collective purpose.
Waterpark and Hotel
There was another significance to it, as Boerst shared. It was hoped that it would be auspicious for a significant year ahead for the young park, with the LEGOLAND Waterpark and LEGOLAND Hotel set to open at the end of the year.
The LEGOLAND Hotel was initially slated to open in early 2014, but with the recent holiday season showing the strong demand for rooms in the area, they are hoping to have this moved forward. Looking at the preview pictures of the water park and the hotel's themed rooms on the construction hoardings, these look to be a welcome addition to the leisure options in the area.
The snake will be on display at LEGOLAND Malaysia till the end of February.
How To Get There
You can also visit LEGOLAND Malaysia's® website for more information or read our review of LEGOLAND Malaysia: Building the Imagination.
---
---