If you love escape rooms, you wouldn't want to miss out on the new Land Transport Authority (LTA) outdoor game trail in Tiong Bahru and Redhill! Solve puzzles and unravel clues as you explore the hidden secrets and heritage of these neighbourhoods while experiencing how LTA is making Singapore's roads and public transport network user-friendly.
Unlike other gamified trail experiences, the LTA Tiong Bahru & Redhill Game Trail is free to play. All you need is a mobile device with WhatsApp to go on this interactive game trail.
---
Meet Ah Seng the Chatbot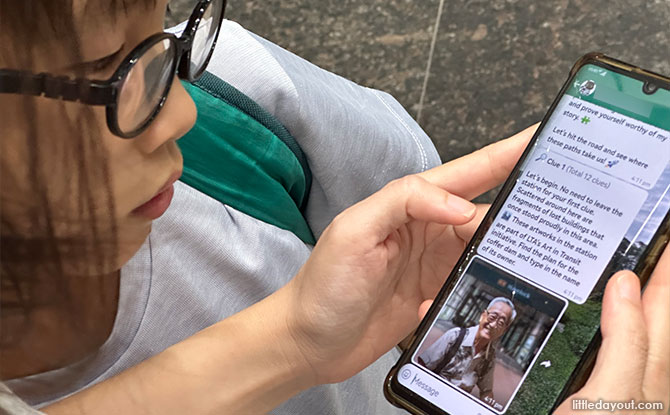 You will get to meet your guide "Ah Seng" who grew up in the Tiong Bahru and Redhill area.
---
-- Story continues below --
As you interact with him via WhatsApp and he will give you puzzles with clues to solve. Decipher the puzzles and submit your answers over WhatsApp to unlock your way to the next checkpoint.
The entire trail takes approximately two hours, depending on how fast you decide to go, or how many breaks you take.
We recently took up the challenge and went on the LTA Tiong Bahru & Redhill trail. Here are some things to know about this outdoor adventure.
---
What You Need to Know about LTA's Tiong Bahru & Redhill Game Trail
1. What You Will Need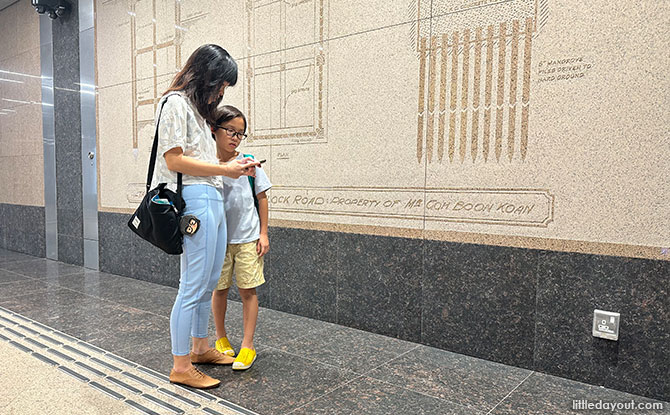 The starting point of the LTA Tiong Bahru & Redhill Game Trail is within Havelock Road MRT Station. It will take you to checkpoints at Tiong Bahru before ending in Redhill.
During the trail, you will get to walk around the neighbourhoods and even have to take a bus.
Participants should wear comfortable clothes and shoes, and have raingear and a hat ready. You may also want to have your EZ-link concession cards on hand to take a bus. Plus, having a water bottle to stay hydrated is always a good idea.
---
2. Child-friendly Trail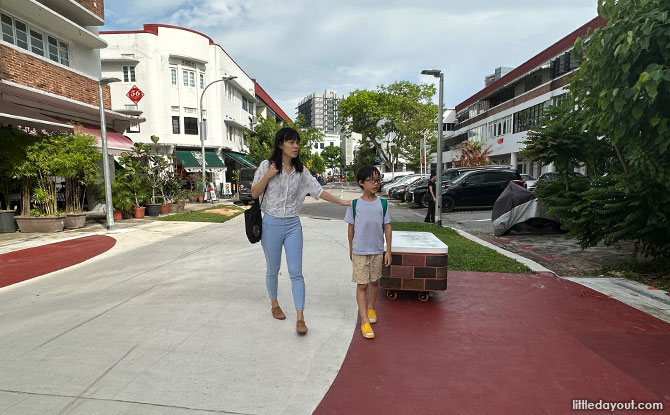 I tried the trail with my 9-year-old and I was glad to see that the puzzles were child-friendly and suitable for families to play together. The recommended age to solve the puzzles is 6 and above.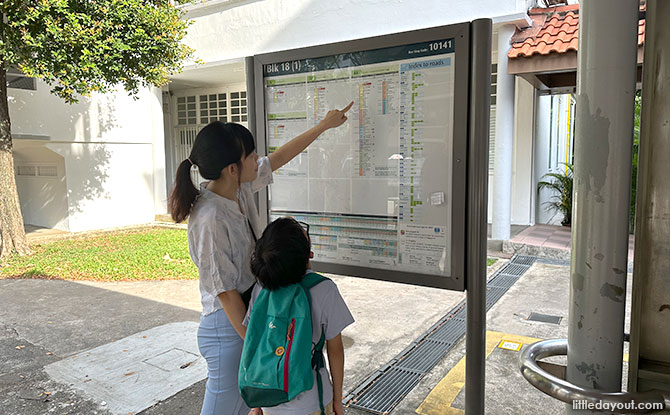 Children will be delighted to try to find clues in artworks, structures and signages along the trail. Even the directions make use of brightly coloured pictures that children should be able to spot easily.
These characteristics make the LTA Tiong Bahru & Redhill trail is accessible for families with children.
---
3. Soak in the History & Heritage of Tiong Bahru and Redhill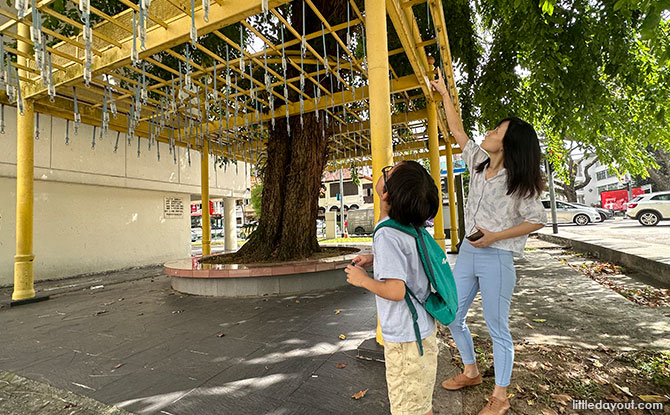 Apart from bonding time, families can seize the opportunity to learn about the history and heritage of Tiong Bahru and Redhill.
Since "Ah Seng", the chatbot, grew up in the area, he is able to share plenty of interesting nuggets of information about the local area. I loved how we could learn historical facts about the district through visual clues along the trail as we visited different community spaces, alleyways and streets.
Going on the trail may even trigger the memories of parents (and even grandparents) and can be a wonderful and unique way for intergenerational bonding.
---
4. Get Active While Making Memories Together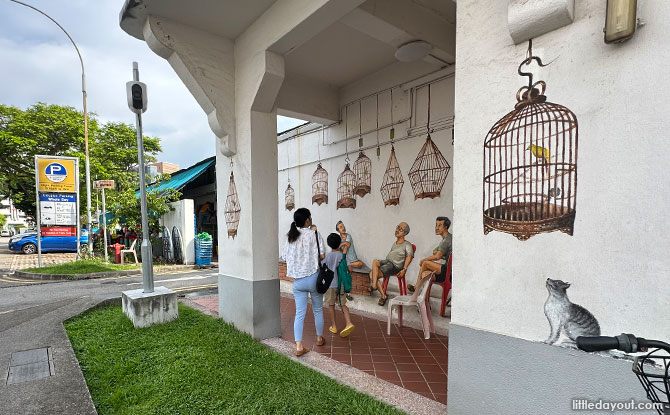 If you are looking for an outdoor activity to clock in steps, kill two birds with one stone on this gamified trail! Get moving plus make memories with friends and loved ones. The game trail even allows you to play as a team with multiple members.
To up the ante, you can even organise your own mini-competition by having different teams go on the trail and see who can solve the puzzles faster.
Foodies and café-goers on the LTA Tiong Bahru & Redhill Game Trail will be tempted to seize the opportunity to take breaks at any of popular food haunts the area is known for!
We were so tempted by the many traditional food stalls and trendy cafes that we passed by that we had to make a mental note to go back to try them.
The good news is that while the bot keeps track of your timing to complete the trail, there are also allocated break times which you can make use of to sneak in a quick bite or coffee break.
---
5. Learn about LTA's Initiatives to Make Roads Friendlier and Commutes Happier
Apart from the fun and learning, participants will be able to experience for themselves initiatives by LTA to make roads friendlier and commutes happier.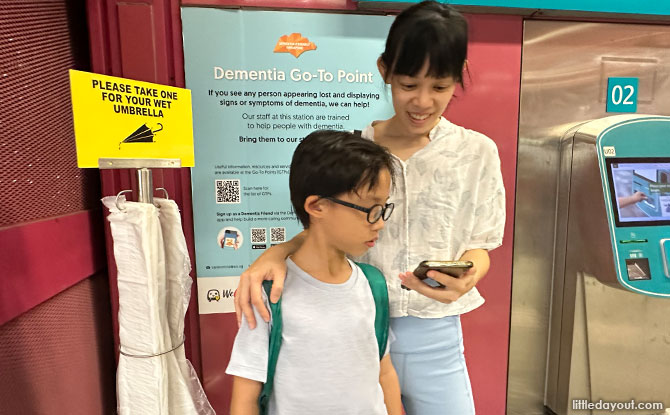 From pedestrianised zones, green roofs on bus stops, Silver Zones and Dementia Go-to Points at the MRT Stations, there are many initiatives to ensure our neighbourhoods and roads are safe and pleasant for the community.
---
Start Your Adventure Here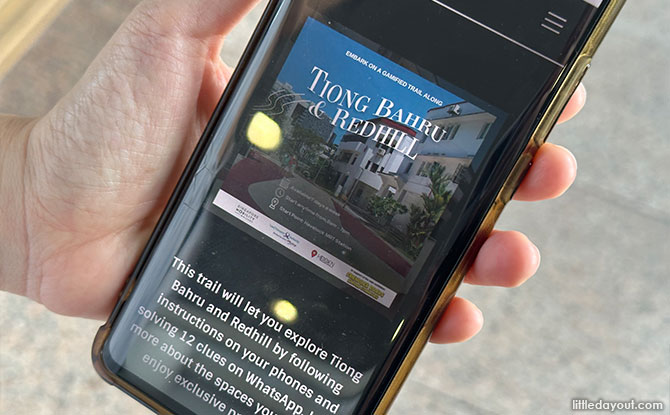 My 9-year-old was eager to complete the trail and it shows how engaged children can be when they are made to pay attention to their surroundings.
This family-friendly phygital trail is a great activity to tick off during the holidays or over the weekend!
The LTA Tiong Bahru & Redhill Game Trail was developed by Hidden.SG and is available seven days a week, from 8 am to 7 pm. The starting point is at Havelock MRT Station.
The game trail is an extension of the new Friendlier Roads, Happier Commutes exhibition at SG Mobility Gallery.
To begin your adventure, click here.
For even more ideas of things to do, check out our list of September school holiday ideas, holiday camps and workshops, or Mid-Autumn Festival ideas. If you want to explore the outdoors, how about visiting this park in Singapore or enjoying this family-friendly activity on the water.