From 1 to 31 October 2019, children of local residents get to enjoy free entry to Jurong Bird Park and Singapore Zoo with every full paying adult in celebration of Children's Day 2019. Visit the two wildlife parks to learn how we can all play a role in helping to fight "the deadliest monster".
Plastic waste is responsible for the death of millions of animals each year who mistake them for food or become entangled in them. In the month of October 2019, Singapore Zoo and Jurong Bird Park are highlighting the danger posed by plastic pollution and educating visitors on how to "bin it right" and help protect wildlife.
Combat Plastics Pollution
The two wildlife parks have partnered with local artist Ernest Goh from the Ayer Ayer project to bring an interactive art installation to the parks. Shore Debris Tables consists of real sand collected from Singapore's beaches. Kids can sieve through the sand to find microplastic pieces and learn about the impact of plastic pollution in the sea.
Kids can then make use of the plastic pieces to decorate a card to give to friends and help spread the message about plastic pollution.
At the Recycle Racers activity station, kids can pick up best practices when it comes to recycling and compete to sort out the recyclables.
Shore Debris Table and Recycle Racers will take place on 4, 5, 6, 12, 13, 19, 20, 26, 27, 28 October 2019 only.
A Fight the Deadliest Monster Pledge Wall provides an opportunity for kids to make a stand against plastics pollution.
At the Jurong Bird Park's High Flyers Show and Singapore Zoo's Splash Safari Show, the animal ambassadors will also help to reinforce the message of reducing plastics pollution.
Kids Go Free to Singapore Zoo and Jurong Bird Park in October 2019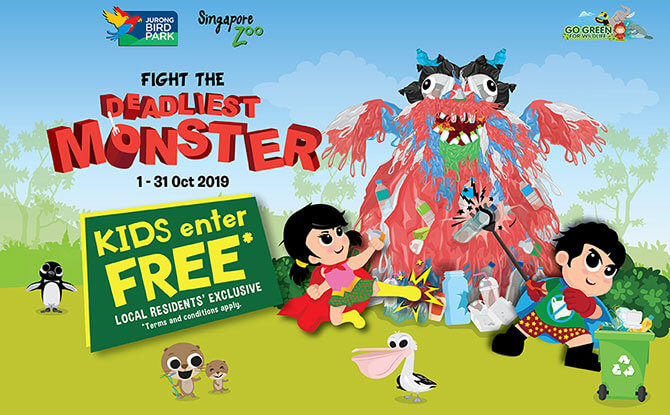 Celebrate Children's Day 2019 at Singapore Zoo and Jurong Bird Park in the month of October with free entry for kids to the two wildlife parks. One child between the ages of 3 and 12 years old will get free admission with each full paying adult admission. This promotion only applies to local Singapore residents. Terms and conditions apply.