Pikachu, Eevee and Mimikyu are dancing their way around Jewel Changi Airport in its first Pokémon Parade. This cute formation of Pokémon is sure to charm both die-hard fans and casual visitors alike, causing a commotion as hands rush into pockets to whip out the mobile phones for a selfie or video of the adorable Pokémon.
Pikachu, Eevee & Minikyu on Parade
Jewel's Pokémon Parade is made up of 10 Pokémon – eight Pikachu, one Eevee and one Minikyu.
Well-known Pikachu needs no introduction. The mouse-like character is an electric-type Pokémon. Eevee is another fan favourite and it has brown fur and a bushy tail.
Mimikyu is the shortest of all ghost-type Pokémon. It is almost-always covered with a rag disguise fashioned to look like a Pikachu. Its two real eyes can be see peeking out from the body of the costume, which usually has a droopy, Pikachu-like head.
Where to Watch the Jewel Pokémon Parade
The Pokémon procession at Jewel takes place around Level 1, starting from the west corridor of the Shiseido Forest Valley.
The waddling Pokémon will make their way around the edge of the HSBC Rain Vortex to the North Canyon which faces towards Changi Airport Terminal 1.
There, Pikachu and his companions will perform a 4-minute dance against the backdrop of the majestic HSBC Rain Vortex and verdant Shiseido Forest Valley.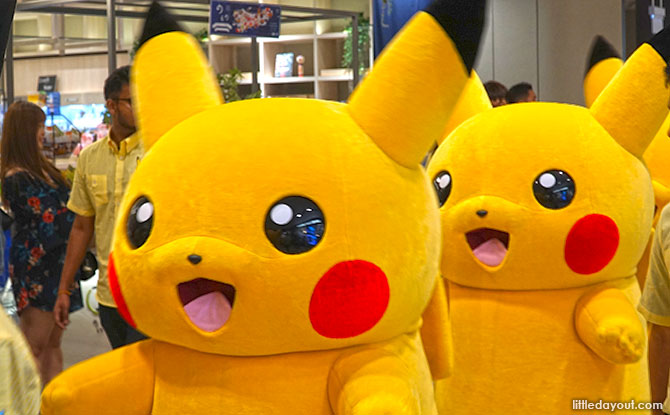 After their dance number, the Pokémon Parade will continue to make its way around the Level 1 retail areas.
When and What Time is the Pokémon Parade?
The Pokémon Parade will take place twice a day, at 2 pm and 6 pm, every Saturday and Sunday in the month of July 2019 only.
Each Pokémon Parade will take approximately 30 minutes. Catch them marching lockstep, swaying and sashaying their way into everyone's hearts.
The Jewel Pokémon Parade is organised in collaboration with Pokémon Center Singapore, which can be found on Level 4 of Jewel Changi Airport.