Regale the kids with tales of wading through longkangs (the Malay word for drains) in a faraway childhood long ago, hunting for fish. Then surprise them with a visit to ORTO up north in Yishun and dive into a first-hand experience of longkang fishing.
In the past, kids would hop into large drains to catch small fish, with whatever receptacles they had on hand – glass jars, plastic containers, bags.
While we don't see kids jumping into drains nowadays, here's a chance get old-school. ORTO is one of five longkang fishing facilities licensed to operate in Singapore, according to  the Agri-Food and Veterinary Authority of Singapore.
To get tickets, head to the prawning counter about a minute's walk away. For $12, your child will get a plastic fish tank and a fishing net, and unlimited hours of splashing fun.
The pond is partially sheltered, so kids can get respite from the sun when it gets too hot.
The pond has a concrete floor with an anti-slip finish, so kids can safely safely zoom after the darting guppies. It also has a depth of between 10 cm to 30 cm, suitable for children of different heights and ages.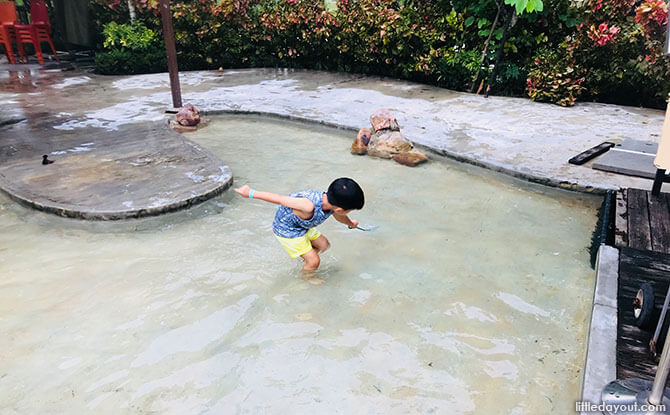 Do note that adults are not allowed to catch the fish or enter the pond, but they can assist their children.
Let the kids get some sun with outdoors fun, while honing their hand-eye coordination and motor skills. They could also make friends at the "longkang" and learn to work with others to trap those slippery fish!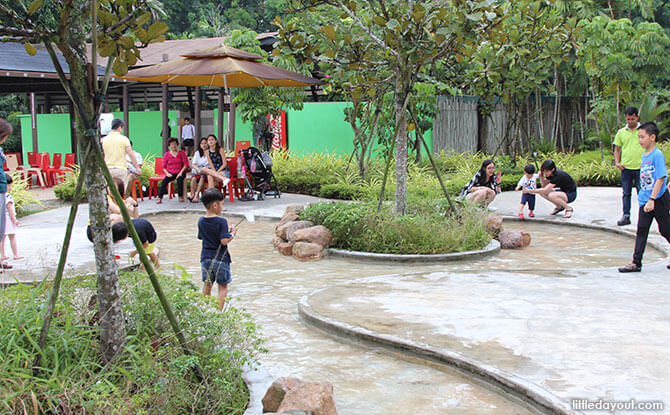 Meanwhile, dad and mum can relax at a nearby pavilion right next to the pond, where you can keep an eye on the little ones.
Not keen on bringing home the fish as pets? Don't worry – you can release the guppies back into the pond.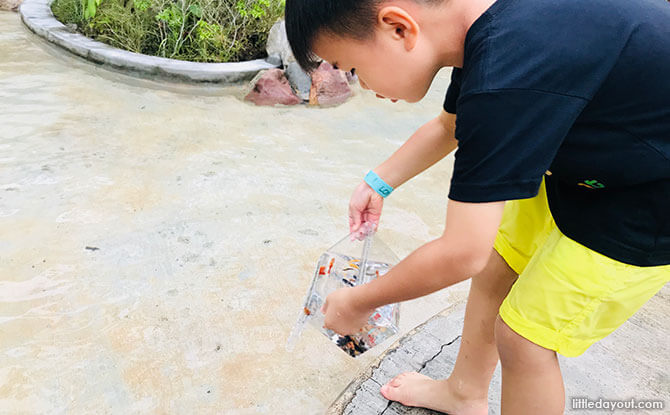 If you're intending to make a day out of your time at ORTO, there are other family-friendly activities at this sprawling 51,500 square metres recreational park, which include trampolining, fishing, prawning, go-kart drifting, paintball, futsal, and even free-flying bird viewing.
Child-sized real excavators in mini construction zone Diggersite are just next door to the longkang fishing and prawning areas.
There are also plenty of eateries in ORTO, so you could fuel up for lunch or dinner without needing to go someplace else.
Here are some other places you can go longkang fishing in Singapore.
ORTO
81 Lorong Chencharu #01-01
Singapore 769198
Opening hours: Saturday, Sunday, Public Holidays: 9 am to 11pm
School Holidays (Tuesday to Friday): Timing varies. Check facebook for updates.
Monday: Closed
Nearest MRT Station: Khatib (8 minutes walk)
Parking is free.