It's cute and absolutely adored. Its face is over 40 years old with nary a wrinkle. Wish I could say it's me, but only the Hello Kitty Shinkansen could have pulled this off at breakneck speed of 300 km/h.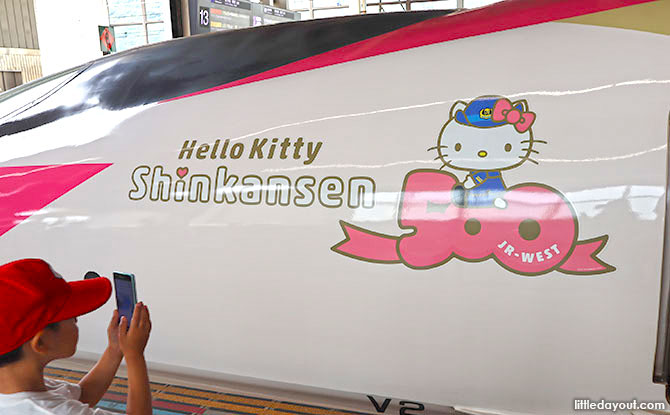 The iconic face from Sanrio Co. is plastered on not just a host of merchandise. It has been zipping around on and in a bubblegum pink ribbon-motif Shinkansen, a Japanese bullet train since it was launched by West Japan Railway Company in June 2018.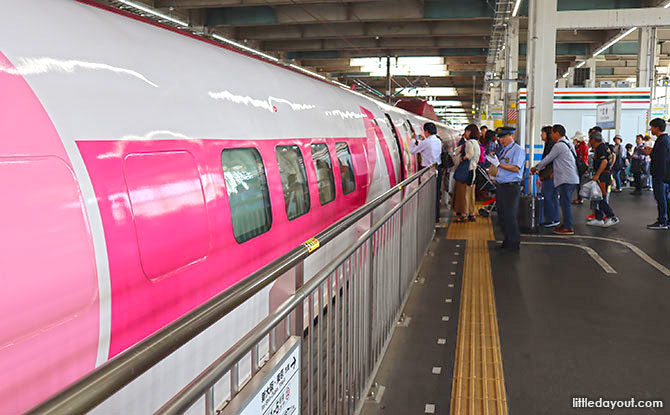 We were on an epic 11-day journey through the western cities of Japan, armed with a Japan Rail Pass that entitles us to ride freely on this Kodama 500 series train. And of course, our two little girls had been eagerly waiting to catch this cute ride on the Hello Kitty Shinkansen each time we made a move to our next adventure spot.
We were initially worried about the crowds as we had first chosen to hop on the train on a Sunday, right smack in summer. But having been zipping around for a year, the train was less than half full.
---
-- Story continues below --
A number of adults came with kids in tow. Those who didn't were either true fans or curious tourists well equipped with selfie sticks.
Hello Kitty on the Sanyo Line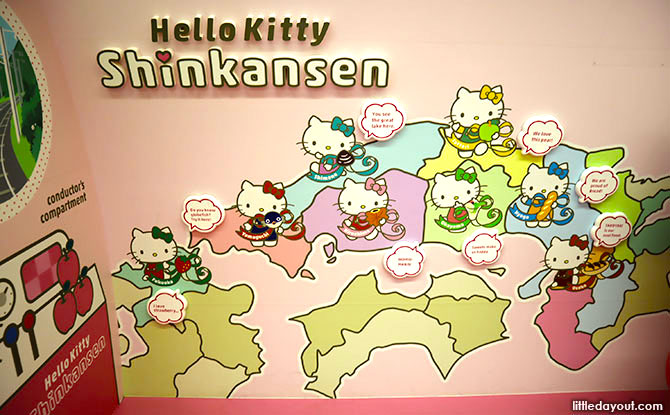 Via the Sanyo Line, the Hello Kitty Shinkansen runs through and stops at 19 stations including the cities we were planning to visit (Osaka, Okayama, Kurashiki, Hiroshima, Hakata) in western Japan.
In fact, almost on a daily basis, it starts off its round trip from 6.40 am at Hakata Station in Fukuoka in the east. It then ends up in Shin-Osaka Station in the centre of Japan before heading back again from Shin-Osaka Station at 11.29 am to Hakata Station.
Eight Hello Kitty Ambassadors
There are a total of eight cars on this slowest of all Shinkansens. Created to encourage tourism, each car represents a different prefecture in western Japan. In total, nine cities are marked by a new Hello Kitty design and designated colour. For example, Hello Kitty holds a green apple to represent Tottori and a loaf of bread in Hyogo.
Hello Plaza in Car No. 1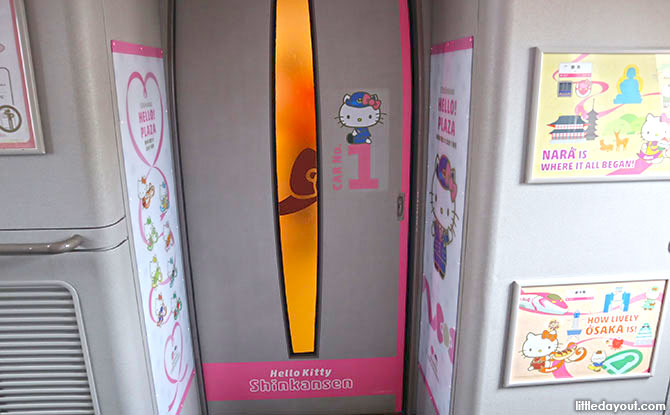 We parked ourselves at the front end of the platform to shoot videos of the approaching train and were kindly advised by the train station staff to proceed to queue and enter only through car number 2 onwards.
This is because the first car contains a Hello Kitty speciality shop set up with special displays to promote the various regions in Western Japan.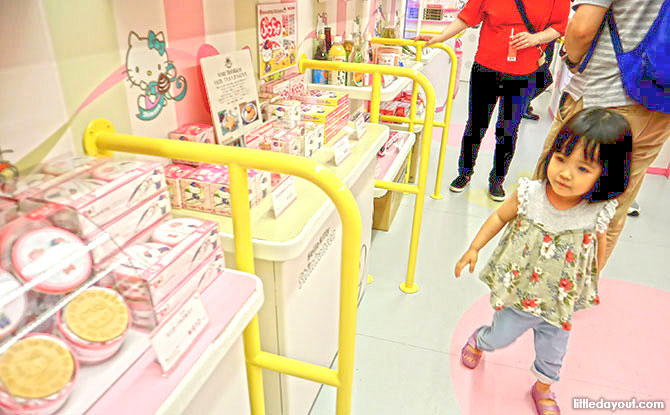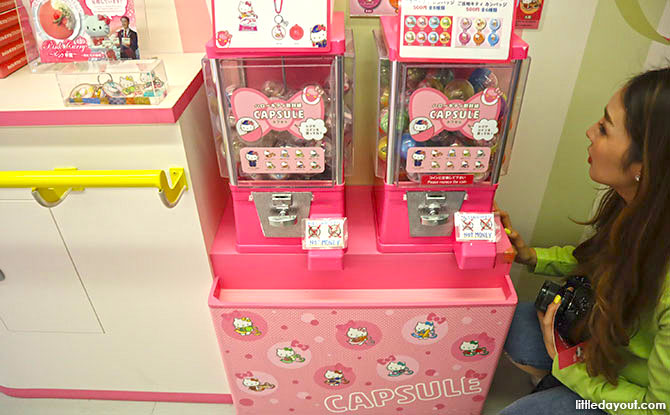 There are no seats in this car, but gum ball machines, Hello Kitty shirts, toys, stationery and more paraphernalia.
Also within this first car is the Hello Kitty Shinkansen Café, where polite staff in pink Hello Kitty aprons serve you special Hello Kitty bento box delights.
Kawaii Room in Car No. 2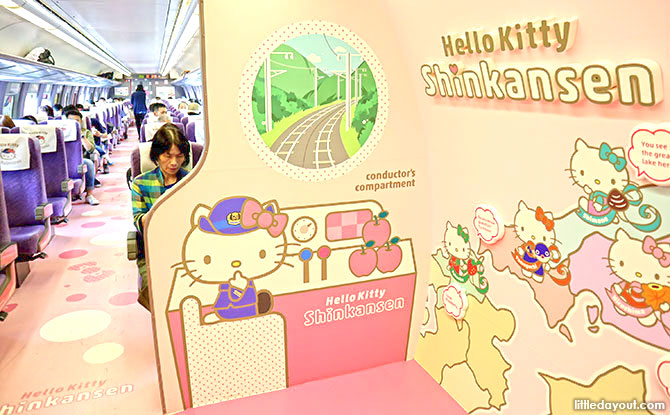 At the start of Car No. 2 is a very pink Hello Kitty Photo Spot that is oh so Kawaii.
Even my dad couldn't resist posing next to the cute train conductor Kitty-chan.
Next to it are luggage areas so nicely decorated that they served as additional photo spots too!
The seats are all mainly purple with a dash of pink in car number 2.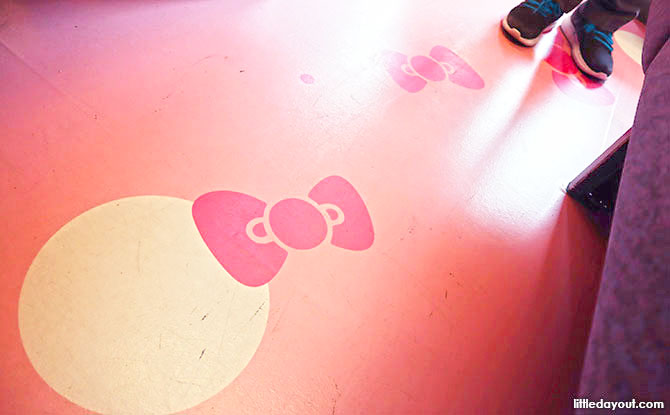 A pink Hello Kitty "carpet" is filled with white and pink bubbles as well as Hello Kitty ribbons to welcome us aboard.
Shades by each window seat, headrests and even the bathrooms on board the train remind you that you are on a Hello Kitty Shinkansen.
Other Hello Kitty Cars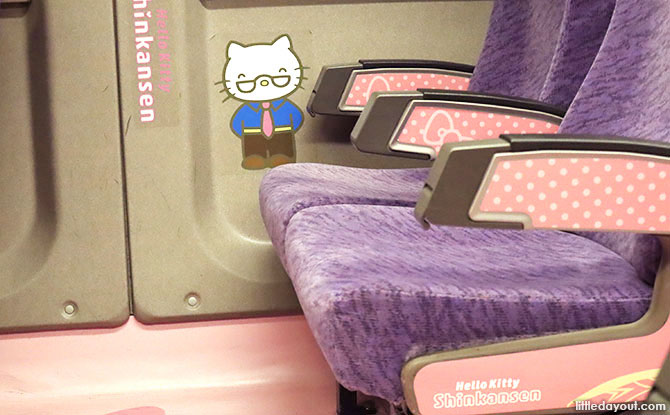 Cars 2, 3, 7 and 8 are for non-reserved seats, whereas 4 to 6 are for reserved seats. These cars are not as highly decked out in Hello Kitty livery but the Hello Kitty gang's decals can still be spotted everywhere. An original Hello Kitty melody plays before the arrival at each station.
How to Ride the Hello Kitty Shinkansen: With the JR Pass
The one-way journey between Shin-Osaka and Hakata takes about 4.5 hours on the Hello Kitty Shinkansen bullet train. The Hello Kitty train is a regular one so all you need is a regular bullet train ticket with non-reserved tickets which can be purchased from the JR-West Ticket Office on the day of your ride.
Better still, if you have the Japan Rail Pass like the JR Sanyo-San'in Area Pass we got which entitles you to reserved seats on the train, you can hop on and off the Hello Kitty Shinkansen anytime along the whole route.
With the JR Kansai Wide Area Pass, for example, you can board the train between Shin-Osaka and Okayama. The JR Passes are available to non-Japanese and, as an example, can be booked in advance on Klook's website here.
To obtain a reserved seat, simply visit the JR-West Ticket Office and show them your rail pass prior to boarding.
Hello Kitty Shinkansen Café in Hakata Station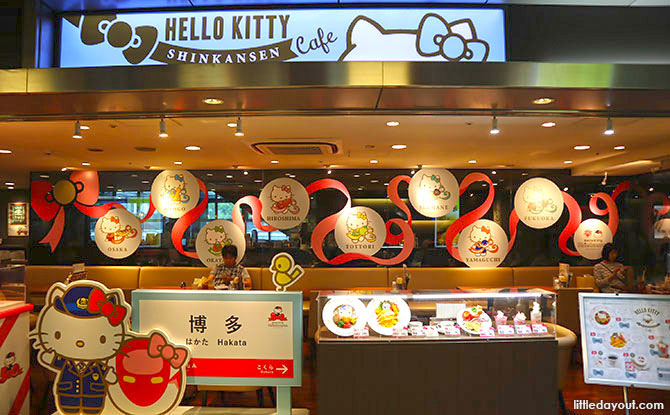 That's not all. If you take the train all the way to Hakata Station, you can end the cutest ride on a sweet note. Visit the Hello Kitty Shinkansen Café within the paid area in Hakata Station and sip in all things Hello Kitty.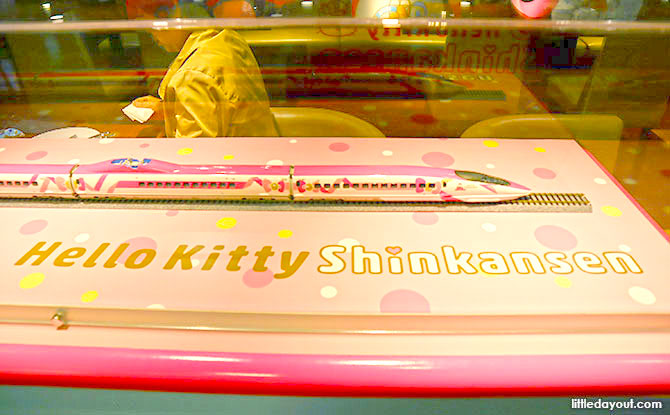 Or loadup on Hello Kitty merchandise at Hello Kitty Shinkansen Marche, a merchandise shop near the ticket gates in the free area.
Hello Kitty Shinkansen Schedule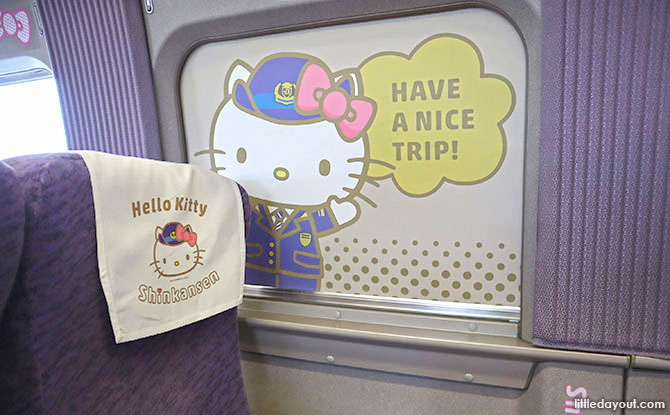 Be sure to check out the days the Hello Kitty train operates for Kawaii photo opportunities. Find out more about the types of passes you can buy, the operational schedule, the train service stations and arrival times for the Hello Kitty Shinkansen at this official website.
Book your JR passes via Klook and have them delivered to you.
This feature story includes affiliate links.