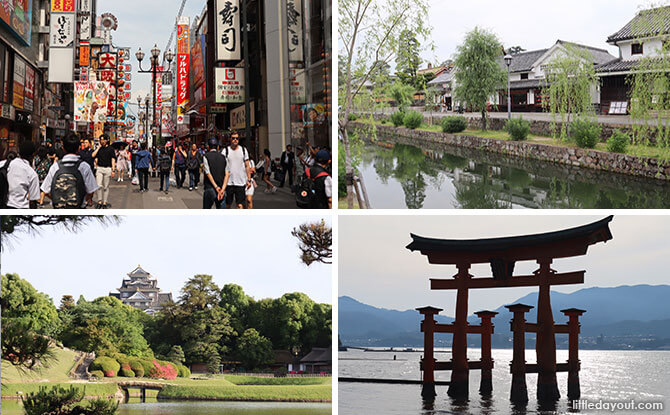 Don't be content to just stay within the key Japanese cities of Tokyo, Osaka or Hiroshima where most planes land. Sanyo San'in, we say! That's the name of the ultimate 7-day JR Pass that answered our rallying call for adventure! The Sanyo San'in JR Pass gave us newfound legs to traverse beyond Osaka with absolute ease, through the amazing Chogoku Region of western Japan including the prefectures of Tottori, Okayama and Hiroshima.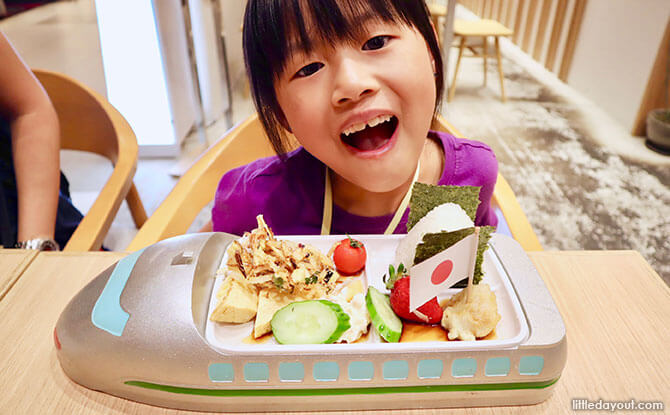 During the seven days, we even zipped in and out of Hakata in Fukuoka for a famed live seafood restaurant escapade and paid Kobe a repeat visit to satisfy our cravings of the magnificent wagyu beef, thereby clocking up a total of seven cities in our "journey to the west" – Osaka, Okayama, Tottori, Kurashiki, Kobe, Hiroshima and Hakata.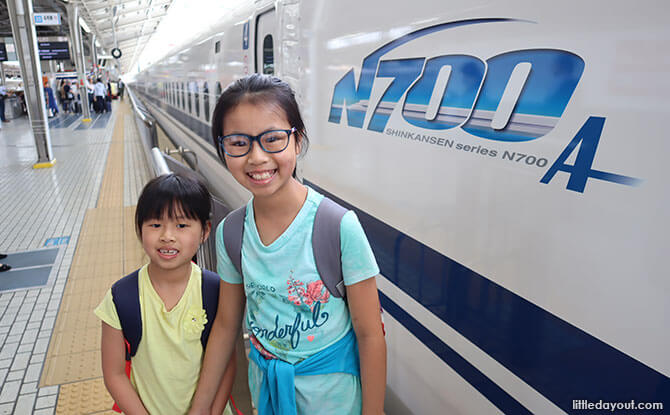 Catch your breath; all this was made possible with the frequent, fast and furious shinkansen and the flash of the JR Pass, which enabled us to travel unhindered within a fixed pre-paid cost. Best of all, planning for the trip was made simpler with Klook, a one-stop booking site for JR Passes, pay-per-day pocket WiFi rental with unlimited 4G data that worked wonderfully well the entire trip and much more.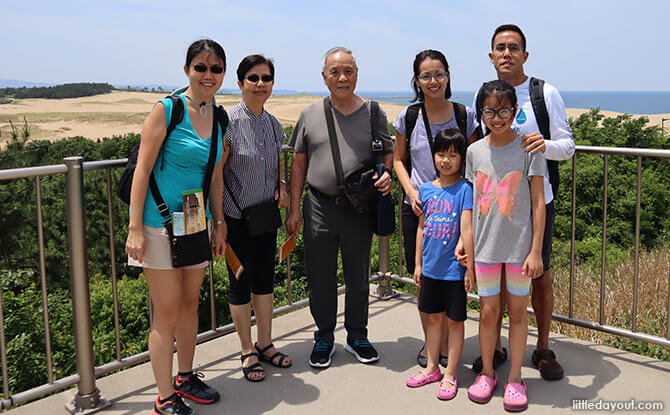 With two kids and two grandparents in tow, we tasted and saw the best of the western region, home to Japan's most iconic sites including one of the three Great Gardens of Japan, a magical sacred island, a historical merchant area and the largest coastal sand dunes in Japan. It was a memorable family trip filled with a myriad of exciting experiences and plentiful sights to behold. Let me recount it all for you here!
---
-- Story continues below --
Easy Getting Around with Family on the Shinkansen with the JR Pass
Disclosure: my beloved family went with my crazy (okay, I admit) plan and we landed in Osaka four days prior and took day trips to Kyoto and Kobe with the three-day Kansai Wide Thru Pass (an all-inclusive ticket for rides on subways, railways except JR trains and buses in the Kansai district) as well. So, truth be told, we actually covered eight cities over a stretch of 11 days, made possible with these two very pocket-friendly travel passes.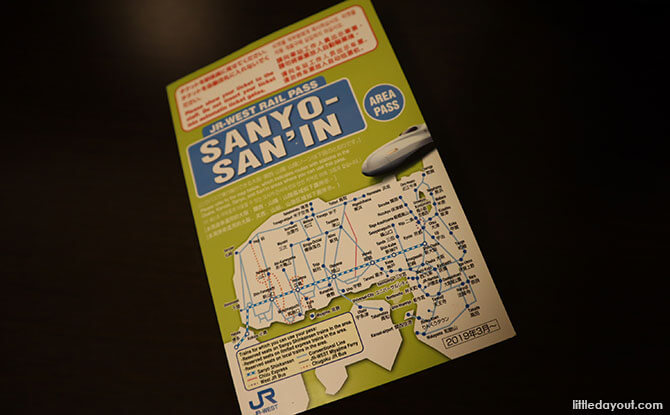 The 7-day Sanyo San'in JR Pass lets you visit these same cities as well so you may wish to mix and match the cities you want to explore for your own trip. Klook's website makes it amazingly easy for you to mouse over and zoom into the specific region of Japan you're keen on and determines the best JR Pass suitable for you. Try it out here.
In our experience, Japan's shinkansen and transportation system proved to be the best in the world. The trains were very clean and super punctual, and the transport service was excellent. It was twice as fast taking the train compared to driving around on our own and having to navigate with maps.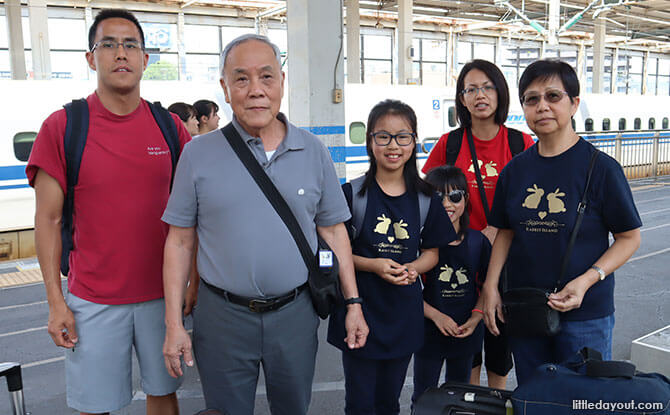 Prior to each leg of the journey, I would pop by the information counter at the JR Station to double check the right platform to head towards and the right time and train to hop on. Our gang of seven ranging from seven to 78 years of age, each armed with one backpack and a roll-along luggage, got around easily mostly using the lifts within the station. We sat in air-conditioned comfort with free WiFi access on board the JR trains too.
---
Day 1: From Osaka to Okayama
Approximately 180 km, 1 hour 30 minutes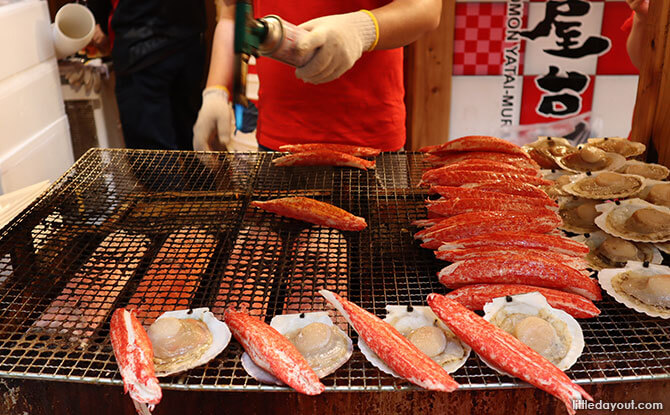 With adrenaline all pumped up after a fulfilling breakfast of fresh seafood and okonomiyaki at Kuromon Market in Osaka, we set off from our Airbnb apartment right next to Namba Station in Osaka, walked to Namba JR station and we were off to Okayama.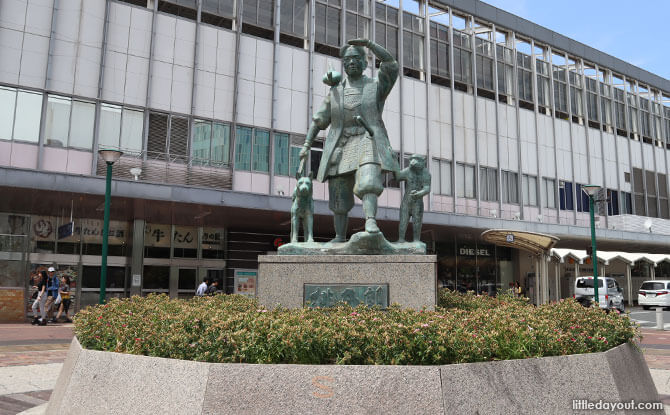 Getting to our hotel was easy; it was just across the road from Okayama JR Station and we used it as our base for the next three nights. The station itself houses a number of shops and eateries and we solved our meals in between our city hops effortlessly.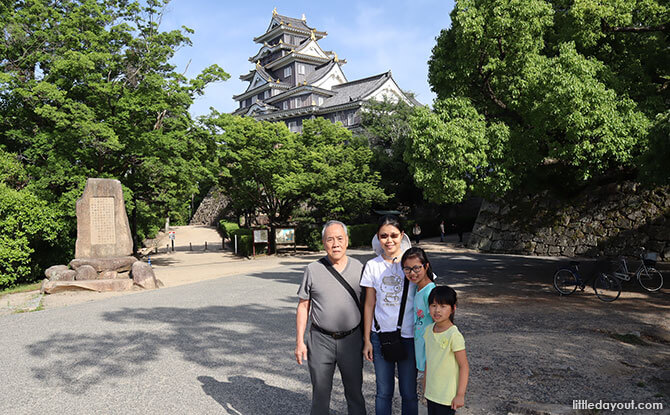 After dropping off our suitcases, we took a tram just outside our hotel and headed to explore Okayama Castle and the famous Korakuen, known as one of Japan's three most scenic gardens.
It was a beautiful afternoon for us to dive into feudal history and stroll through manicured lawns. Read more about our visit within the transportation hub of Okayama city here.
---
Day 2: Day Trip to Tottori from Okayama
Approximately 130 km, 3 hours one-way
A mountain range separates the Tottori and Shimane prefectures (known as the Sanin region) from Hiroshima and Okayama. Being up in the north, Tottori was more than a little out of the way but it was a must-go destination simply due to sand, sand and more sand. Tottori is, after all, home to Japan's only and largest coastal sand dune system and a fantastical sand museum.
We dedicated a whole day to enjoy this day trip to Tottori. Getting straight up north from Okayama to Tottori was a breeze with a direct train ride filled with scenic sights of padi fields, whimsical Japanese homes and rolling hills.
The Tottori Sand Museum was a sight to behold with its marvellous gigantic sand sculptures. Its well-curated themed exhibits gave us the expansive opportunity to learn more about particular countries and regions in the world.
However, the highlight of our trip was yet to come. Over 30 square kilometres of unending sand delighted all our senses immensely. We trekked across the soft sand dunes and climbed up the 50-metre high "Umanose" for a thrilling view of the Sea of Japan. Soak it all in with the detailed account of our simply sandsational day trip to Tottori here.
---
Day 3: Day Trip to Shin-Kurashiki's Bikan Chiku Historical Quarter and Satisfying Our Repeated Cravings for Kobe Beef
Approximately 17 km, 50 minutes from Okayama to Kurashiki
Approximately 170 km, 1.5 hours one-way from Kurashiki to Kobe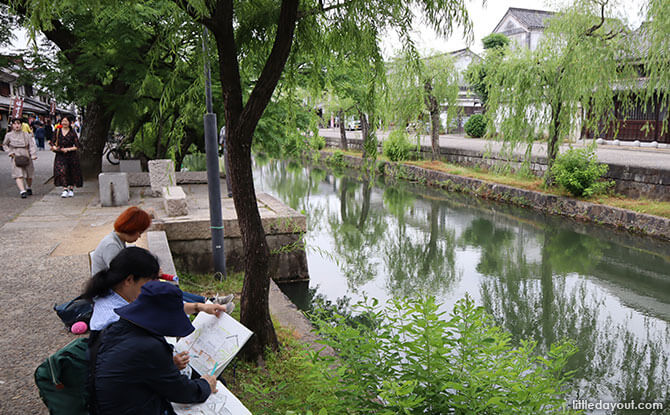 With its picturesque canal stretched out before beautifully preserved black-tiled, white-walled wooden warehouses from the 17th century, the Bikan Historical Area – also famously known as the "Venice of Japan", was next on our hit list.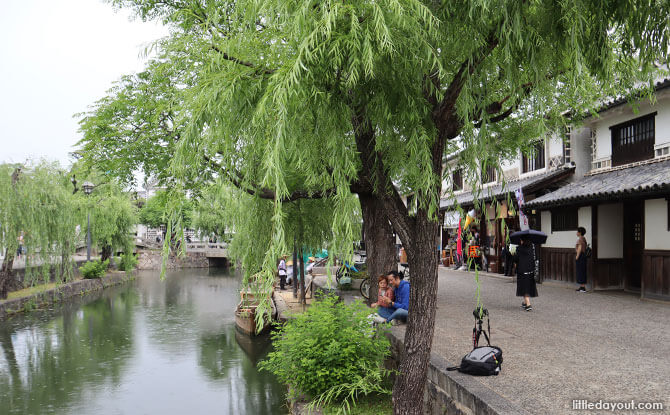 Its canal, lined with green weeping willows, bubbled with carp. Cone-hatted boatmen who ploughed through the canal added to the rustic charm.
Once upon a time, merchants plied these canals, filling the kura (storehouses) with grain.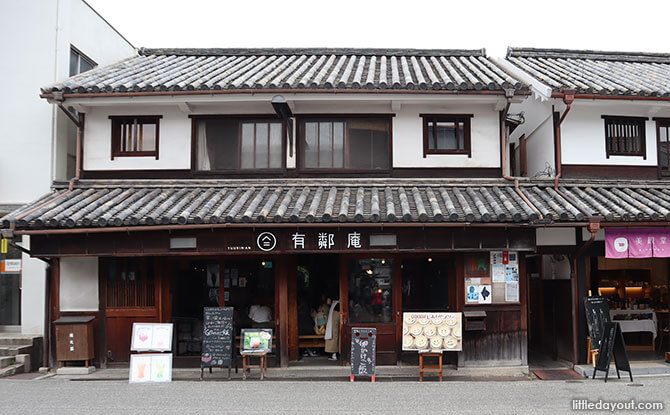 Today, these quaint streets of warehouses and merchant homes house cafés, inns, bars and souvenir shops.
We weaved our way into a little inn for a Daruma Doll activity we had signed the girls up for on Klook's website. This was the only "kid-friendly" experience we had indulged them with throughout the trip. Amazingly, they took in all of our exploration with very little device time extremely well. The ever-changing sights kept them engaged fully and their little legs took them very far with nary a murmur. While they painted to their heart's content at this hour-long workshop, the rest of the adults enjoyed tea, Japanese curry and desserts nearby.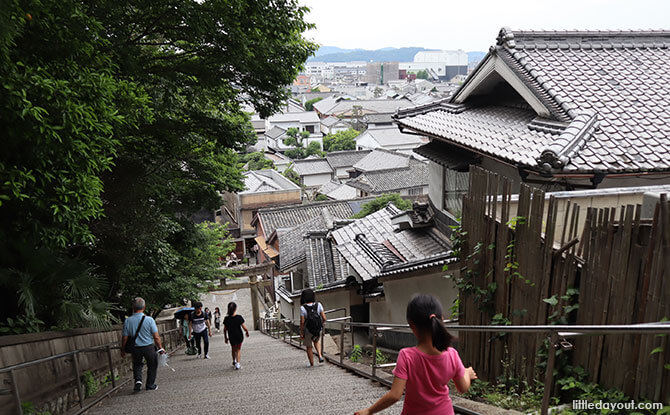 The historical quarter is where we found the Ohara Museum of Art, Japanese Folk Toys Museum and several other museums and historical buildings. We chose to hike up the 100 odd steps to the top of Achi Shrine instead for a bird's eye view of the entire historical area.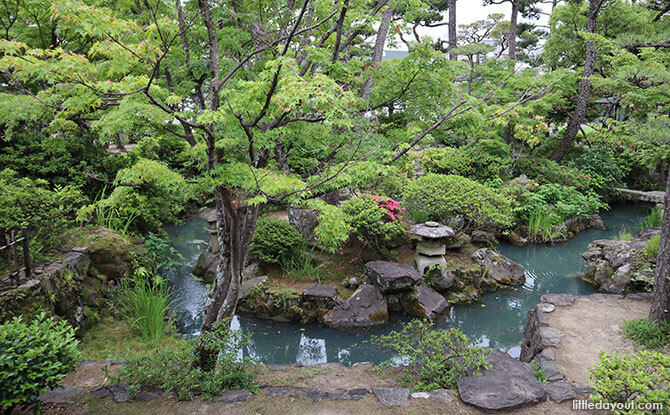 Our other favourite spot was the Shinkei-en Garden and Hall with the prettiest Japanese garden we had ever set our eyes upon.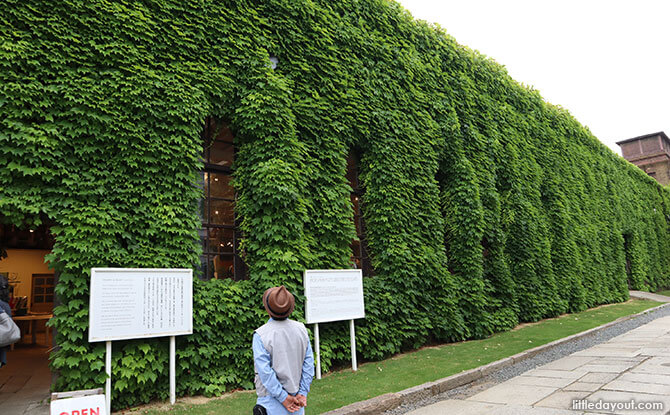 The Kurashiki Ivy Square was yet another interesting spot with its many craft shops and its amazing walls of ivy.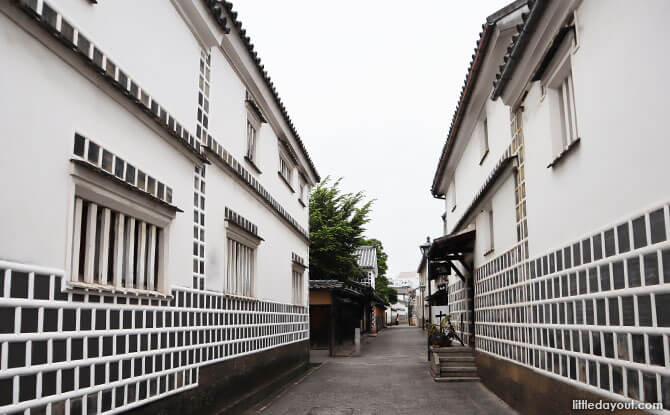 The whole area is well within walking distance and we spent a good half a day here exploring its many little streets. Walking for another 10 minutes, we returned to Kurashiki Station.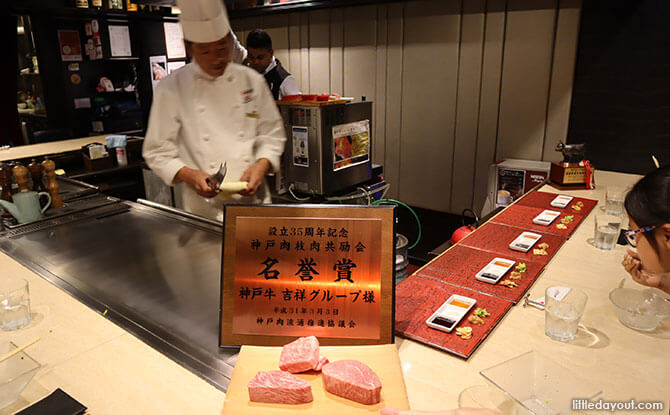 With daylight to spare, we unanimously decided to take the JR Station eastwards back to Kobe for an early dinner, a mouthwatering meal of the out-of-this-world Kobe beef! We had by now gotten so used to the bullet trains that it was like hopping on and off the MRT. For the same time it would get us from Tuas to Changi in Singapore (without the crowds), we arrived back at Kobe, 170 km away from Kurashiki.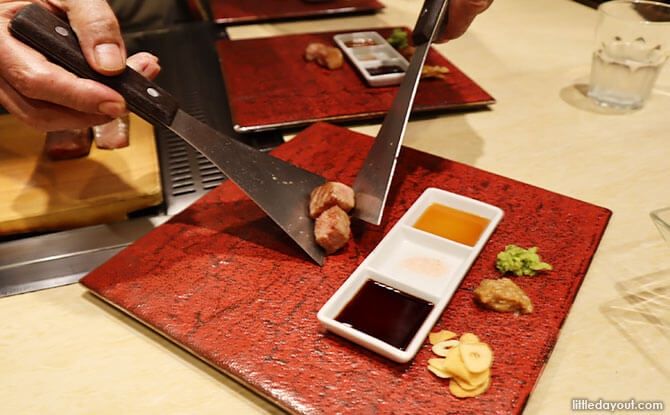 Done teppanyaki style, the melt-in-your-mouth Kobe beef was a most memorable experience, leaving us deeply satisfied that this was another day awesomely spent.
---
Day 4: From Okayama to Hiroshima and onto Miyajima Island
Approximately 160 km, 1 hour 20 minutes from Okayama to Hiroshima
Approximately 25 km, 1 hour 30 minutes by street car and ferry
Energised by the Kobe beef, we packed our bags and set off early for an apartment next to Hiroshima's Shukkei-en (a historic Japanese garden), home base for our next four days of adventure in Hiroshima and its surrounds.
First off, we collected our Visit Hiroshima Pass when we arrived at the Hiroshima JR Station. This fabulous pass gave us access to the whole transportation network within Hiroshima city and we hopped on and off everything so conveniently.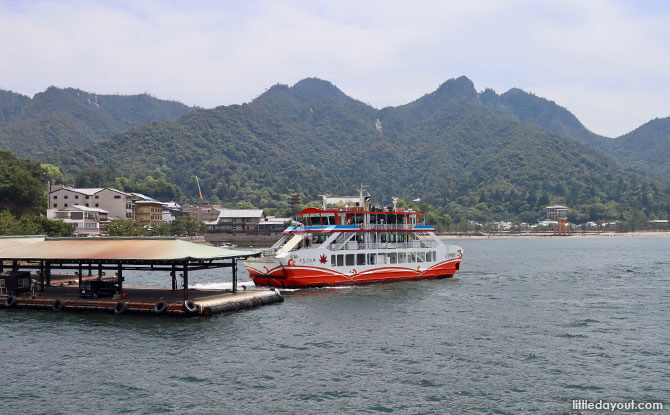 As we had the whole day before us, we headed to Miyajima Island, Hiroshima's island neighbour, for a scenic escape from the city. An UNESCO World Heritage Site, this magical island is most famous for its Itsukushima Shrine built in the 12th century.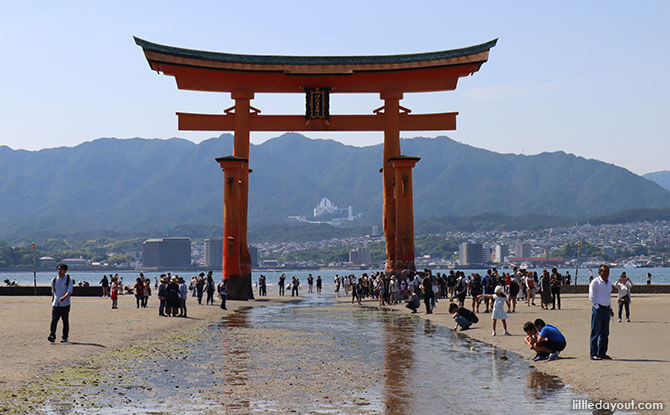 As the island is considered sacred, the shrine's famous red torri gates were built not on its land, but out in the sea and the shrine sits on a pier-like structure. Hence, at high tide, the shrine appears to be floating in the water and at low tide, many walk up close to the impressive gate structure. Of course, we did likewise!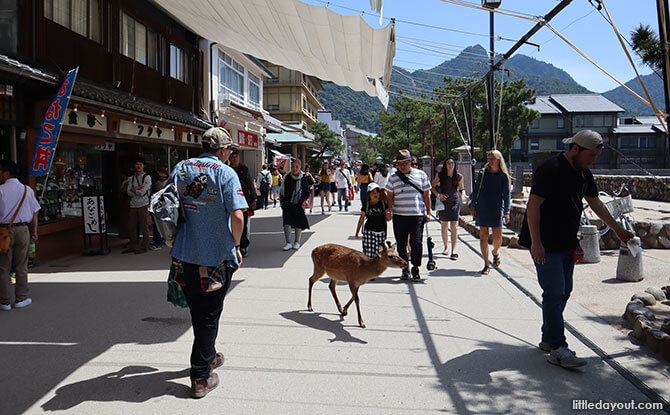 Before we did so, we made our way past the many wild deer and had the most awesome meal of oysters just along the street near the ferry terminal.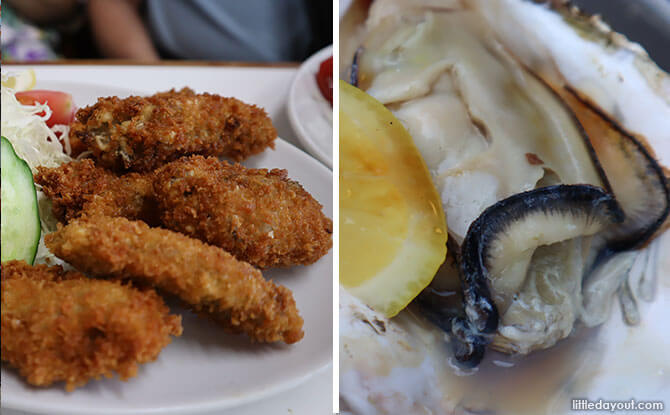 Served grilled or coated in batter and deep-fried, both versions of the oysters were so plump, juicy and scrumptious. This is unsurprising, as there is a 330-year-old oyster farm right there.
We left the grandparents to explore at a more leisurely pace the exciting Omotesando Shopping Street filled with more street food like freshly shucked and grilled oysters, momiji manju (maple shaped castella with different flavoured fillings), soft served ice cream and much more.
The five of us with younger legs made the 500-metre high Mount Misen our next target. We sensibly opted for the bus to the ropeway station and a short climb, instead of a two-hour hike, up to the summit.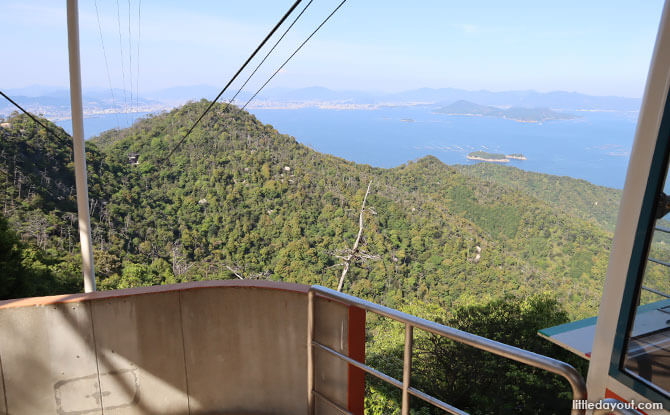 We were well rewarded. The top of Mount Misen is jaw-droppingly spectacular, like a masterpiece unfolding before our eyes as the cable car moved precariously from one summit to another.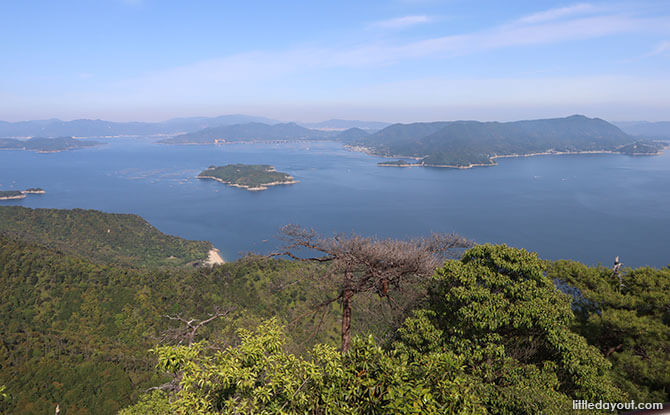 The crystal clear blue waters of the Hiroshima Bay that merged with green gems of islands and the wisps of clouds were a heavenly sight. We could have dwelt there forever mesmerised.
But the grandparents were done with the souvenir shopping and we had to make our way back in time to Hiroshima city to search for the famous Okonomi-mura Village. This four-storey building is dedicated to Okonomiyaki and contains 24 restaurants selling nothing but Okonomiyaki.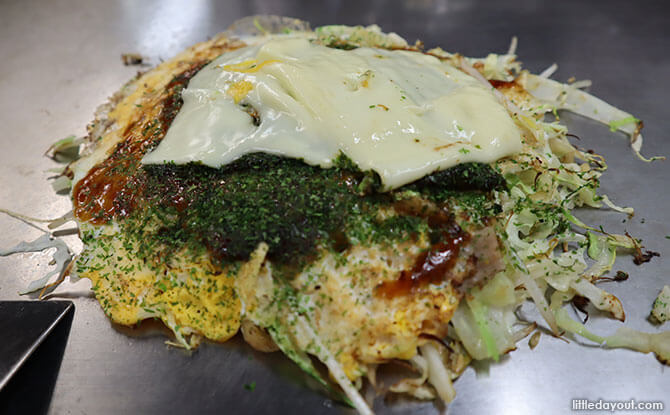 Translated as "however/what you like and grilled", this is Hiroshima's signature dish of savoury flour paste pancake with onions, dried shrimps, cabbage, noodles, whatever meat or seafood you like, topped with seaweed and sweet okonomi sauce.
We were tired after a long day at Miyajima and instead of queuing at the most popular stalls, we settled for a quiet one with two lady bosses who insisted that we had to order one Okonomiyaki each. Remarkably, even the girls could finish their individual portions because it was customised to their liking and we rounded off yet another day with a thankful bountiful belly.
---
Day 5: Hiroshima's Peace Park, Shopping and Off to Hakata, Fukuoka
Approximately 280 km, 2 hours from Hiroshima to Fukuoka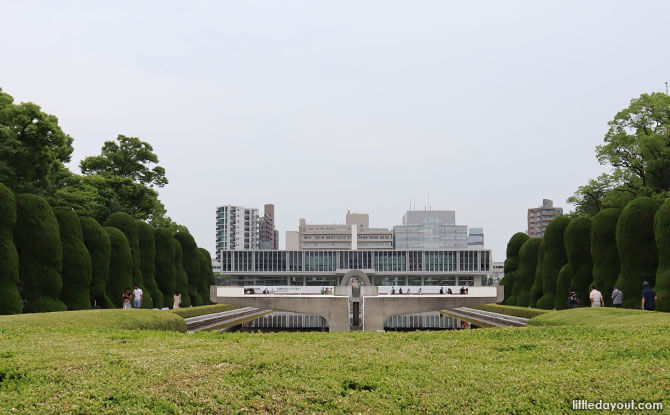 Day 5 kicked off on a sombre and poignant note. We were at Hiroshima, the very city that had suffered the immense destruction of war and a visit to The Peace Memorial Park was first on our agenda.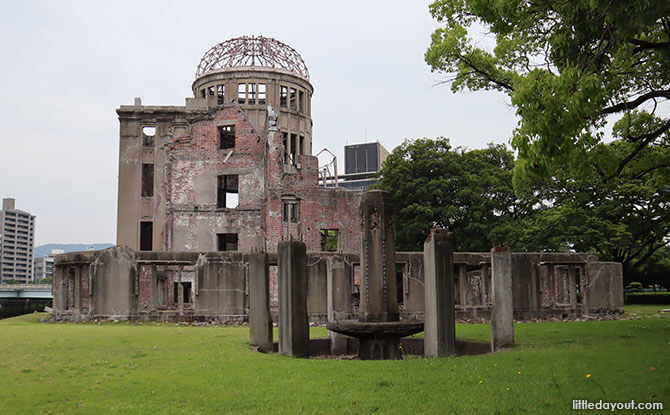 The Atomic Bomb Dome (formerly the Hiroshima Prefecture Industrial Promotional Hall) was the hypocentre of the first atomic bomb that dropped on 6 August 1945 and was the only building that remained standing.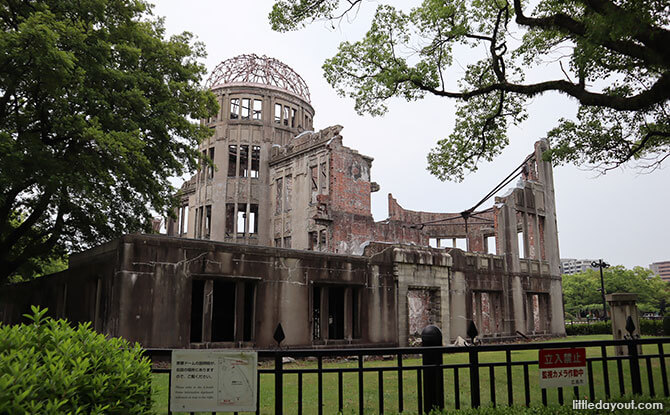 It has since been preserved as a UNESCO World Heritage Site and is a historical witness conveying the tragedy of the suffering. This atomic bomb emitted heat rays, blasts and radiation that claimed the lives of over 140,000 people. Everything within this 2-kilometre radius turned into ashes.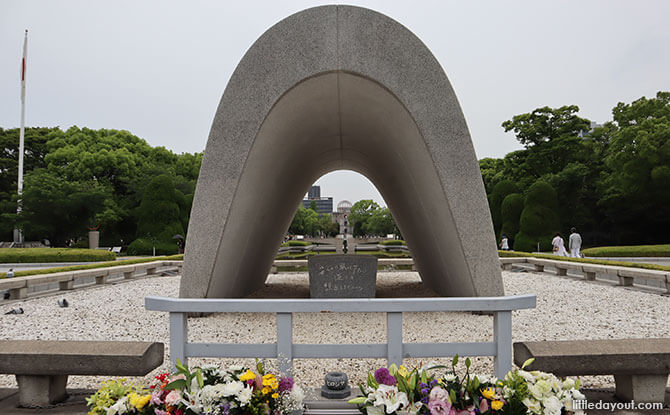 We took measured steps across the park and saw the Memorial Tower erected in honour of the students who died while mobilised for labour, The Children's Peace Monument surrounded by the cranes and the Peace Flame, which is the symbol of the universal desire for a world free from nuclear weapons.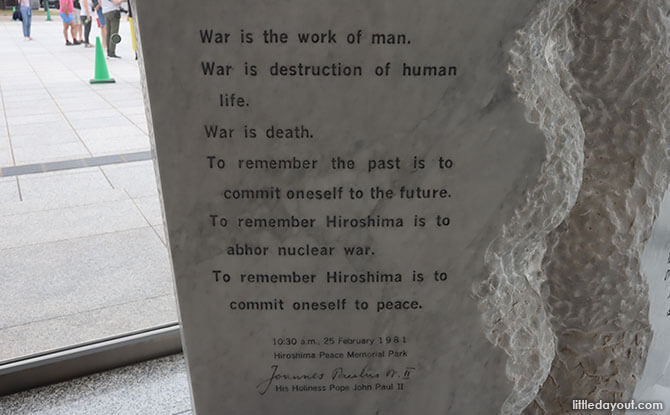 With a heavy heart, we remembered the victims of the war at the Peace Memorial Hall and re-lived their lives at the highly preceptive Peace Memorial Museum.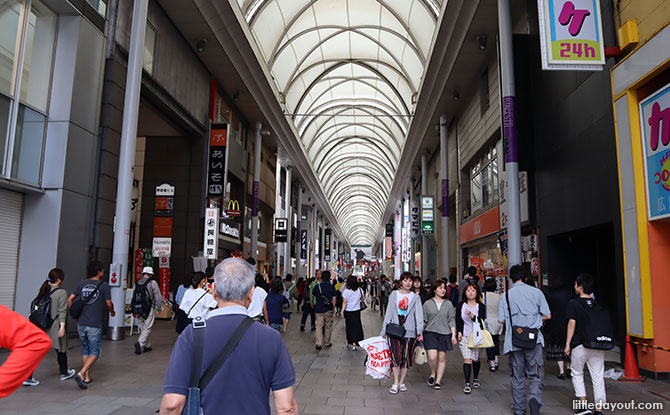 Ending up at the other end of the Peace Park, we hopped onto another streetcar and got off to walk through the nearby Hondori Shopping Street. After such a melancholic morning, we had appetite only for lunch.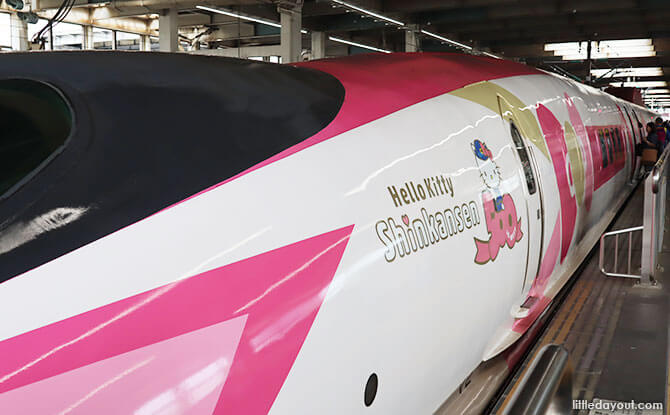 Thereafter, we were back at Hiroshima Station to catch the Hello Kitty Shinkansen. We were nearing the tail end of our trip and had yet to try this special train with our Sanyo San'in JR Pass.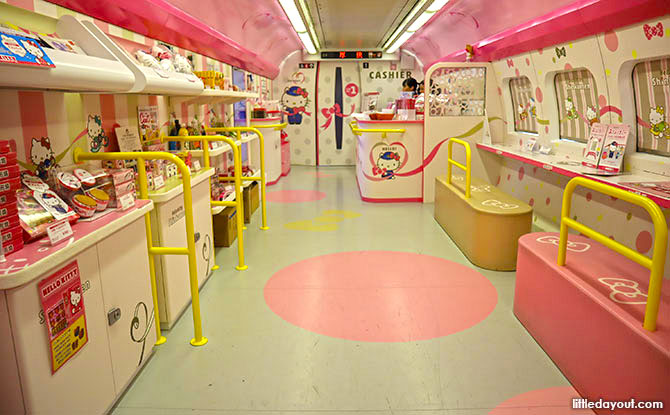 This is because this cute bullet train sets off early at 6.42 am from Hakata and heads eastwards towards Osaka, before returning again to Hakata at 11.29 am. We had been going westwards all this while and would have lost precious hours in the morning if we had caught the return train in the afternoon. Read about our Hello Kitty train experience here.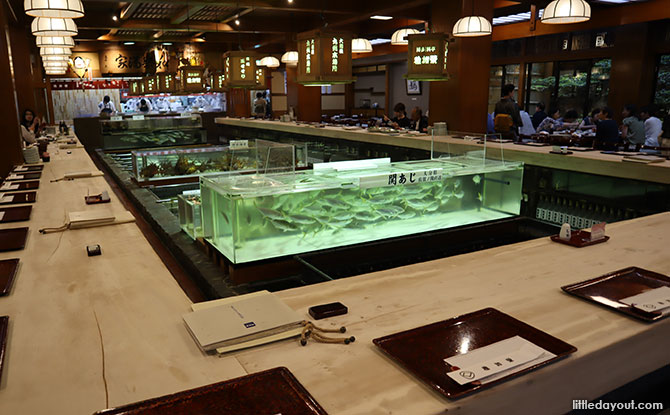 An hour and 40 minutes later, we arrived at Fukuoka prefecture's Hakata city. We had heard about the famous Chikae Live Seafood restaurant from a local Japanese friend and we were game to seek it out.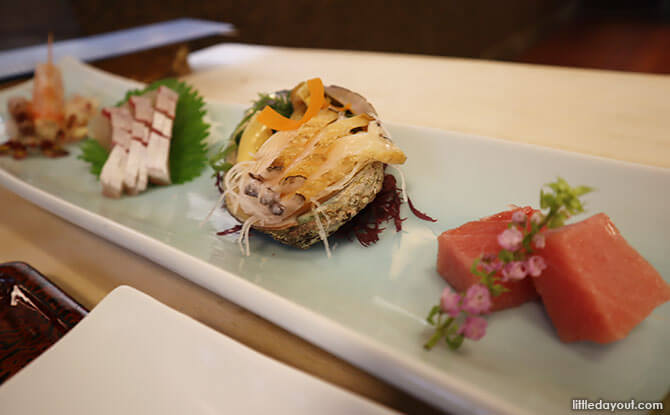 The seafood could not be any fresher as it was fished and sliced before our eyes and the uniquely Japanese experience was well worth the 3.5 km walk from Hakata Station.
---
Day 6: Okunoshima Bunny Island and Takehara Town
Approximately 70 km, 3 hours from Hiroshima
We didn't manage to book a visit to the popular Mazda Museum in time so we asked the friendly staff at the Hiroshima Station Information Centre for recommendations on how to spend our last day to make full use of our Visit Hiroshima Pass and Sanyo San'in JR Pass.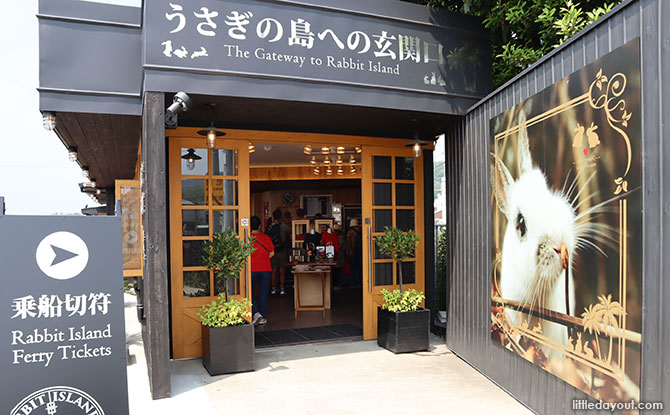 She suggested Okunoshima, also known as Bunny Island, for a dose of history and nature. It was a leisurely full day trip with several train rides showcasing the quaint and quieter towns of Japan.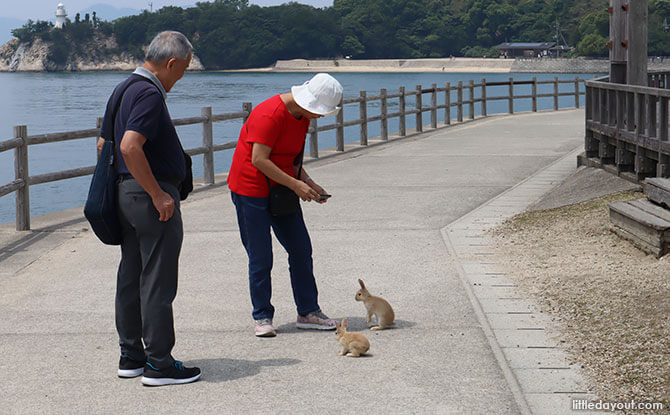 After we stepped off the ferry, it was as if we had been instantly transported back in time. The forgotten island of Okunoshima is inhabited by numerous rabbits and was filled with abandoned buildings covered in ivy.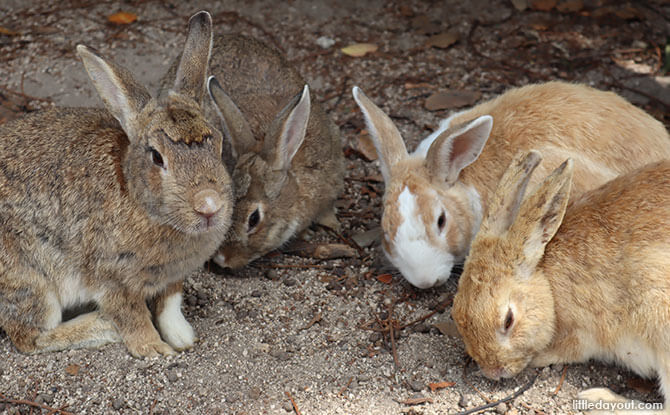 It was easy to pass our time just watching the playful and energetic rabbits, eager for treats. Purportedly, over 700 roam the island freely today.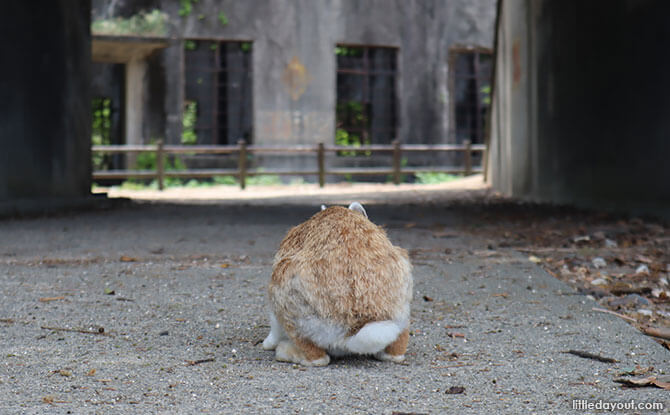 Yet this island holds a dark past. The rabbits were used as test subjects in a storehouse on the island that manufactured poisonous gases during World War II.
A power station stored ammunition during the Korean War. Three artillery batteries on the island defended the Seto Inland Sea during the Russo-Japanese and the Sino-Japanese Wars. There were several other ruins and historical markers on the island but as we couldn't locate the bicycles to explore the rest of island, we headed back to the mainland.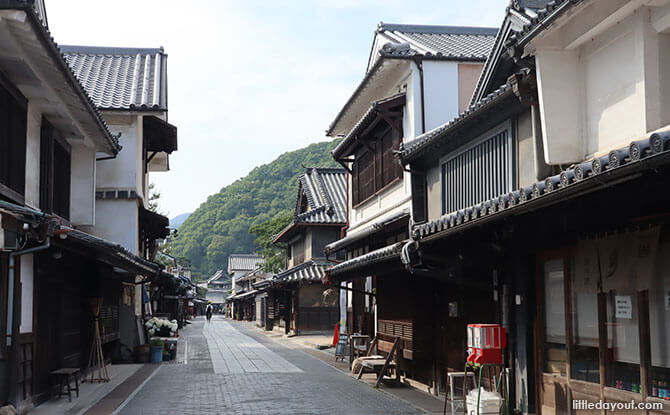 We went back in time again at the Takehara Historic District. Walking down the empty streets with its preserved buildings, I could only imagine how bustling it must have been 350 years ago during the Edo period. It was a day steeped again in history and insights into one of the many facets of Japan.
---
Day 7: Back to Osaka, Dotonbori
Approximately 330 km, 2 hours 30 minutes
Our 7-day adventure ended all too soon with a direct ride on the shinkansen from Hiroshima back to Osaka and a series of train transfers within Osaka to Kansai International Airport, all covered by our JR Pass.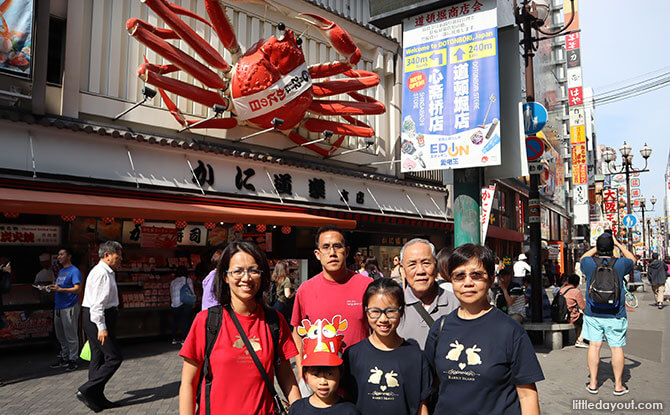 With a few more precious hours left before our plane took off, we placed our luggage at the lockers within one of the stations in Osaka and indulged ourselves at Kani Doraku, Dotonbori's iconic crab restaurant.
It was a sumptuously befitting end to an epic, many-splendoured adventure much aided by the extremely convenient and useful JR Pass. Would we do this all over again? Well, we survived to tell the tale and the JR Passes helped to keep us within our budget and enabled us to splurge on other pleasures. So yes, Sanyo San'in we say!
This feature brought to you in partnership with Klook, a travel activities and services booking platform.