The Hamburg Steak Keisuke outlet at Tanjong Pagar is one of the many Keisuke Outlets in the area, and they offer prime US beef patties served on hotplates as well as a free flow of salad and an egg station for all to enjoy.
Hamburg Steak, also known as Hambāgu, is the Japanese version of Hamburger Steak. Although it's origins are more western, it is now commonly recognised as a well-loved dish in Japanese cuisine.
---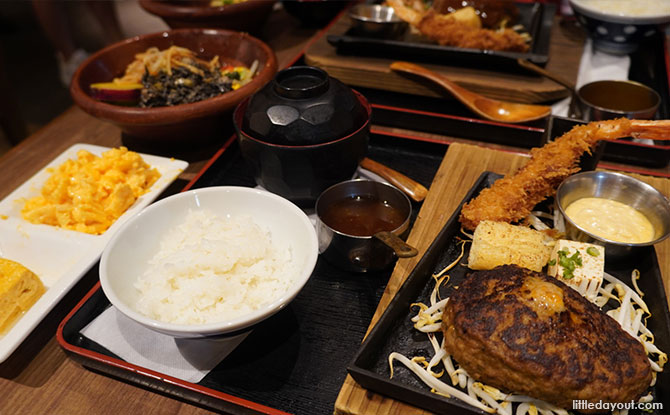 At the Hamburg Steak Keisuke outlet, the menu makes it easy for indecisive tummies to order their food. Diners who wish to get a set option will be served a Keisuke Prime Beef Hamburg Steak Set which comes with a Prime Beef Hamburg, Deep Fried Tofu, Fried Prawn, Tofu with Spring Onion.
The other option is to order the Triple Cheese Prime Beef Hamburg Set, which comes with melty cheesy lava centre.
Diners can choose from the Keisuke original sauce, teriyaki mayonnaise sauce, a demiglace sauce as well as an "Oroshi Ponzu sauce", which is made with grated radish and citrus soy vinegar sauce.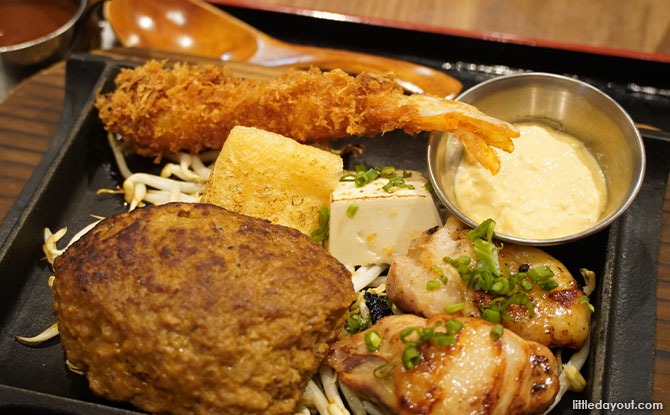 Other food options include the Tomato Sukiyaki Hamburg Claypot Set, US Prime Beef Sirloin Steak, as well as various fried chicken such as teriyaki chicken, salt rice malt chicken, and kurozu chicken which is served with a black vinegar sauce.
---
Review Of The Hamburg Steak At Keisuke
During our meal there, we tried both the Keisuke Prime Beef Hamburg Set with the Keisuke original sauce and Triple Cheese Prime Beef Hamburg Set with the Demiglas sauce. We also ordered a Hamburg Combo with a Shiokoji, or salted chicken as aside.
Keisuke's Hamburg steaks are beyond "fork tender" was easy enough to cut into with a spoon or pair of chopsticks. The minced patty was well seasoned, and by itself, we could taste the sweetness of the caramelized onions. The original sauce has a strong taste of garlic and is great if you want to bring out the meaty flavours in the patty.
The Triple Cheese Prime Beef Hamburg is made with cheddar, mozzarella, and parmesan cheese. Achieving the cheese lava flow is relatively easy as a simple prod with the pair of chopsticks was enough to break open the patty. We tried this with a demi glacé sauce which had a sweeter taste and is a better choice when paired with the salty cheese.
We felt that the contrast in flavours of cheese and beef could have been more distinct, as by the end of the meal, the two flavours started to taste the same and the party got a little too indulgent.
The various sides such as the ebi and aburaage were not too oily and the finely breaded Ebi was still crispy even after waiting on the side while we were digging into the main. The salted chicken that we ordered in our combination set was also crisp, not too dry and well seasoned.
---
Hamburg Steak Keisuke Free Flow Salad Bar And Egg Station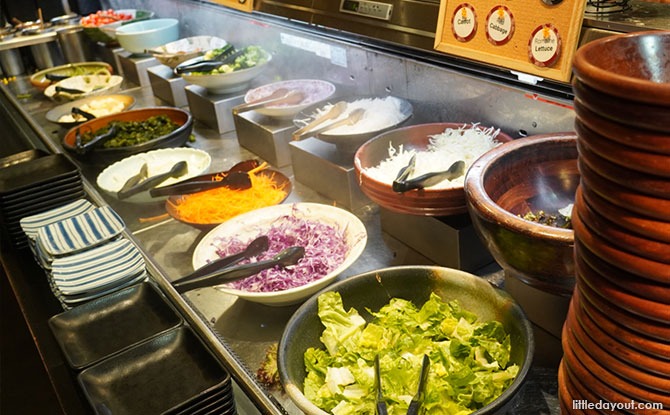 The highlight of the store for us other than the super-soft patty is that each set is accompanied with free flow of eggs and a variety of 20 items spread of Japanese side dishes known as osozai. Essentially a free-flow salad bar, there are also pasta and dessert options such as their delicious coffee jelly which is a must-try!
To those who are familiar with Keisuke will also know that they serve free flow hard-boiled eggs at all of their other outlets. At this Hamburg outlet, they have an egg station with eggs that are cooked in six different ways! We highly recommend trying the tamagoyaki, as well as the super fluffy scrambled eggs. The omelette was also worth the extra stomach space.
The visit to Hamburg Steak Keisuke was definitely worth the queue and wait. We'd be happy to head back again. They do not take reservations, so we recommend going early as the wait can get pretty long, especially during peak hours.
Hamburg Steak Keisuke
72 Peck Seah Street
Singapore 079329