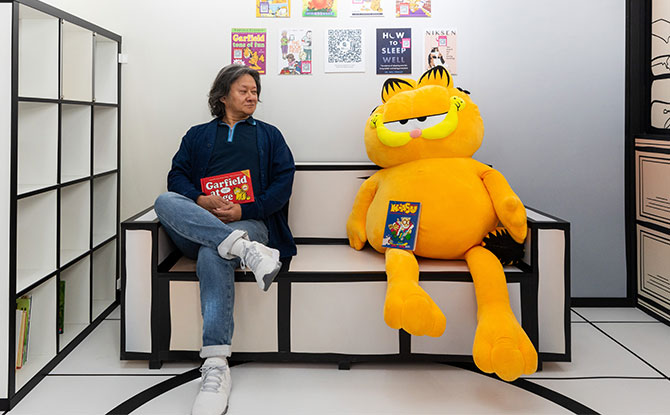 A Garfield x Mr Kiasu pop-up library has opened at The Centrepoint and will be there from from 23 October 2023 till March 2024.
The Garfield x Mr Kiasu pop-up library is NLB's first-ever character-themed pop-up library, and has been set up in partnership with Mr Kiasu's co-creator Mr Johnny Lau, media and entertainment company Paramount Global, and Frasers Property Singapore.
---
What's at the Garfield x Mr Kiasu Pop-up Library at The Centrepoint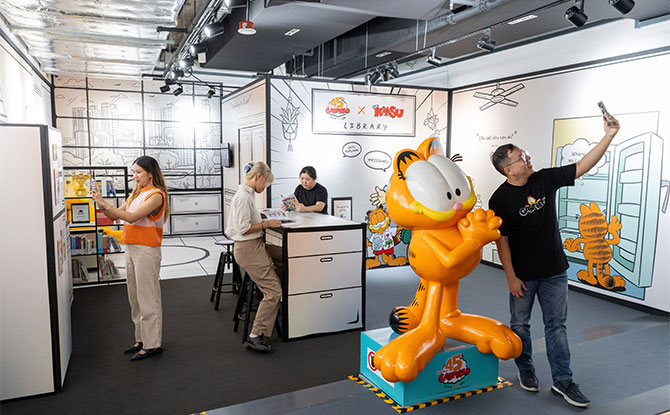 Those who pop into the pop-up library can look forward to a specially curated collection of e-titles and comics that can be read within the library.
The 614 sqft Garfield x Mr Kiasu pop-up library at Centrepoint is the final activation as part of Paramount's year-round events across Asia, celebrating the lasagna-loving feline's 45th anniversary.
---
-- Story continues below --
Inside the library are a variety of e-titles which will be made available for patrons to access and borrow.
Aside from Garfield e-comics, a variety of e-books on related topics such as cooking, leisure, and wellness, will also be made available for loan via QR codes found on wall features at the pop-up library.
In addition, visitors can browse a physical curated collection of around 120 Mr Kiasu and Garfield comic books. The books are donated by Mr Lau, the co-creator of Mr Kiasu, and the Global Publishing arm of Paramount respectively.
The pop-up library is modelled after home-grown comic book character Mr Kiasu's cosy Housing Development Board (HDB) home.
---
Friendship of Garfield and Mr Kiasu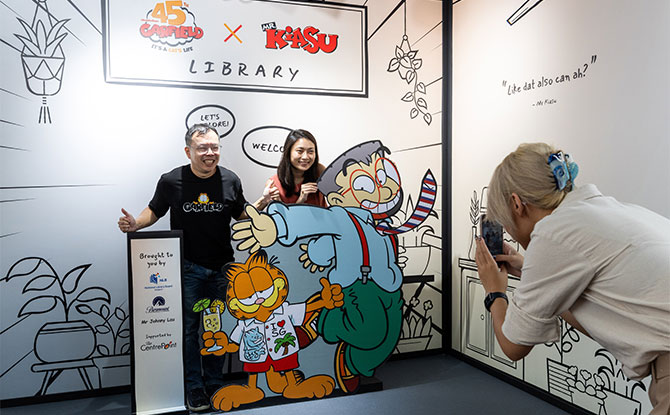 Visitors can also take the opportunity to check out a wall mural featuring an artwork exclusively commissioned for the pop-up library.
The mural illustrates the friendship of Garfield and Mr Kiasu, including how Mr Kiasu invited the beloved feline to Singapore to have a taste of laksa.
The pop-up library also features an Instagram wall displaying a standee of Mr Kiasu with Garfield photo spot.
In addition, popular Garfield comic strips are screened and looped on-site for bite-sized entertainment.
Garfield Meet & Greets
Fans of the feline can look forward to meeting Garfield at the following Meet & Greet sessions:
23 Oct (Opening Day): 12.30 pm and 6.30 pm
28 Oct, 29 Oct, 4 Nov and 5 Nov: 12 pm, 3 pm and 5 pm.
---
Building a Vibrant Learning Marketplace
NLB's Chief Executive Officer, Mr Ng Cher Pong, said: "Our latest pop-up library brings together, for the first time, well-loved characters from both Singapore and America. This pop-up library also shows the exciting possibilities in reading and learning that partnerships can bring to our patrons. This is part of NLB's LAB25 (Libraries and Archives Blueprint 2025) goal of building a vibrant Learning Marketplace where the everyone can access our content easily at everyday spaces."
The Garfield x Mr Kiasu pop-up library can be found at Level 1 of The Centrepoint (#01-33K). It is open daily from 10 am to 10 pm.