While Singapore enjoys tropical heat all year round, the winds of change have come with the full force of Frozen 2. The highly anticipated movie will snow on our shores on November 21. Heralding the return of Elsa and Anna to our screens are many exciting activities and events. Check out our ultimate Frozen 2 Singapore fan list.
---
Experience FROZEN
Disney: Magic of Animation featuring original artworks from Frozen 2 in Singapore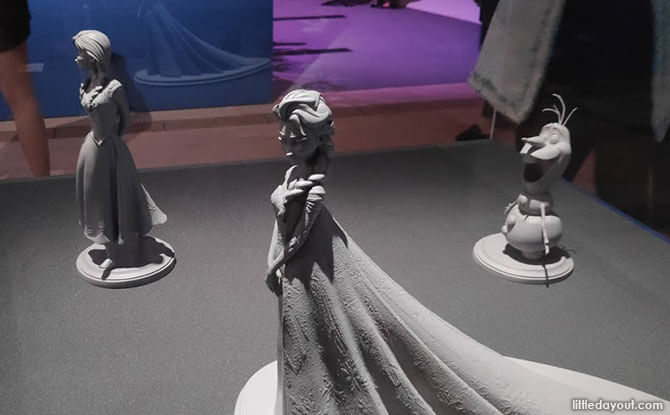 A dazzling display of Disney's archived artwork is currently on display at the Artscience Museum, featuring never-exhibited artworks from Frozen 2. Get a chance to leap into an autumn landscape with Anna and Elsa, designed just like a scene from the prequel to FROZEN.
Charity Movie Screenings of Frozen 2 by WE CARE Community Services and Mercy Relief
Various charities are holding charity movie screenings of FROZEN II. In the spirit of Christmas, these are great opportunities to give warmly while being entertained.
WE CARE Community Services is an addiction recovery centre providing support and treatment programmes for all forms of addiction. Ever $50 donation gains the donor one ticket to the FROZEN II screening on 25Nov at Shaw Theatres Lido. More information here.
Mercy Relief is an independent disaster relief agency in the region to respond to human tragedies and disasters. All proceeds from ticket sales to the Frozen 2 screening on 30 Nov will help scale Mercy Relief's impact and reach out to more communities in needs. Donations of $50 and above will grant donors movie tickets, popcorn and drink combos and photobooth opportunities. There is also a fancy dress competition! So dress up and gather your troop to this screening.
A Frozen Wonderland at Changi
From 21 November 2019, step into a Frozen Wonderland at Changi Airport. Explore the Enchanted Forest and get up close with your favourite Frozen 2 characters at Terminal 3, Departure Hall.
Disney on Ice featuring Frozen's Princesses in March 2020
Disney on Ice will be featuring the two ice princesses – while this will only be happening in March 2020, you can already purchase your tickets from 14 November to see the other Disney characters gliding right of you. 
---
Dress FROZEN
Mini Melissa X Frozen 2 Giveaway & New Frozen 2 collection
Looking forward to FROZEN 2 hitting our theatres next week? We have two pieces of great news for our readers! Not only has Melissa collaborated with Disney to launch its Frozen 2 collection, we also have two pairs of shoes from the Mini Melissa x Disney Frozen 2 collection to give away! Little Day Out's irresistible Mini Melissa x Disney Frozen 2 giveaway ends on Sunday so don't miss out!
Melissa's latest collection draws inspiration from the enchanting animation and captures the spirit of Elsa the Snow Queen and her sister, Anna, as they embark on an adventure far away from the majestic kingdom of Arendelle. Snowflakes, glitter, magic is an irresistible combination for the little princesses!
Disney X Le Petit Society FROZEN II Collection
Apart from shoes, a princess needs to look her best in a dress. Le Petit Society has got this covered with their much-anticipated Disney X Le Petit Society FROZEN II collaboration. Bubble dresses, tulle dresses and capes will charm any little girl's heart. See the entire collection here.
Uniqlo's Disney FROZEN II Collection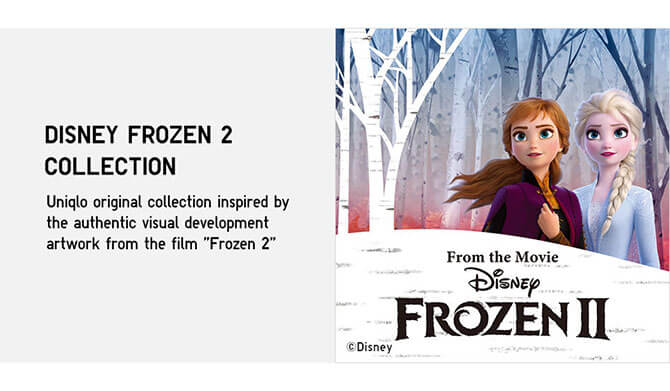 For more casual outfits for both mothers and daughters, Uniqlo's Disney FROZEN II collection is inspired by the original artwork from the movie and based on the FROZEN sisters' journey of self-discovery through the forest far beyond Arsendelle as the season changes from Autumn to Winter. The t-shirts, sweat sets are available in stores and online.
Pandora x Disney
Hoping to accessorise in a Frozen style? Pandora's latest Disney collection will complete the outfit with Olaf dangle charms, winter crystal charms and of course Elsa and Anna ones. Our pick has got to be the charms with Nokk the horse.
---
Play FROZEN
Live Unboxing of Exclusive Frozen 2 Toys
Can't wait to get your hands on the latest Frozen 2 merchandise? Toys "R" Us will be carrying out a live unboxing of exclusive Frozen toys at its Flagship shot in Vivocity. This, along with other fun activities like a Frozen fashion show, will be taking place on Sunday, 17 November, 10.30 am to 12.30 pm.
---
Live FROZEN
F&N Magnolia's with FREE Disney's Frozen 2 Tote bags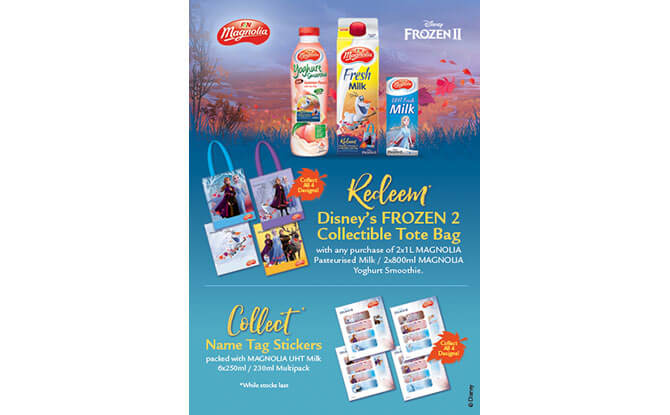 Magnolia is definitely milking the worth of the Frozen 2 fever with free tote bags in four designs given when fans buy any two packets of Magnolia milk or yogurt smoothies. There are also free stickers accompanying the Magnolia UHT milk packets. Looks like everyone will be getting their dairy fix!
Sweet Slumber with Frozen themed bedsheets from Spotlight
Spotlight stores in Singapore have a special Frozen collection from water bottles, cushions, quilt sets – they have it all for the ultimate fans. See the collection here.
---
Freeze! For Non Frozen 2 Singapore Fans….
If you refuse to get swept into the Frozen 2 Singapore fervour, fear not. We have got plenty of other options to enjoy the school holidays without any mention of snow, ice and princesses. Click here for some anti-freeze activities that non Frozen 2 Singapore fans can indulge in during the year-end school holidays!