Do you love escape rooms and board games? You might like an escape room in the form of a board game. Lockdown SG launched their "escape room in a box". I thought it was really clever as this allows families to play together without heading out to a high-touch escape room during the pandemic.
---
Bearscape Escape Game in a Box… or many boxes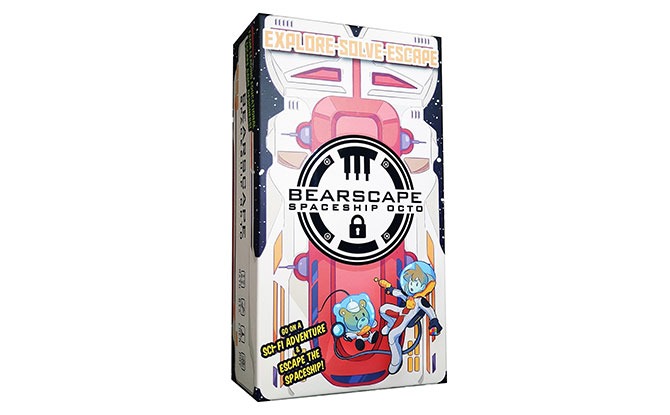 As a family that enjoys escape rooms, we were glad to try Bearscape Escape Game in a Box. In the box, there were a few other boxes. And your goal is definitely to escape from each box with the correct alphabets to unlock the next box!
The story is about an astronaut boy – Jonny and a bear called Ibrow in space. Their space adventure is disrupted when the space station is hit by meteors. They need to escape in time! Will you help them?
There are a total of six puzzles to solve. You can set it up quite easily or even reset it so other players may play. There are also hint cards and solution cards for those who are feeling lost. But with teamwork and family members to help, the puzzles should be easily solved.
---
Format of Bearscape Escape Game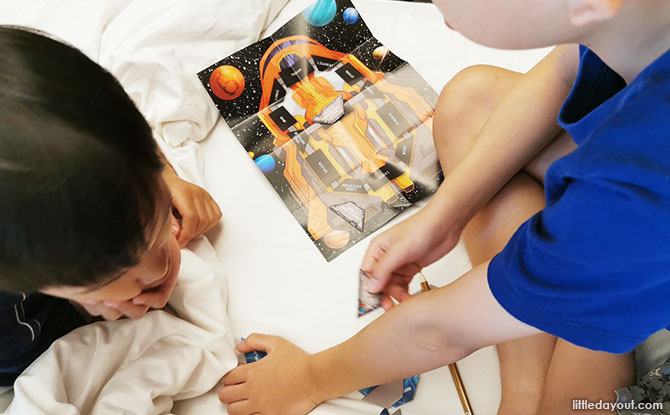 There are a total of six numbered boxes. To get into each puzzle of each box, first read the game card and refer to the table after getting the three digits required each puzzle.
The three digits will unveil the alphabets which are the codes needed for each box.
Puzzles are quite logical to solve, but some science knowledge is required. While my 7-year-old was quite lost for most of the puzzles, he was able to help out for one or two of them using his knowledge in materials and body parts. My 10 year old was better equipped in both math skills and science knowledge to tackle the puzzles. Topics were familiar to him and he could practise what he learnt in school in the Bearscape Escape Game.
---
Recommended Age
Although the stated recommended age was 12 and up, I think children above 9 could attempt this with the help of others. Teachers, parents, friend can try their hand at solving puzzles, cracking codes, finding patterns and more.
An ideal group size would be between 3 to 4 people.
---
Our Verdict for Bearscape "Take Home" Escape Room
We definitely liked how the game was portable and easily played anywhere. We even took it on a staycation. Although it didn't quite replicate an actual escape room experience with sound effects, lights, décor and props, it was an accessible stay-home alternative.
The puzzles were logical and reasonably challenging for our children, which meant we could work with them to solve them together. This was a good way to bond without screentime, at the same time working our brains.
Upon finishing the puzzles, we could also set them up for play again. This makes it possible for other friends to play together and repeat play with others. In a way, it maximises the value of the game and thus makes it more worth it to buy it like a board game.
---
Where to Purchase Bearscape Escape Game
Purchase the game from Lockdown SG here or from Amazon at $39.90.