Events List Navigation
Wan Qing Festival of Spring 2019 presents an exciting line-up of festive offerings suitable for all ages, including auspicious Lion and Dragon dance performances, heritage tours and trails, and craft activities for the little ones.
Find out more »
+ Export Events
Search by:
All | Workshops | Holiday Programmes | Exhibitions | Theatre | Nature | Outings
Come explore I-Opener, Playeum's sixth hands-on exhibition athe Children's Centre for Creativity. Designed for children aged 1-12, I-Opener empowers all families to discover their creative potential and explore their senses through artful play.
We're bursting with excitement for Octoburst! 2019 – A Children's Festival. In conjunction with Children's Day in October, we give special focus to the little ones with Octoburst! – a festival that encourages play and family fun, with both free and ticketed performances and hands-on workshops.
Moonfest – A Mid-Autumn Celebration is an annual traditional Chinese arts festival held in celebration of the Mid-Autumn Festival. It presents the opportunity for families and friends to be exposed to and rediscover the intrinsic beauty of traditional Chinese arts through an exciting line-up of free programmes and ticketed workshops.
Discover the joy of movement and fall in love with dance at da:ns festival's Footwork 2019 - introductory dance workshops for all ages.
Fantastic Mr Fox is a classic tale of goodies and baddies. It is an inspiring story about the brave and clever Mr Fox who, with the help of his family and friends, outsmarts three farmers' nasty schemes in order to provide food for the animal community.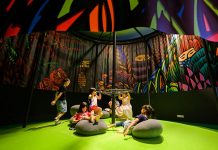 Gallery Children's Biennale 2019: Embracing Wonder at National Gallery Singapore spreads the message of art as a way to discover and explore new worlds. This...
Through movement, music and fun, join Us as we explore loneliness, understanding, empathy and love. Discover the importance of friends and how simple acts of kindness can change the world.
Oliver Jeffers, award-winning author of 'How to Catch a Star' and 'Lost and Found', returns with an inter-galactic tale about a little boy seeking adventure.
Featuring 35+ stalls (run by kids, 5-16 yrs old) over 2 days. Support the baby-bosses, mini-bosses & teen-bosses as they set up shop, run sales pitches & take charge! Kids keen to try out, can apply! (Includes a pre-bazaar workshop).
Experience innovation this school holiday at KidZania Singapore with fun activities such as coding workshops, drone piloting, build your own electric circuit and many more!